Why charter in Ibiza and the Balearic Islands?
Somewhere east of Spain, four astoundingly beautiful islands float in the sparkling Mediterranean, beckoning your arrival. Ibiza, Mallorca, Menorca and Formentera offer some of the most stunning scenery and sun-drenched holidaying in the world.
Each island has something to unique to offer – there's hedonistic Ibiza with its world-famous clubs and parties, Mallorca which combines a glitzy cosmopolitan feel with rustic escapes into nature, tranquil Menorca with its isolated beaches and coves, as well as prehistoric monuments, and enchanting Formentera, a tiny slice of paradise to rival some of the world's most coveted hideaways.
While they differ in some ways, there is a thread of communality among the islands. Discover charming fishing villages, explore secluded coves, walk in endless olive and almond groves and citrus orchards. Enjoy long lazy lunches and sunset cocktails, and toast to the good life, or la vida buena.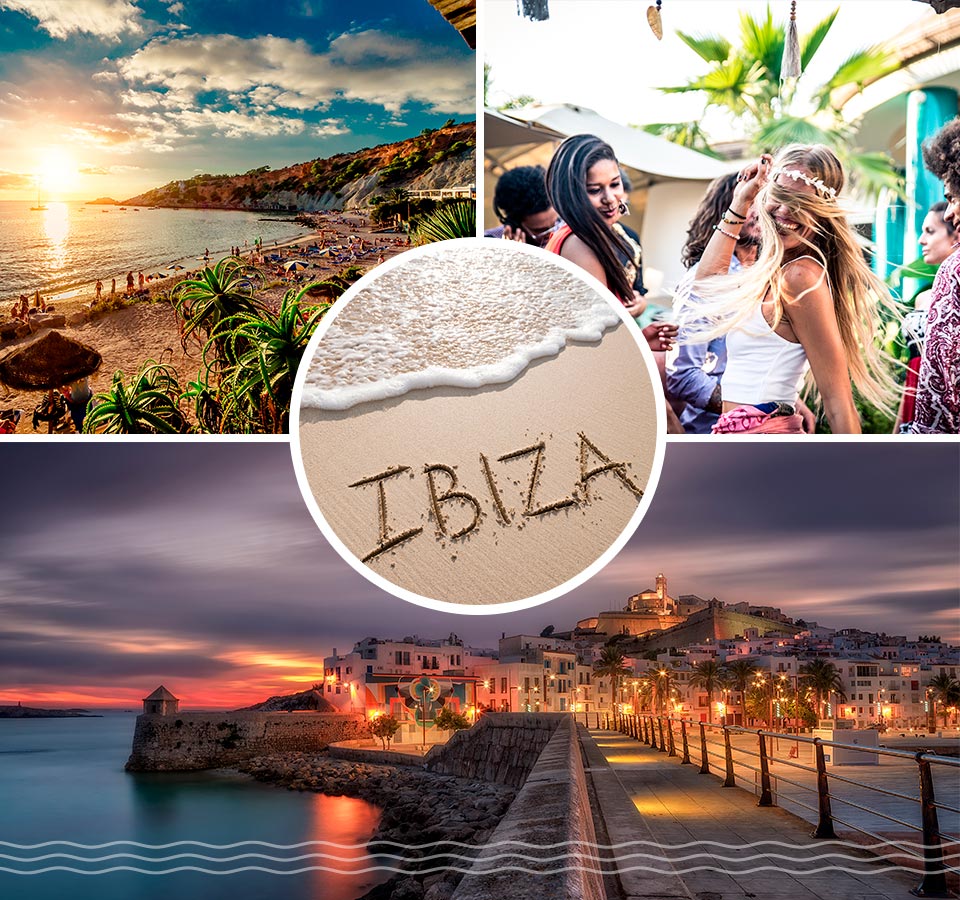 Main attractions
Dalt Villa, Ibiza
Ibiza's fortified old town is a treasure trove of wonderful discoveries. Wander the UNESCO World Heritage site, letting your feet lead the way along the winding cobbled streets, or take a guided tour to soak up the history that spans 2500 years. Enjoy panoramic views of the city, harbour and sea from the Cathedral of Nuestra Señora de las Nieves.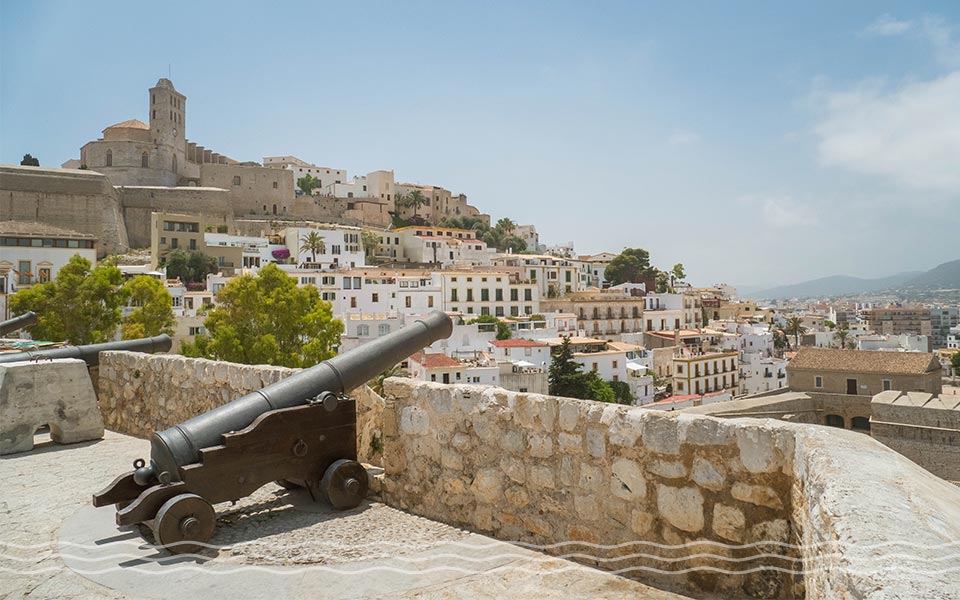 Parc Natural de Ses Salines
Stretching from south-eastern Ibiza to northern Formentera, Parc Natural de Ses Salines is a World Heritage nature reserve that you won't want to miss while chartering in the Balearic Islands. Marvel at the shimmering salt flats and stretch out on the gorgeous sandy beaches - Platja de Ses Salines is arguably Ibiza's best beach.
Palma, Mallorca
The wealthy and cosmopolitan city of Palma is a must-visit, especially for art and culture lovers. Visit the Catalan artist Joan Miró museum by the marina, as well as his other painting and studio space, Son Boter. Wander the charming old harbour lined with cafes, markets and bars.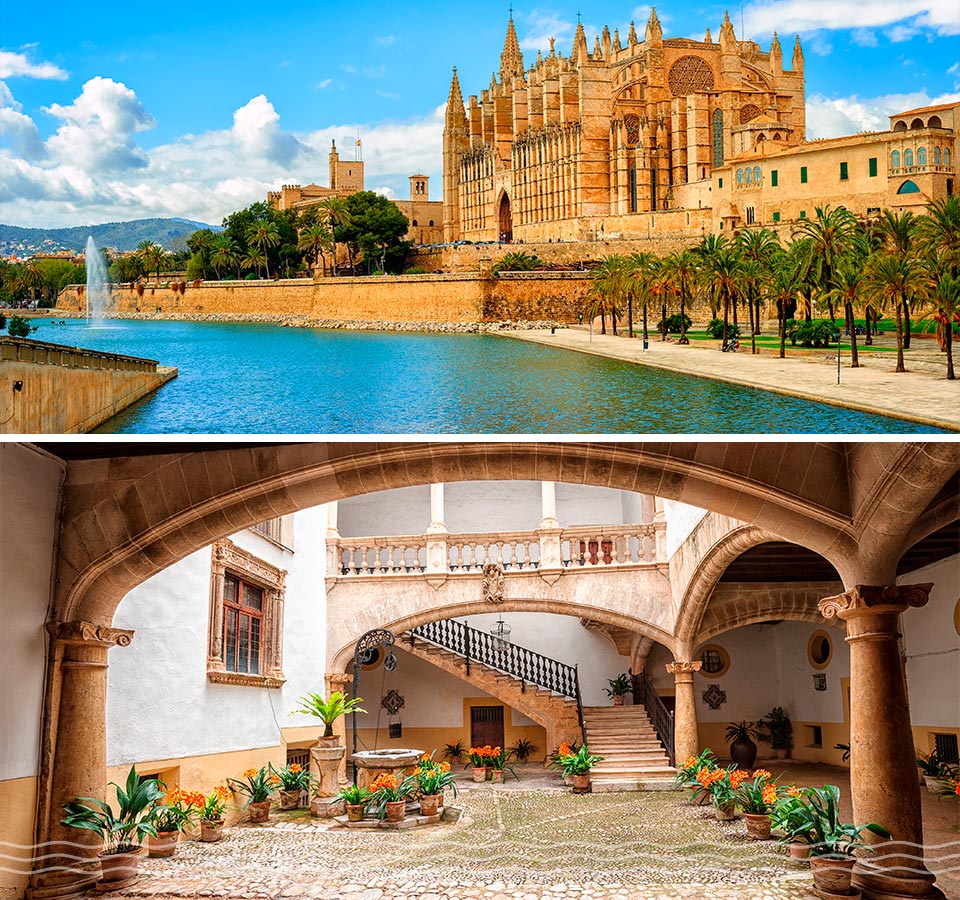 The Cabrera Archipelago Maritime Park
Discover the unspoilt nature and unsurpassed tranquillity of the archipelago of Cabrera. 10km off the south east of Mallorca, the 19 islands of this archipelago are best explored on your own private yacht. Home to an abundance of wildlife, flora and fauna, there are endless opportunities for snorkelling, diving or bird watching. Hiking is another top activity here – one of the most popular walks is up to the 14th century castle which offers stunning views of the island.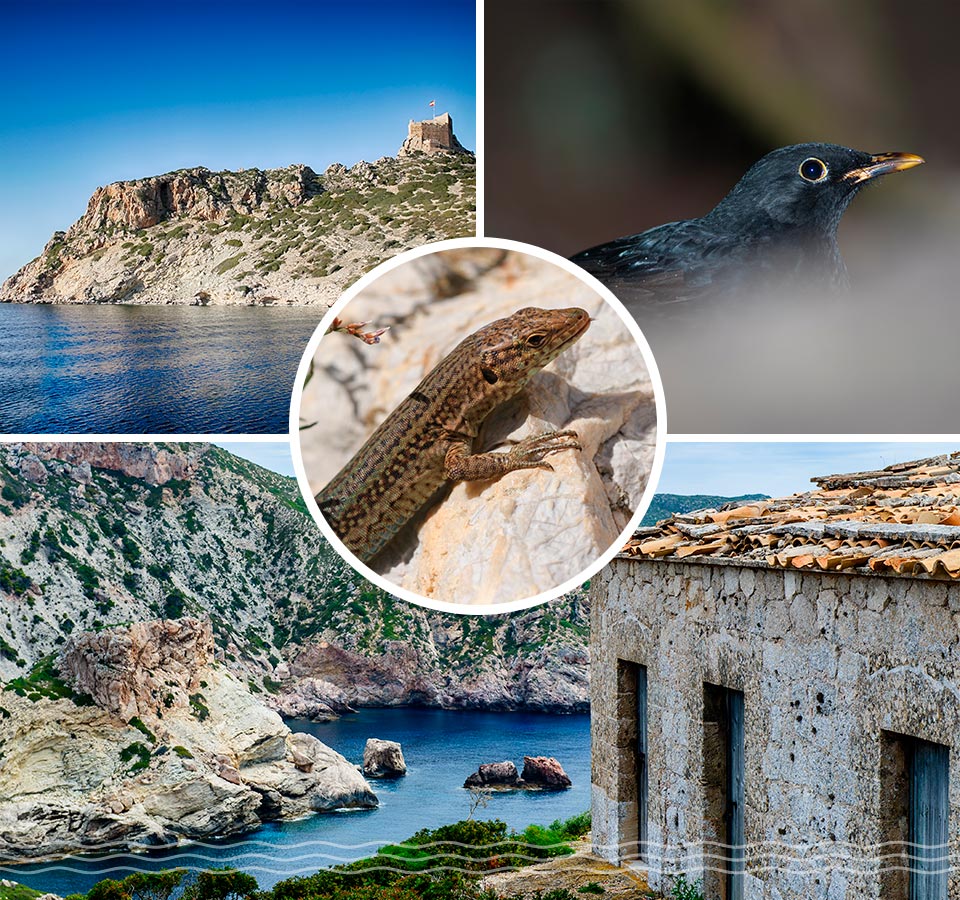 Col Baix beach, Mallorca
Es Col Baix or Platja de Coll Baix is a beautiful, untouched beach in the municipality of Alcudia. Drop anchor and spend time luxuriating in the pristine turquoise water or take a walk up the hilly surroundings for some spectacular vistas.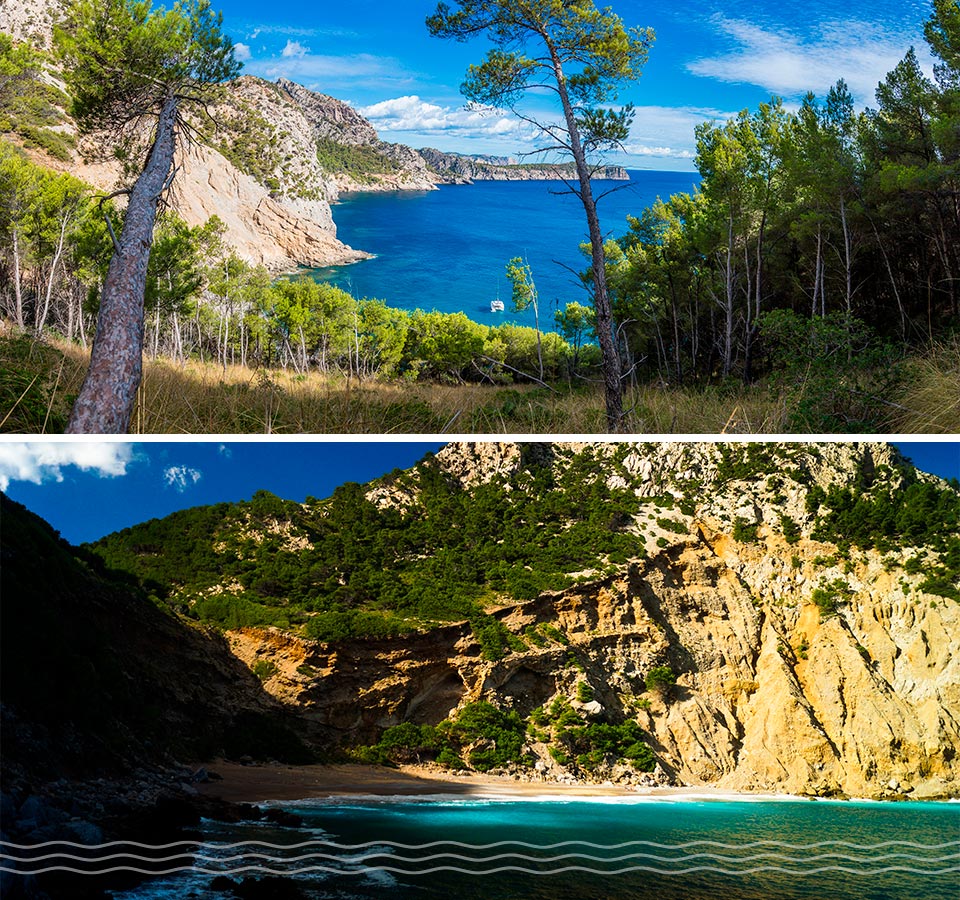 Soller, Mallorca
Surrounded by the Serra de Tramuntana, orange and lemon groves provided the town of Soller with great wealth. The quaint town is rich in history, with beautiful architecture and fascinating museums. A vintage tram runs from the town to the port, and a vintage train connects Soller with Palma. Gateway to the Serra de Tramuntana, there is spectacular hiking in the area, with the option of heading deep into the Tramuntana mountain range. Cycling is also a popular way to explore the mountainside, either road cycling or mountain biking.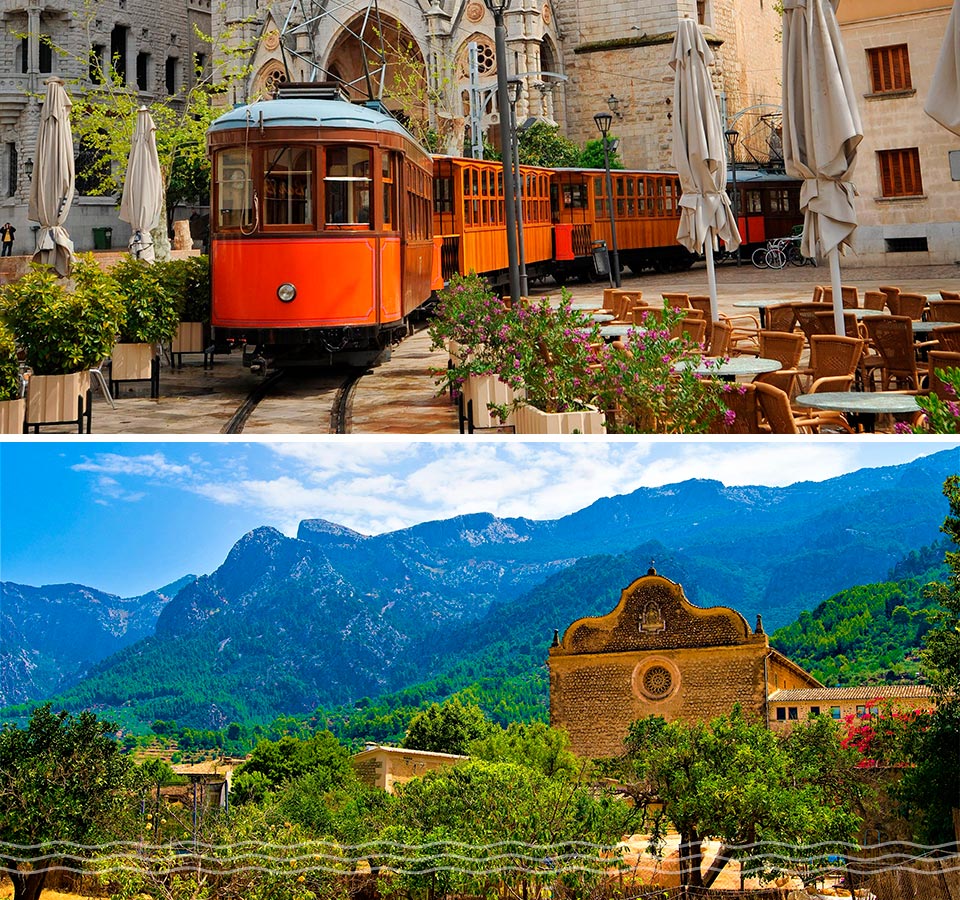 Formentera
Tiny, unspoilt Formentera is the ultimate place to switch off. The diverse scenery of the island is enough to boggle the mind – aquamarine waters stand out next to rocky, volcanic shores. Spend a day or several at one of many stunning, snow-white beaches. Migjorn is a great snorkelling spot with a long stretch of white sand, perfect for sunbathing. Calo Saona is a beautiful bay surrounded by forests and cliffs.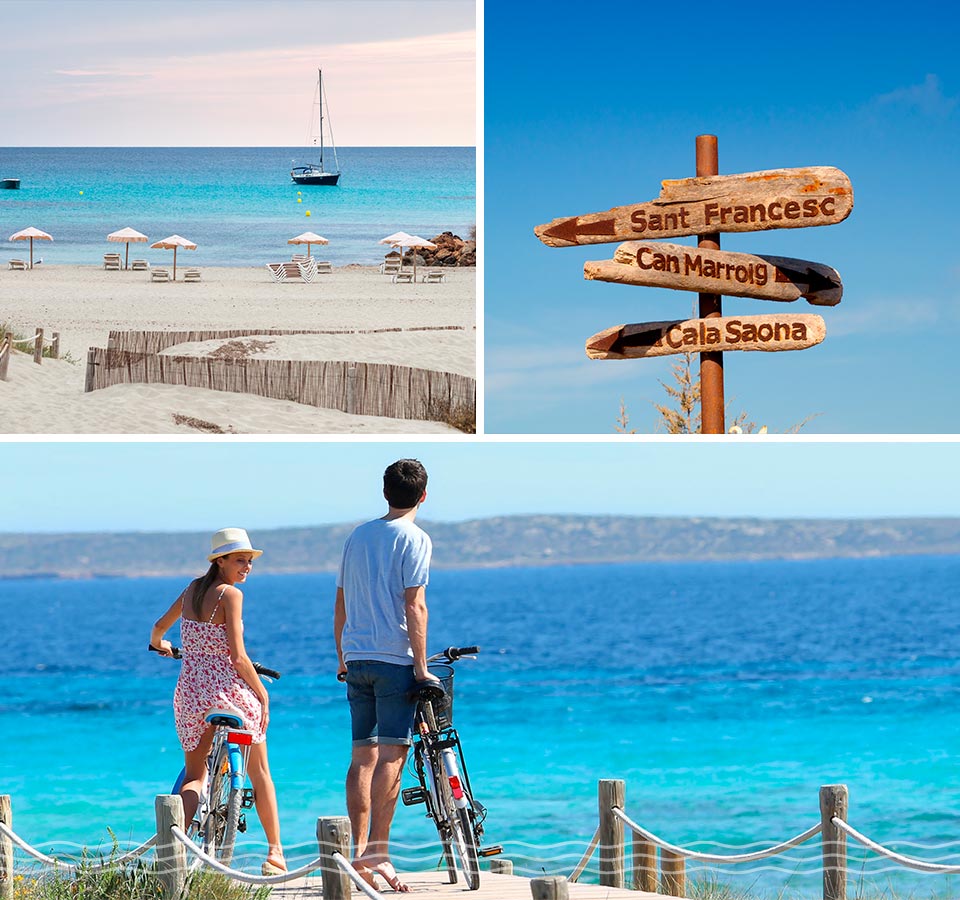 Playa de Ses Illetes
Formentera's famous beach is located in the north of the island. On the west side of the strip of sand you'll find the incredible pink beach, where coral dust mixes with snow white sand. Take luxurious dips in the turquoise water in between stretches of sunbathing, or choose from a variety of water sports including windsurfing, kitesurfing, sailing or snorkelling. Another option is to paddle to the nearby Espalmador.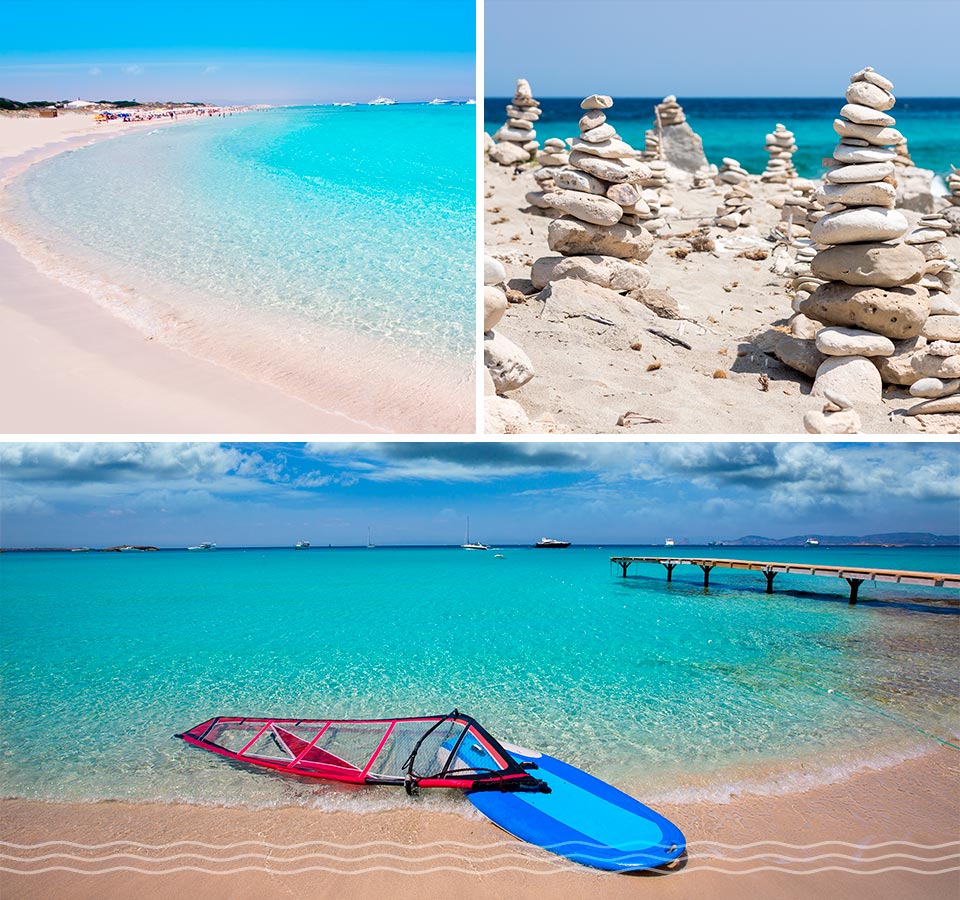 Espalmador
A short sail from Formentera, this uninhabited island boasts pure white beaches and crystal-clear waters. Nature lovers will be delighted with the rich bird life and huge variety of Balearic flora and fauna found on the island. Otherwise, there's plenty of swimming and sunbathing to be done.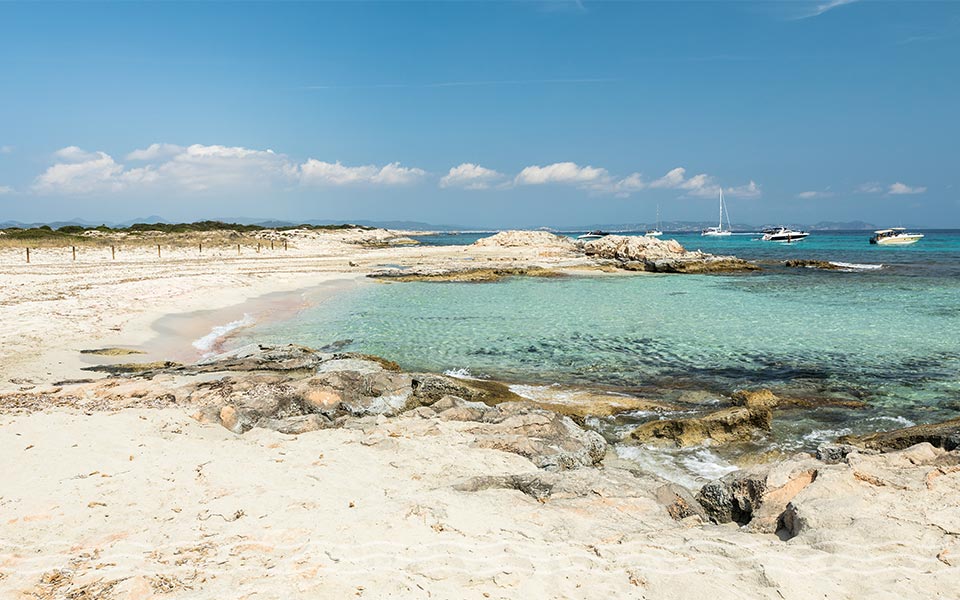 Menorca
The Balearic Islands' untamed cousin is the off-the-beaten-track island of Menorca, where the Camí de Cavalls footpath snakes around the entire island. Expect spectacular beaches, secluded coves, a laid-back atmosphere, gorgeous architecture and excellent cuisine. Explore the winding streets of Ciutadella de Menorca, Menorca's cultural second city.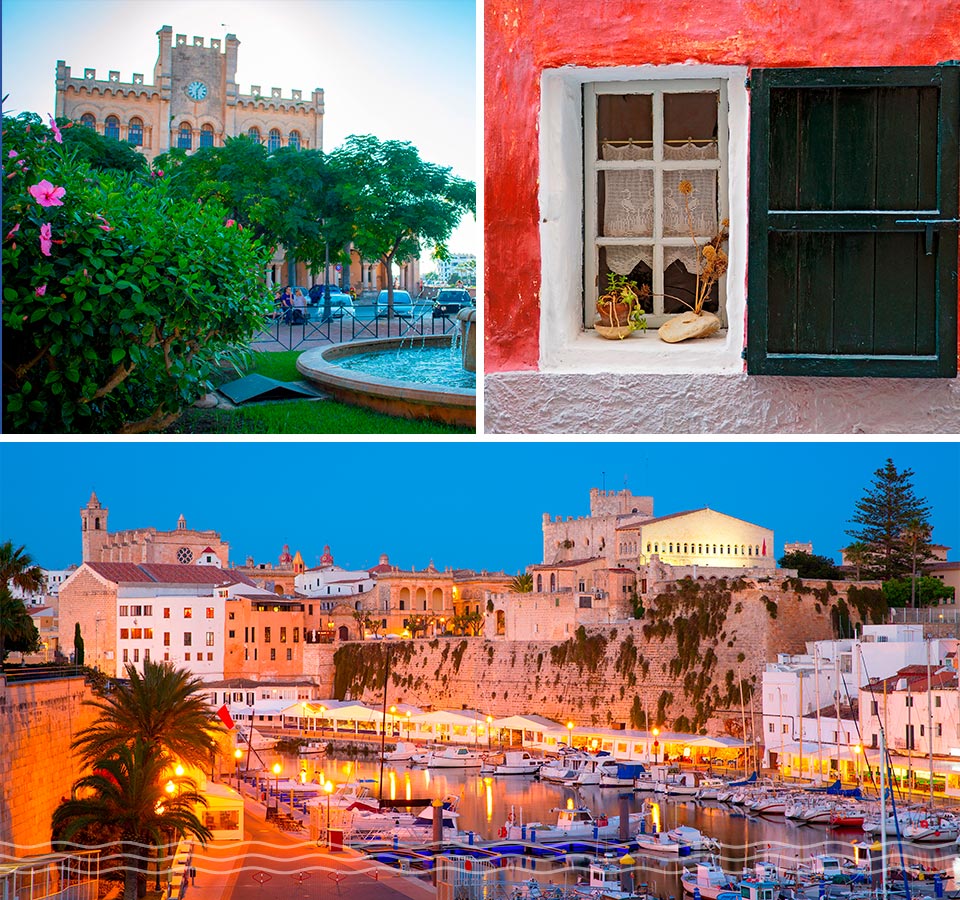 Top Photo Ops
Es Vedra
Es Vedra is a small, uninhabited island less than two miles off the west coast of Ibiza. You won't be able to step onto the island, but it makes for some gorgeous pics – especially at sunset.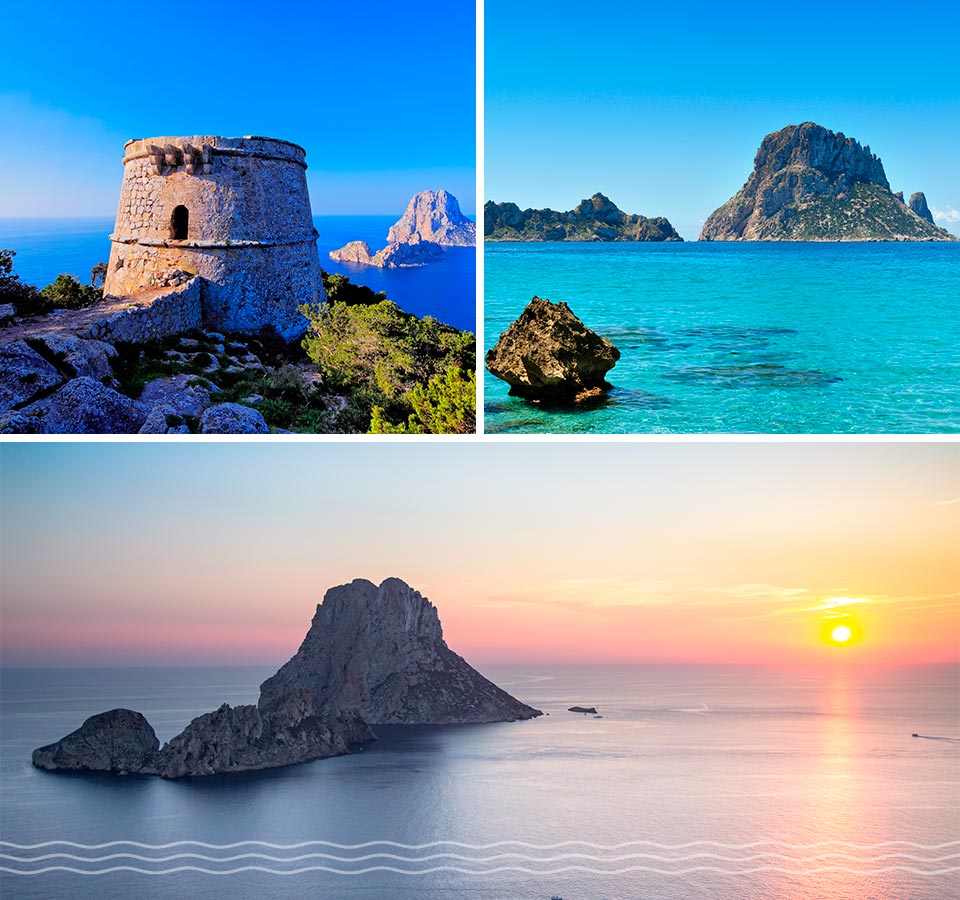 Portinatx, Ibiza
At the north of the island, the resort of Portinatx attracts with heavenly beaches and tranquil waters lapping against the rocks.
Santa Eulalia, Ibiza
This picturesque resort town packs a punch when it comes to scenic spots, complete with a whitewashed church complex called Puig de Missa.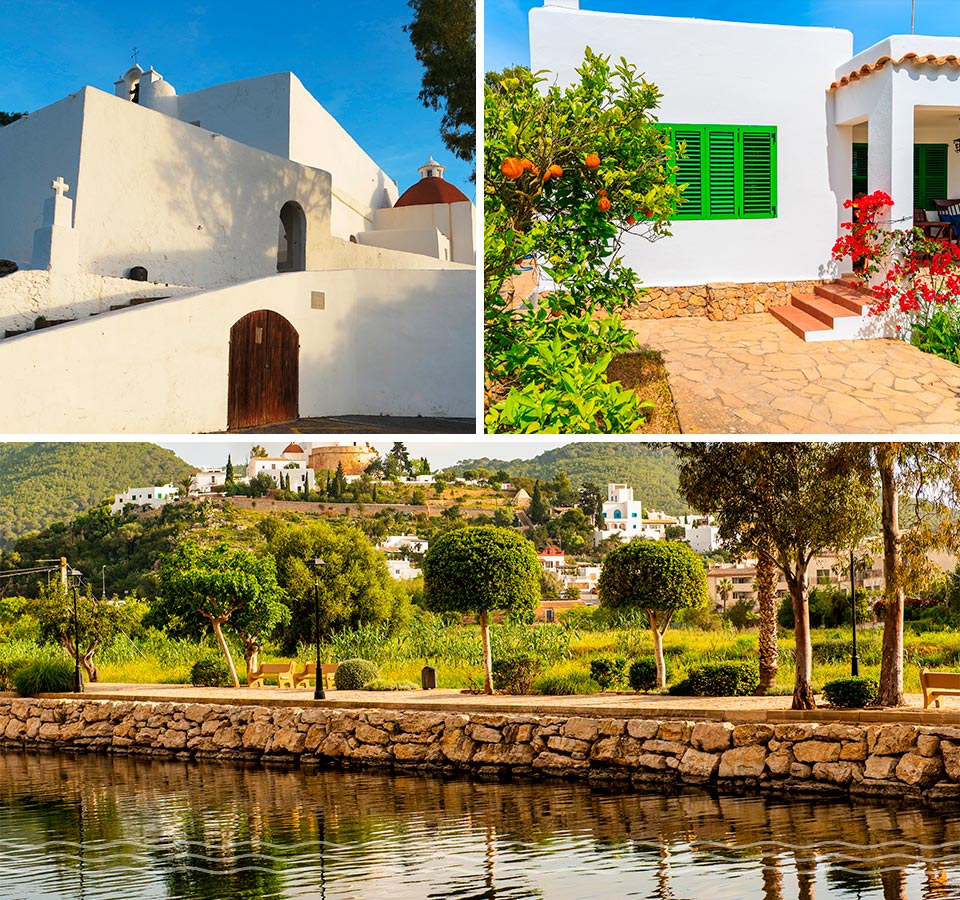 Sa Calobra, Mallorca
The Sa Calobra road, a long, winding stretch of 13kilometres, is one of the most scenic drives in the world. The road leads to a stunning beach sandwiched between vertiginous cliffs.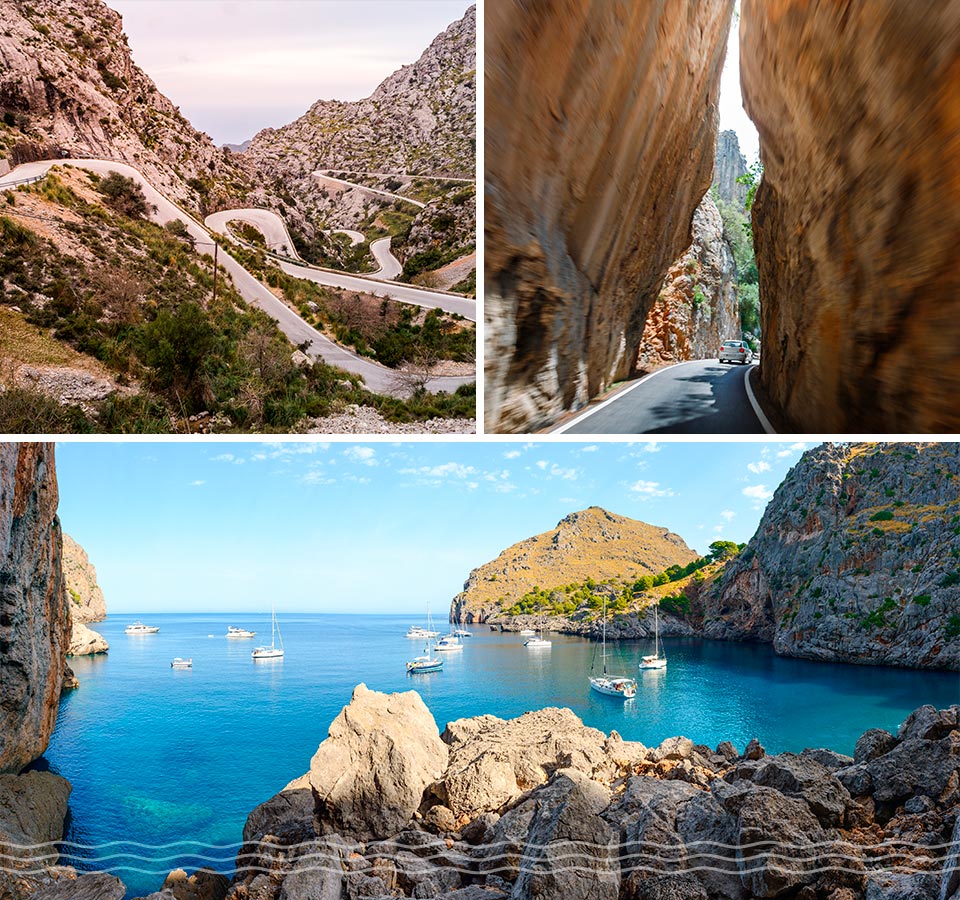 Cap de Formentor, Mallorca
The Cap de Formentor is the island's northern tip. The limestone cliffs form an otherworldly beauty that you'll be able to appreciate from the deck of your tender.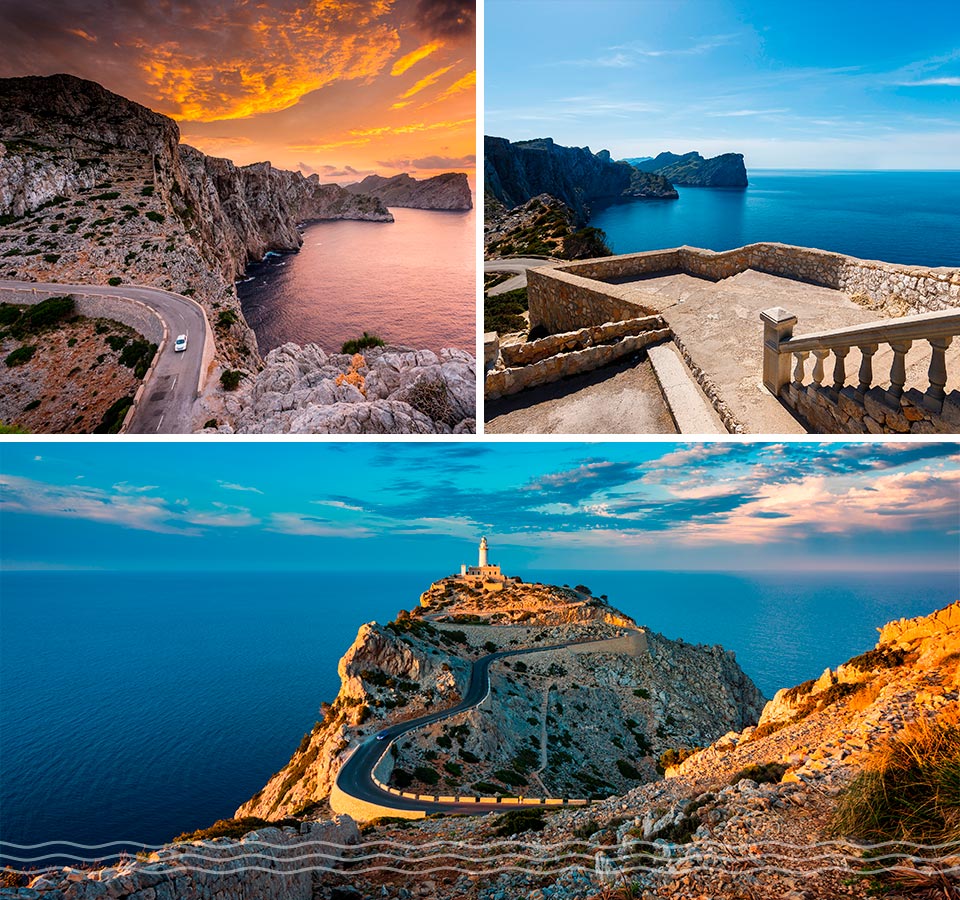 Es Baluard, Palma de Mallorca
You'll get plenty of great snaps at Es Baluard museum of contemporary art, a beautiful museum housing more than 700 works of art.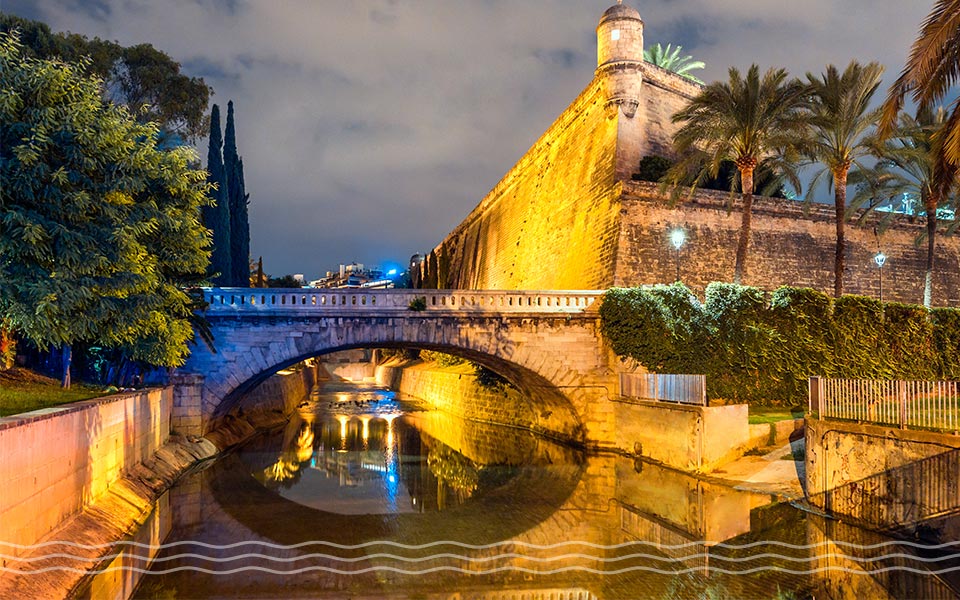 Arab baths, Palma de Mallorca
Visit these fascinating 10th century baths, pretty much all that remains of the Arab city of Medina Mayurqa (now Palma). Find them in the neighbourhood of La Calatrava in the old town.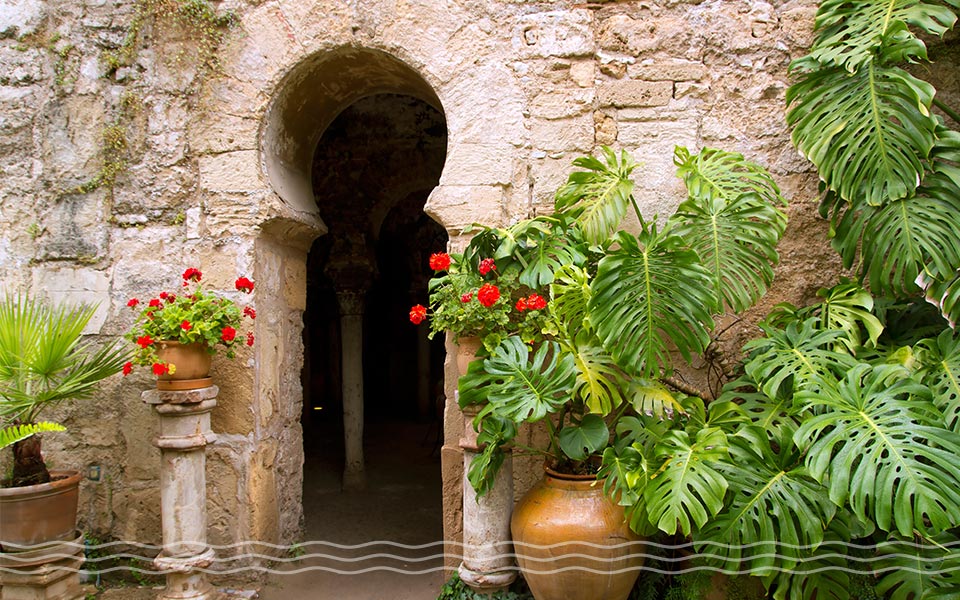 Sant Lluís, Menorca
This municipality in south-east Menorca has several beautiful coves including Binissafúller, Binibèquer Vell and Biniancolla featuring typical whitewashed fishermen's houses.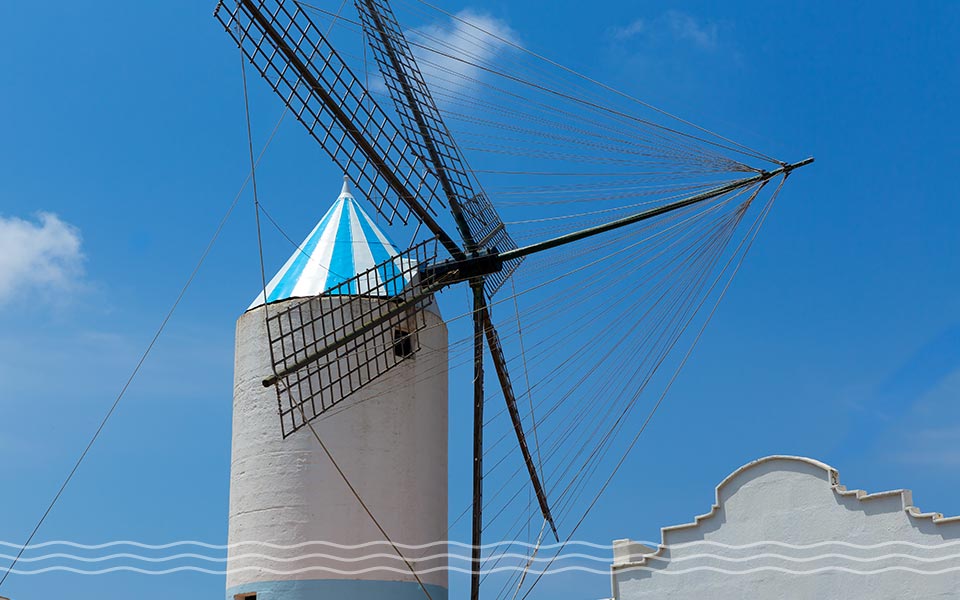 Binibèquer Vell, Menorca
Tender to the southeast of the island where you'll discover the charming village of Binibèquer Vell, with its labyrinth of narrow streets, whitewashed buildings and Moorish arches.
Porto Mahon
Mahón, or Maó as its known locally, is the capital of Menorca. Its picturesque port boasts a fascinating history, and makes for some stunning snaps.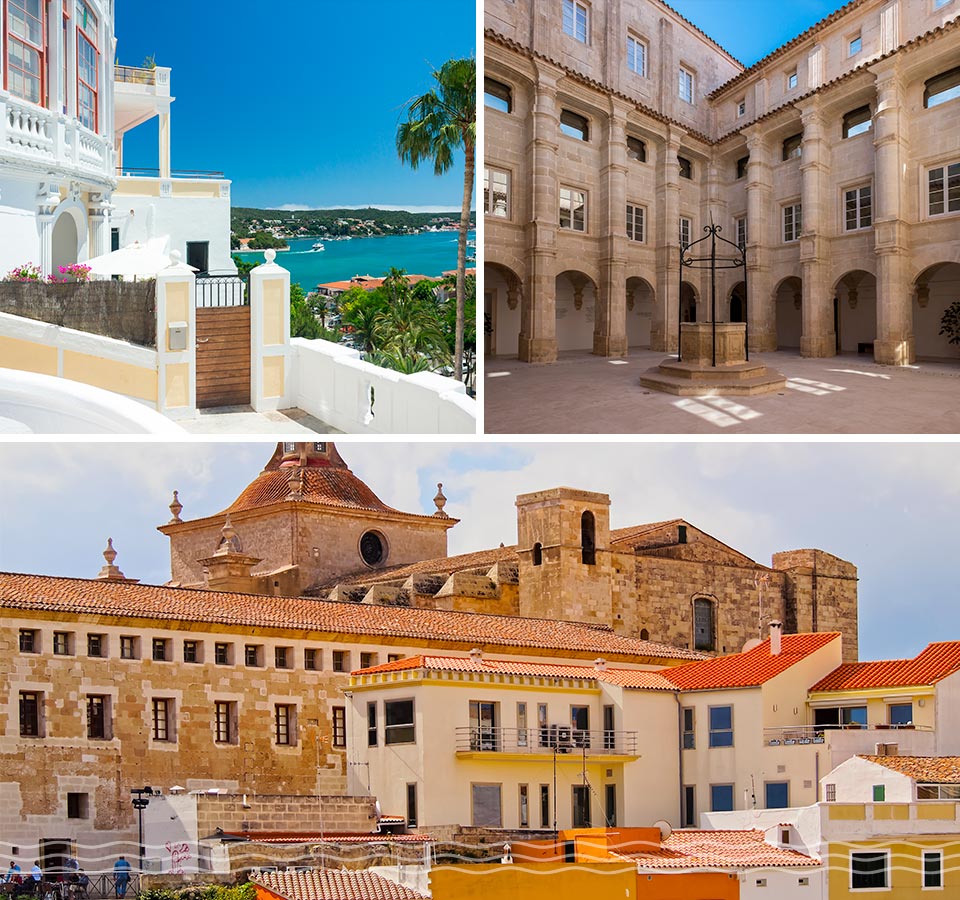 Punta Nati, Menorca
This active lighthouse is set in a landscape that includes wandering sheep, sheer cliffs and sweeping ocean views.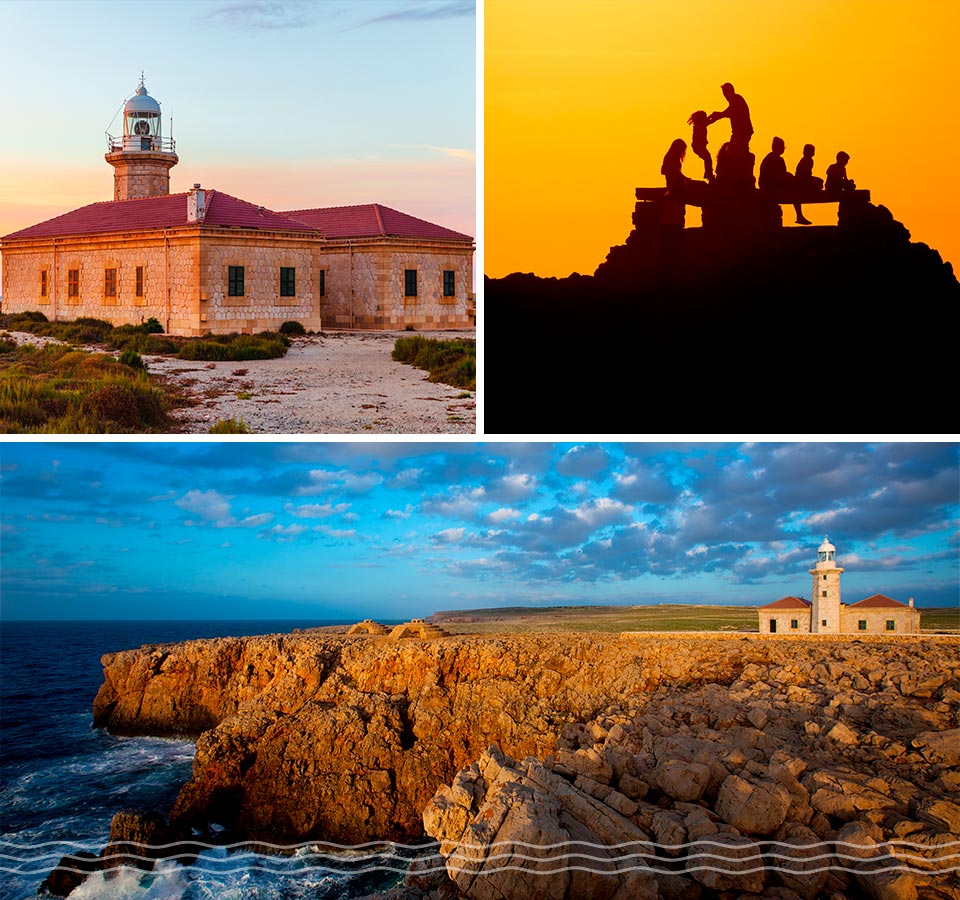 What to eat
Balearic cuisine shares many dishes and ingredients with Catalonia and the Valencian community, however there are several dishes that are traditionally Balearic.
Of course, seafood features prominently here, as well as pork due to the extensive pig breeding and farming in the region. Almond trees cover the islands, and the nut is used in both sweet and savoury dishes. You'll also find a strong presence of olive oil, tomatoes and bread.
The ensaimada is probably the most famous food product from Mallorca. This spiral-shaped pastry can be found in supermarkets, bakeries and cafes all around the island, and the country in fact. Another famous food from Mallorca is sobrassada, a thick, soft red sausage made from the Balearic pig. You can get sweet or spicy sobrassada, and it is generally served on bread.
One of the most memorable dishes you'll have in Menorca is the lobster stew, or calderata de langosta. This is made using the blue spiny lobster. Of course, you'll also be eating plenty of Maó (or Mahon) cheese from Menorca. The pale, soft cheese is made from cow's milk and is divine paired with fresh bread and red wine.
A staple in any Ibizan household is arroz de matanzas, a dish made of rice, any kind of local meat, saffron and mushrooms. There's also bullit de peix, a traditional Ibizan fish stew. In Ibiza, you'll find that there's no shortage of rooftop restaurants or bars. How about enjoying a decadent lunch a little closer to the heavens? Or sipping on a chilled cocktail as you admire sweeping views of the landscape below?
What to buy
There are a number of items you may wish to take home with you from the Balearic Islands. Across the islands you'll be able to pick up spices, cheeses, meats, local olive oil, wines and liqueurs. A particularly popular Menorcan spirit is Xoriguer gin, which originated in Mahon.
Mallorca is a goldmine of fabulous souvenirs. The island is famous for its glass blowing, pottery, textiles and embroidery, and leather goods.
In Menorca you can buy some Menorcan avarca, traditional sandals with rubber soles that are recycled from discarded tires.
You're certain to pick up something interesting at one of Ibiza's famous hippie markets. Since first appearing on the island in the 60s, these markets are full of fun, atmosphere and charm. Wares can include anything from locally produced food and drink to homemade toiletries – eco-friendly of course! The biggest and most popular markets are EsCanar- Punta Arabí and Las Dalias.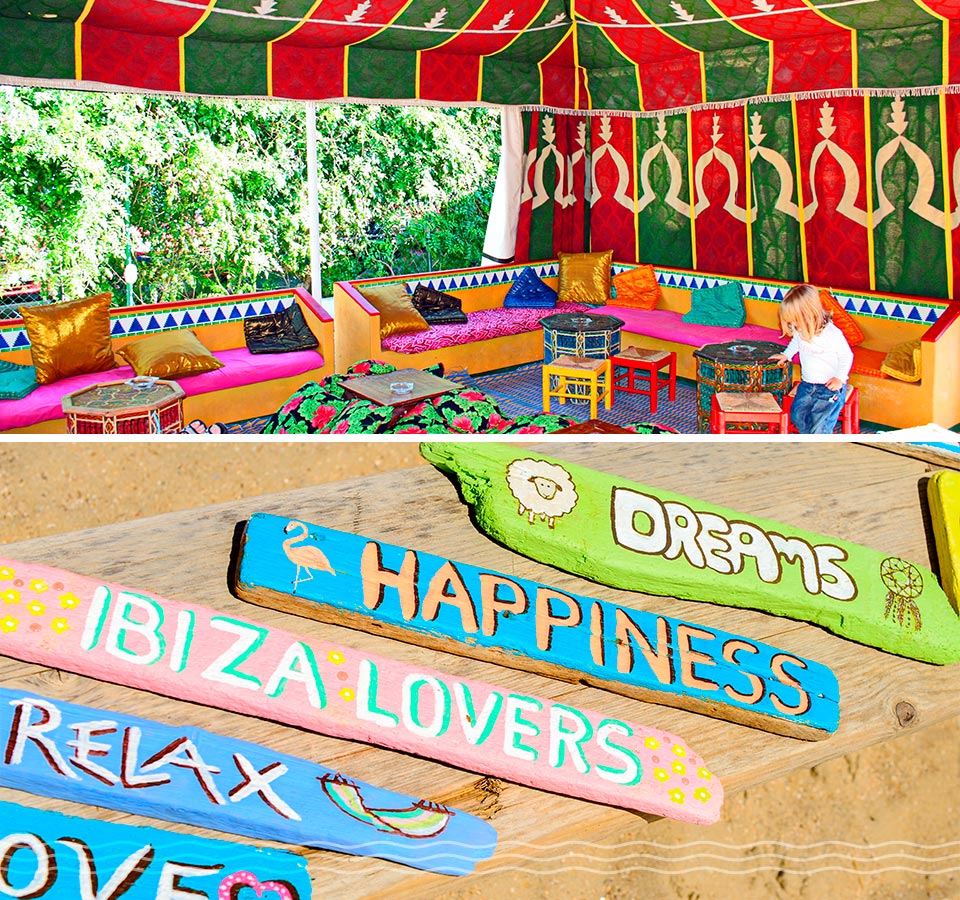 When to go
May, June and September are the ideal months for chartering in the Balearic Islands. The weather will be gorgeous, and you'll avoid the worst of the summer crowds. Those looking for the best parties in Ibiza should visit in May or October, when the opening and closing parties are held. The Balearic Islands attract a fair share of visitors year-round, but you can always escape and cruise to secluded coves for some respite.