Ibiza
The Clubbing capital of the world, the island of good time, Ibiza is wickedly good and totally irresistible.
Why Ibiza? Secluded coves and rooftop lunches, dreamy beaches and wild parties, historic Old Town and scenic pine covered hills – Ibiza is packed with a staggering array of opportunities for all tastes and inclinations.
Don't miss: Church Santa Eulària, Puig de Missa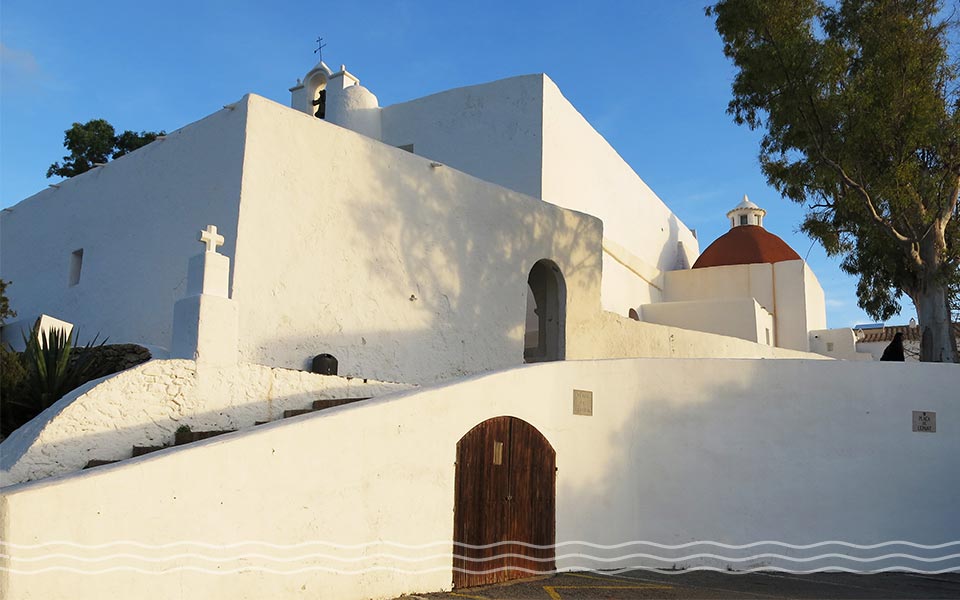 There is more to Ibiza than beaches and nightclubs! This 16 century church puts you in an entirely different mood. It's authentic and real. Spectacular views of Santa Eulalia and pine covered hills around it call for peaceful contemplation and mindfulness.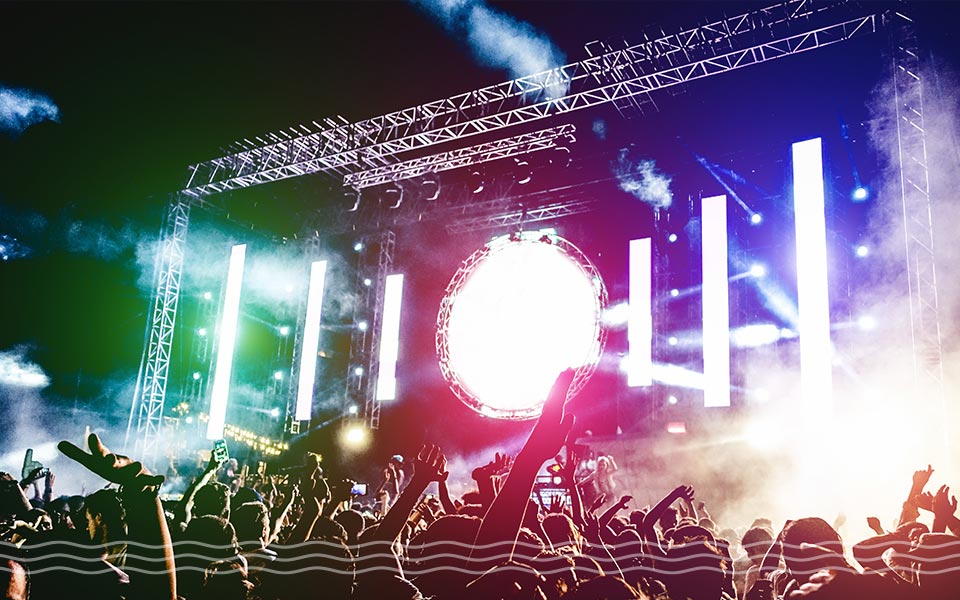 Ibiza Parties: Ibiza is famous for non-stop fun, lively music, wild parties, swanky clubs, top class djs and more, so get ready for dancing, drinking, chilling and socialising!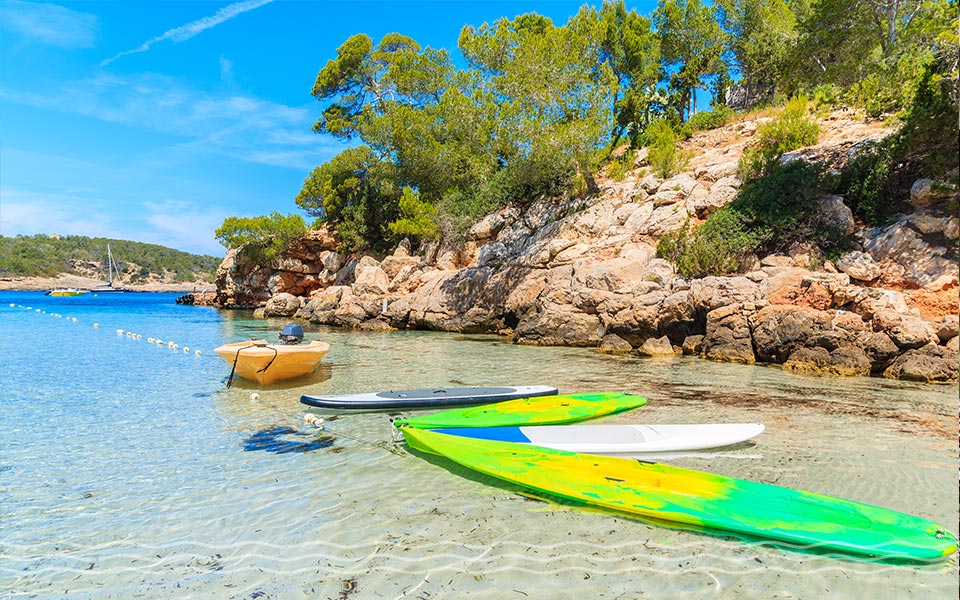 Cala Portinatx: Fantastic pristine beaches with translucent turquoise water and a lush green backdrop of densely forested hills – Cala Portinatx is home of some of the best Balearic beaches. ​​​​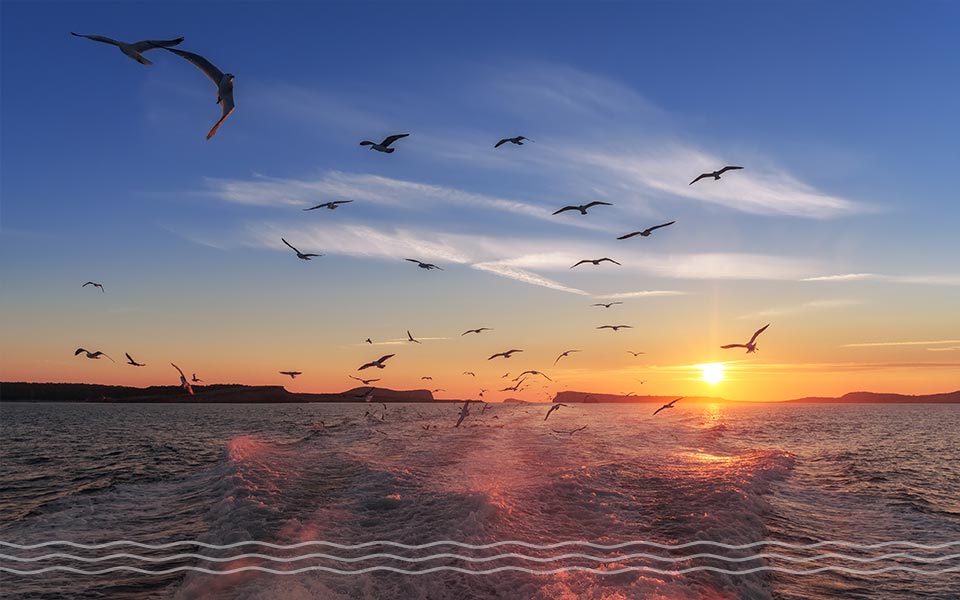 Sant Antoni: Sant Antoni, in the west of the island, is particularly famous for its flame-and-magenta sunsets. Here you'll find a good selection of waterfront clubs and restaurants with outside sitting.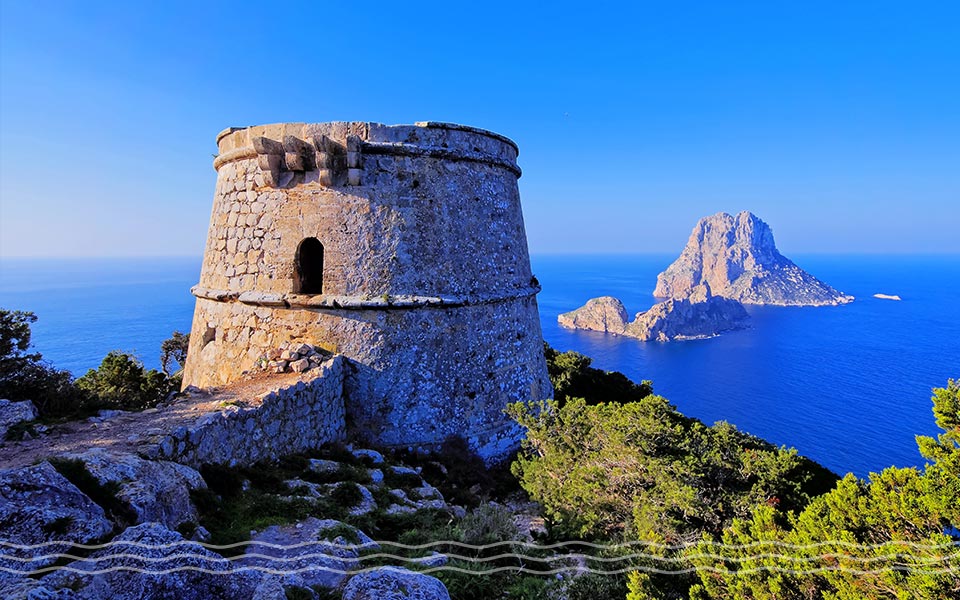 Es Vedra: Es Vedra is one of Ibiza's top landmarks for a reason. Pictures don't do it justice – ittakes your breath away, literally. Even if you've been there many times, you can't get enough of it.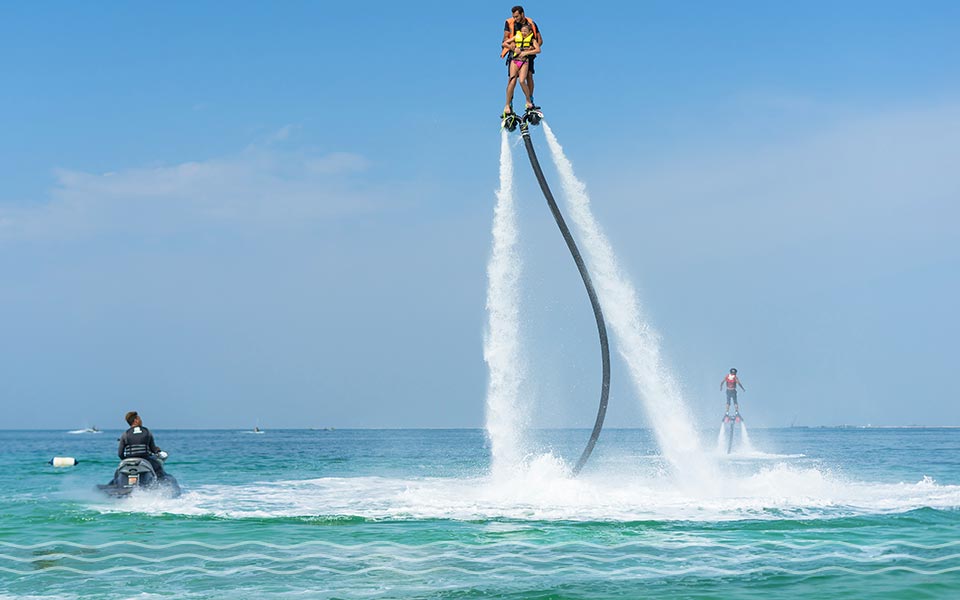 Ibiza Watersports: Water sports relieve stress and improve the mood. If you want some exercise and some adrenaline, opt for something like hydroflying shown in the photo above. There are also more relaxed and laid back activities such as paddle boarding. ​​​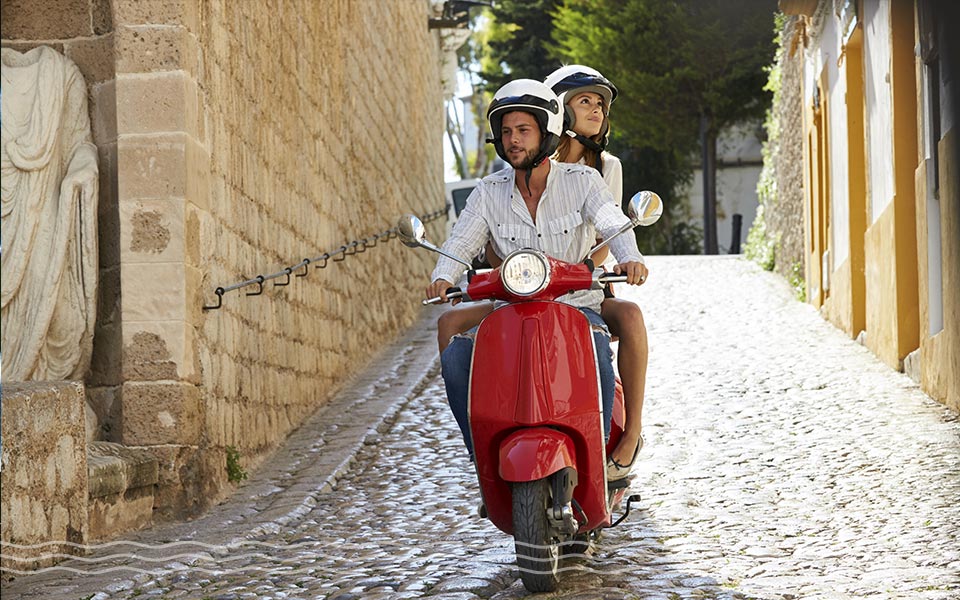 Historic Old Town: Cobbled streets, historic buildings, quaint little shops, sidewalk cafes… Dalt Vila, or Upper Town, is the most charming and atmospheric part of Ibiza City.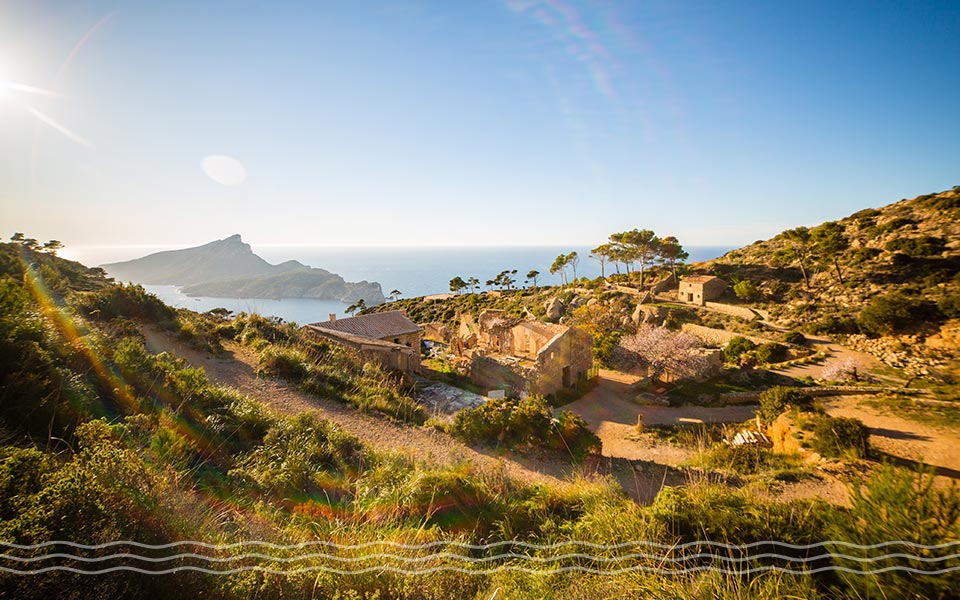 Mallorca Island
Why Mallorca? How did Mallorca become the destination of choice for the Spanish royal family and many other celebrities? Maybe it's the sheer beauty of the island? Its spectacular beaches? Its history, dating back centuries? Its indigenous wildlife? Its fine cuisine? In fact, there must be plenty of reasons – and you'll have a chance to find yours.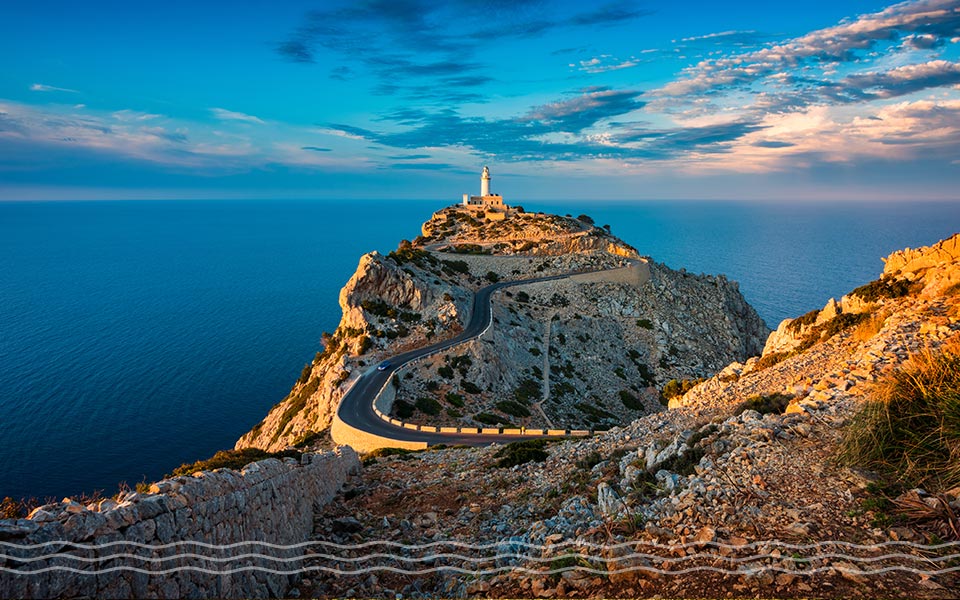 Lighthouse of Cap de Formentor, Mallorca: The best time to visit the Lighthouse – the highest in the Balearic Islands, 210 metres above the sea level – is the golden hour, starting about two hours before sunset. The views are truly breathtaking! ​​​​​​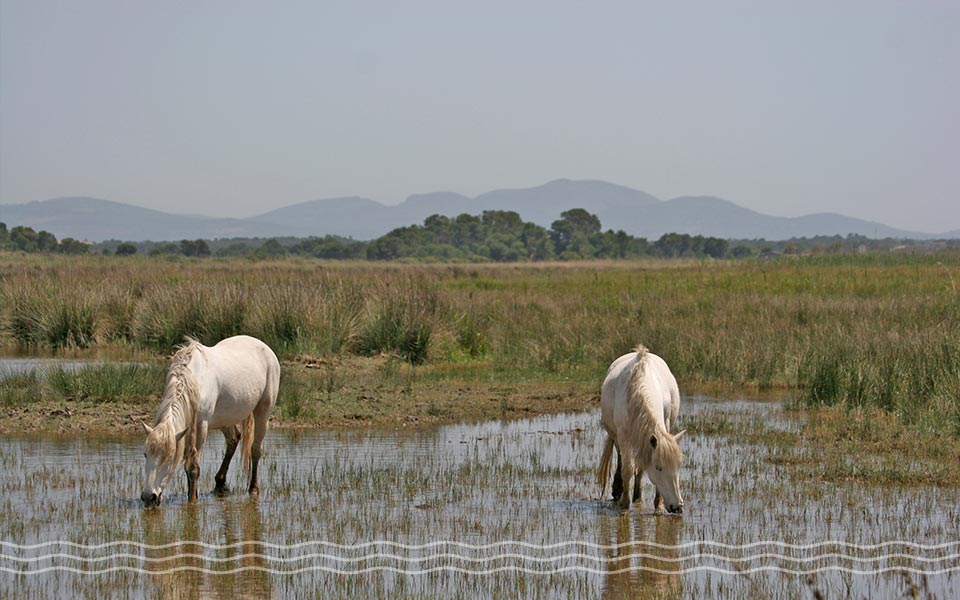 S'Albufera Natural Park, Mallorca: Mallorca boasts an impressive selection scenic hiking trails in the bucolic surrounds – your time here can be relaxed and tranquil. The S'Albufera Natural Park, for instance, is perfect for bicycling and bird watching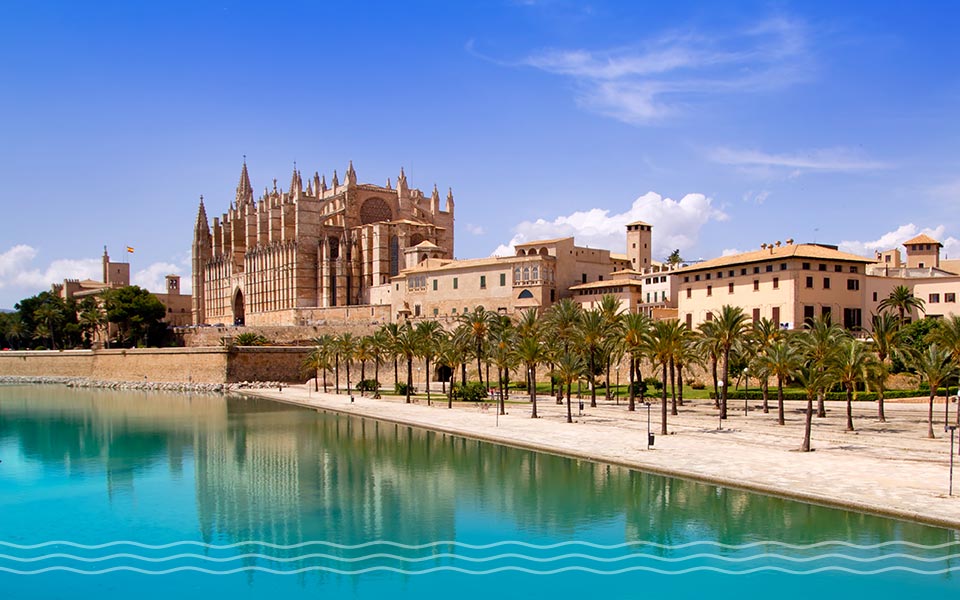 Palma de Mallorca. Palma, the capital of Mallorca, is steeped in history. Palma Cathedral above dates back to 1200-ies, it's a masterpiece of Gothic architecture. Castles, basilicas, arcades, narrow cobblestone streets, historic quarters of Palma will make you feel like you've travelled back in time.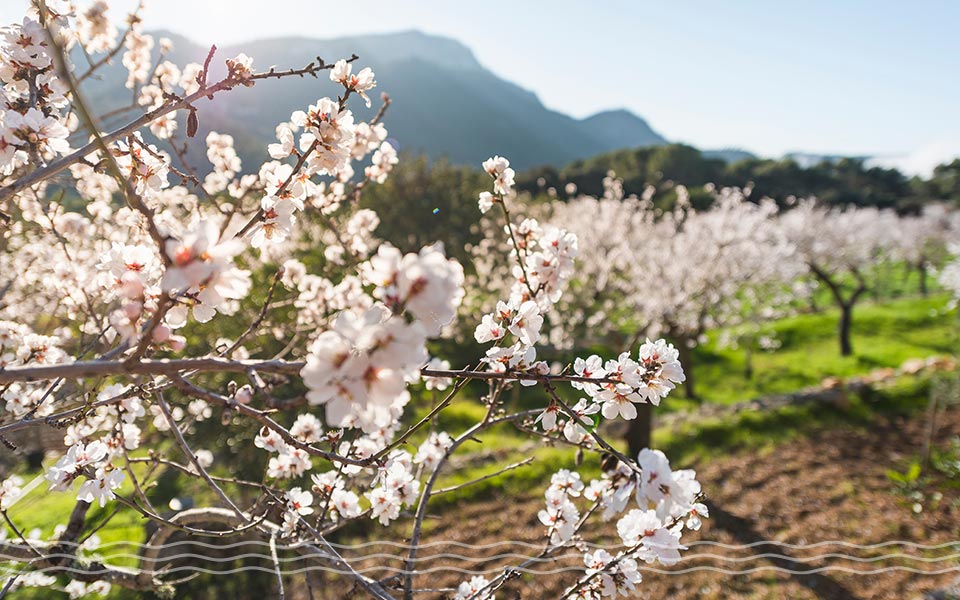 Serra de Tramuntana, Mallorca. Precipitous peaks, curvy roads, breathtaking scenery, narrow passes through the rock face – Serra de Tramuntana has a lot of visual delights for you to marvel at. From the Puig Major, 4740 feet tall, you will see Sa Colabra beach and Torrent of Pareis.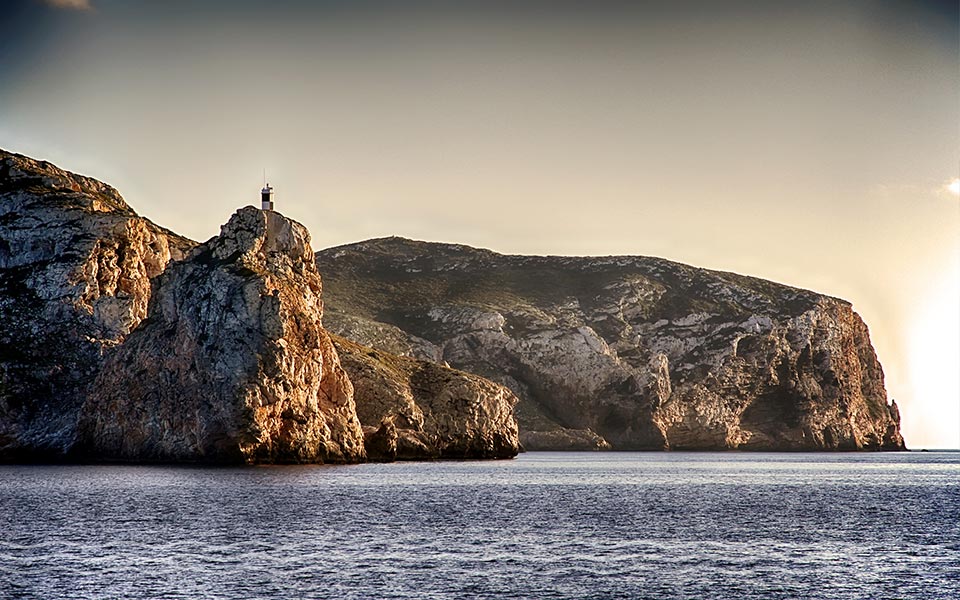 Cabrera Island. Stunning views, craggy cliffs, colonies of seabirds, great spots for diving and snorkelling where you'll get to see barracuda, groupers and stingrays. Cabrera National Park is ideal if you want to reconnect with nature.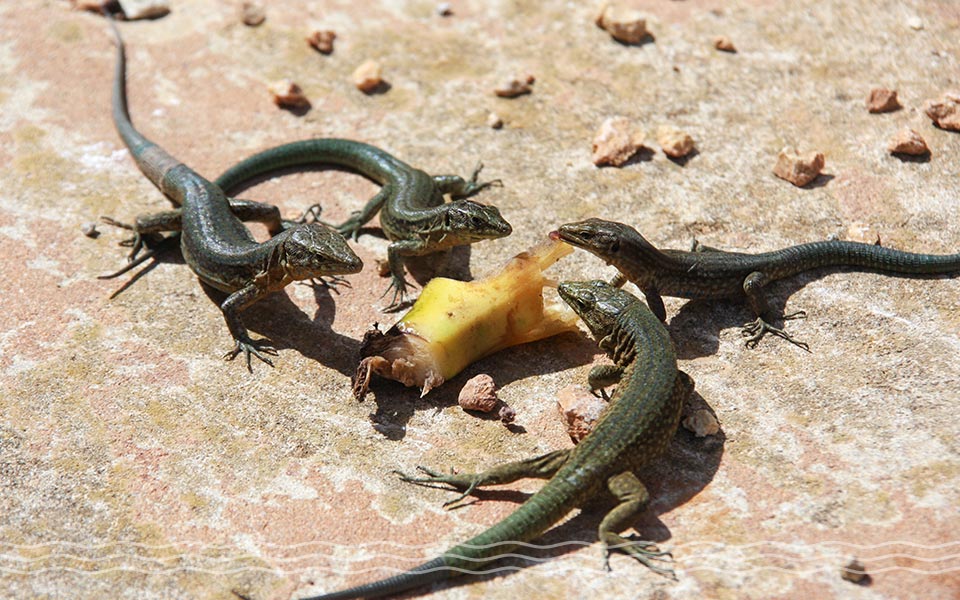 Sa Dragonera Island. The views, the rocks, the lizards, the birds of prey, Dragonera, uninhabited and unspoilt, is a sheer delight to explore.
Menorca Island
Why Menorca: Primeval and unspoilt, Menorca has a lot to offer to a nature and wildlife enthusiast. Bird watching, swimming, hiking, snorkelling could be a refreshing change from partying in Ibiza or shopping in Palma.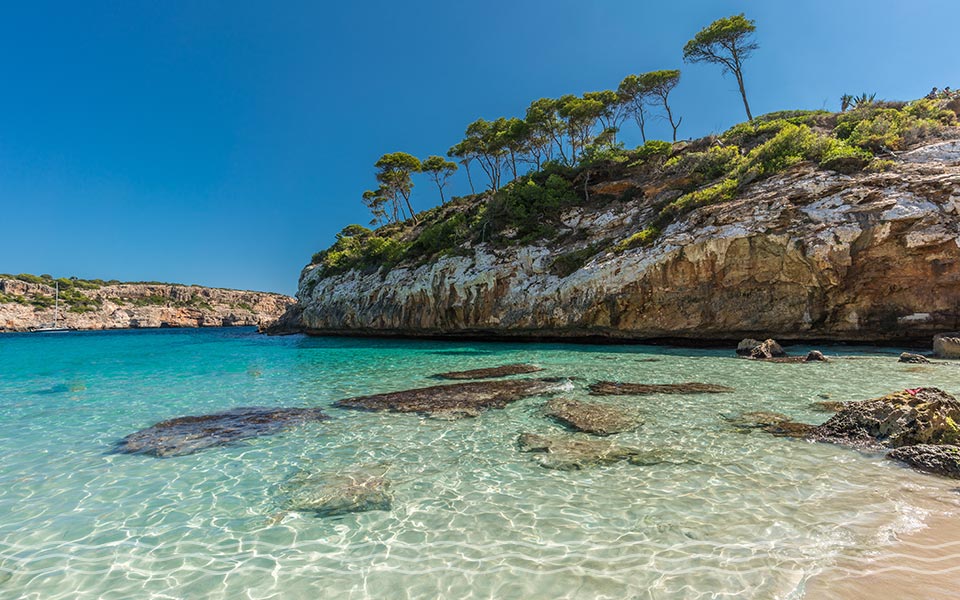 Don't miss: Mahon, the capital, Ciutadella, the original capital, and Binibèquer Vell, the rehashed shipping village. In Mahon you'll find a few good deli shops – and take home some authentic sobrasada, Xoriguer's gin and cheese. Ciutadella is known for its neoclassical architecture and scenic harbour. Binibèquer Vell, with its narrow alleyways and whitewashed houses, is totally charming.
Formentera Island
Why Formentera? Crystal clear water, turquoise, azure, aquamarine, sapphire, spectacular coastline, soft white sand, idyllic beaches, views to die for… Formentera is a gem in the crown of Balearic islands.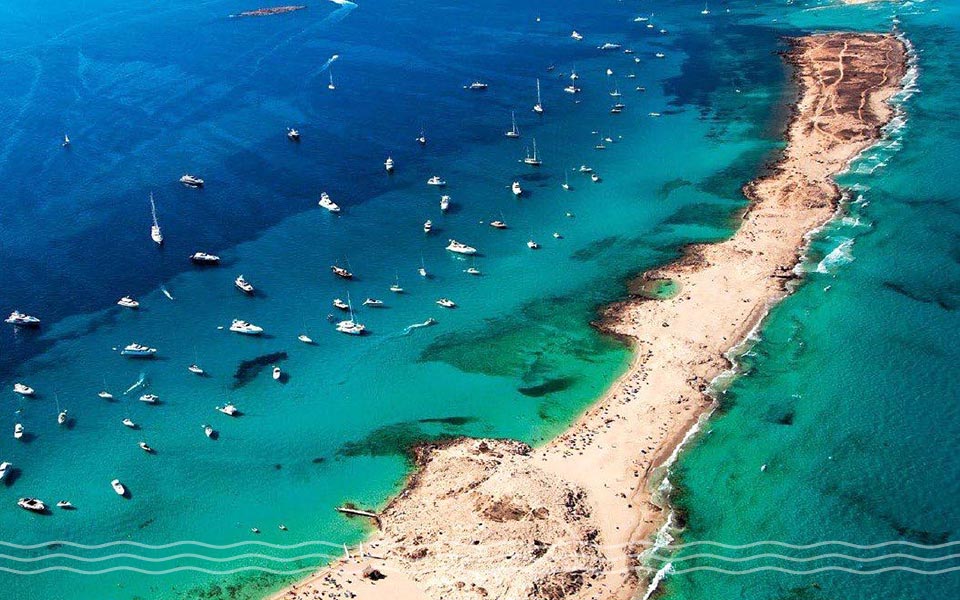 Don't miss:
Ses Salines
The salt marshes in Ses Salines are home graceful flamingoes staying here from August to November. Scenic hiking trails in the bucolic surrounds and the Ses Salines beach are full of charm you'll find hard to resist.
Playa de ses Illetes, Formentera
One of the best beaches in the world, Playa de ses Illetes will charm you with its pellucid water, silky soft sand and spectacular coastline. It gets compared to beaches of Cuba, Dominicana, Maldives and Caribbean islands, but Playa de ses Illetes is truly unparalleled. It is located inside a natural reserve, so there is a limit to the number of visitors arriving by car – meaning it's never too crowded.