Why charter a yacht Santorini
Santorini is that idyllic Greek paradise constantly gracing the front covers of travel magazines and pamphlets. Admiring the island from the comfort of a private yacht charter is an incomparable experience. You'll see the island from a unique perspective and explore all those hidden gems difficult to reach from land. One of the most popular Greek islands, you'll be far from the madding crowd on your own private yacht. Even if you've visited Santorini before, there is always so much more to discover.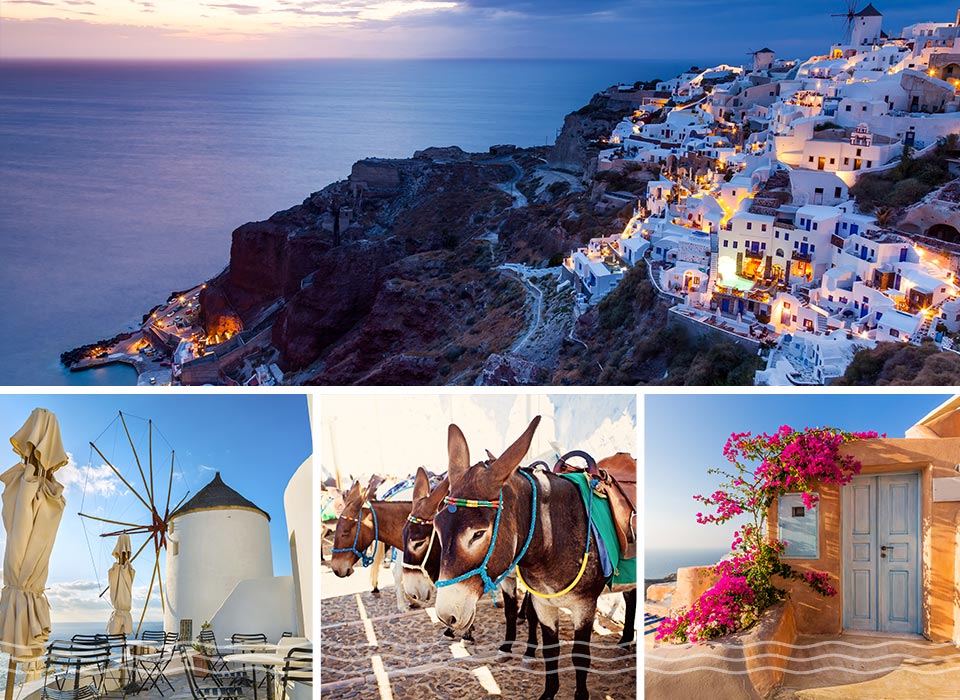 Santorini isn't just azure waters and Cycladic architecture, it's the home to several archaeological sites including Ancient Thira, a Doric city-fortress from the 9th century BC, and there are fascinating on-going excavations at Akrotiri, an even earlier Minoan settlement. Santorini is also famous for ancient vineyards and volcanic beaches.
As Santorini was formed by volcanic activity many years ago, the geographical history of the island can be seen in its many rock and mineral formations all over the island. The Santorini caldera formed when the crater sank into the sea in 1645 BC, effectively destroying the Minoan civilization.
Be warned - Santorini might not be home to the best beaches in the world – that is, if you like your beaches to have soft, snow-white sand. Two of Santorini's most popular beaches (Kamari Beach and Perissa Beach) are actually black sand beaches. That being said, the water is beautifully clear - the coarse sand doesn't cloud the water as much as fine sand.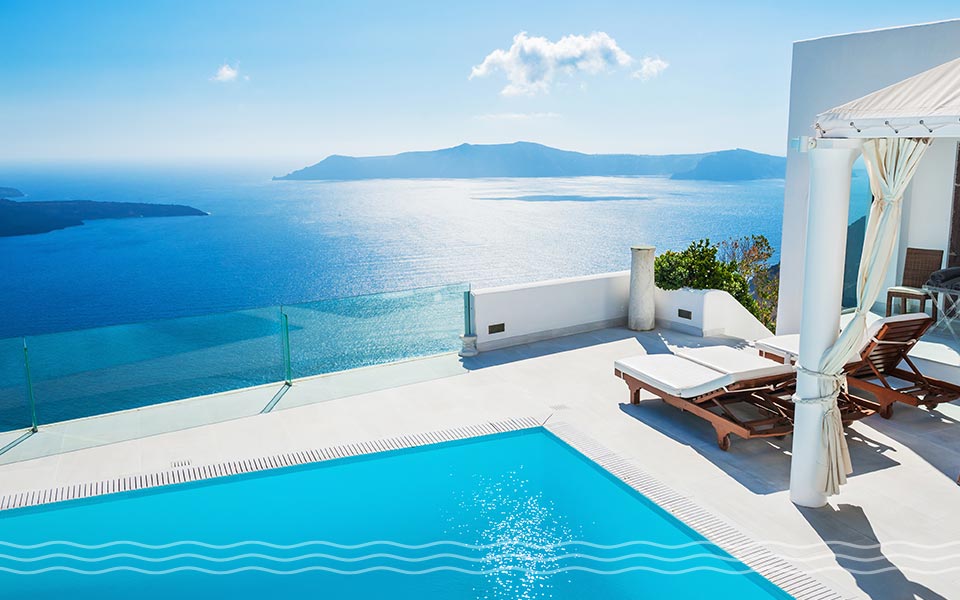 Main attractions
Fira
A swish hideout for the rich and famous, Fira is the vibrant main town of Santorini. It's right on the edge of the caldera and replete with posh hotels, cave houses and narrow streets bubbling with people, shops, bars and restaurants. Catch the cable car to the top of Fira, 300m above the port, or climb the 587 steps by foot. There is also the option of riding atop a donkey for part of the journey, for a really authentic Greek experience.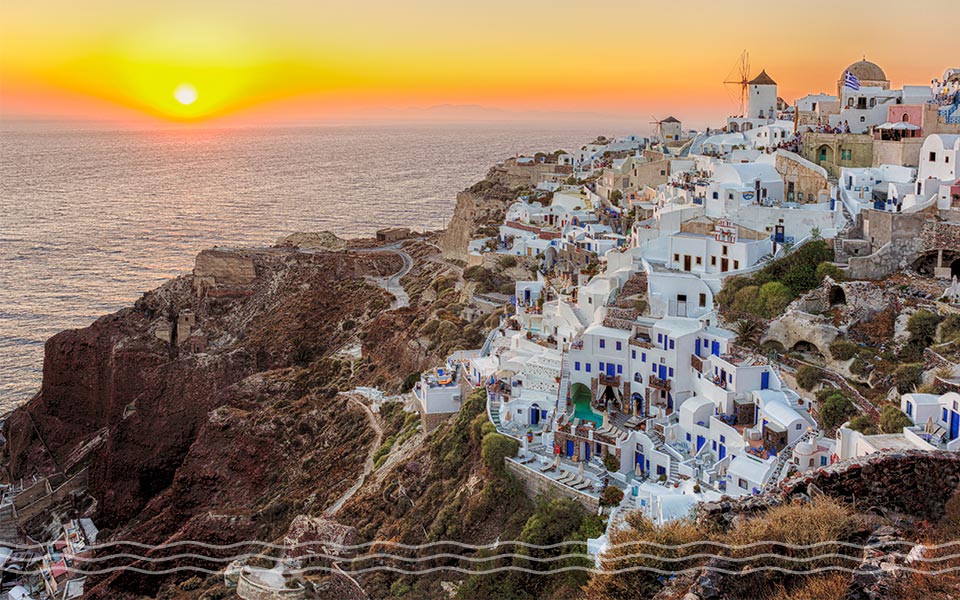 Oia
Visiting the famous town of Oia, with its whitewashed buildings and classic blue domes, is a must. Explore its cobbled streets and browse its upmarket stores and boutiques.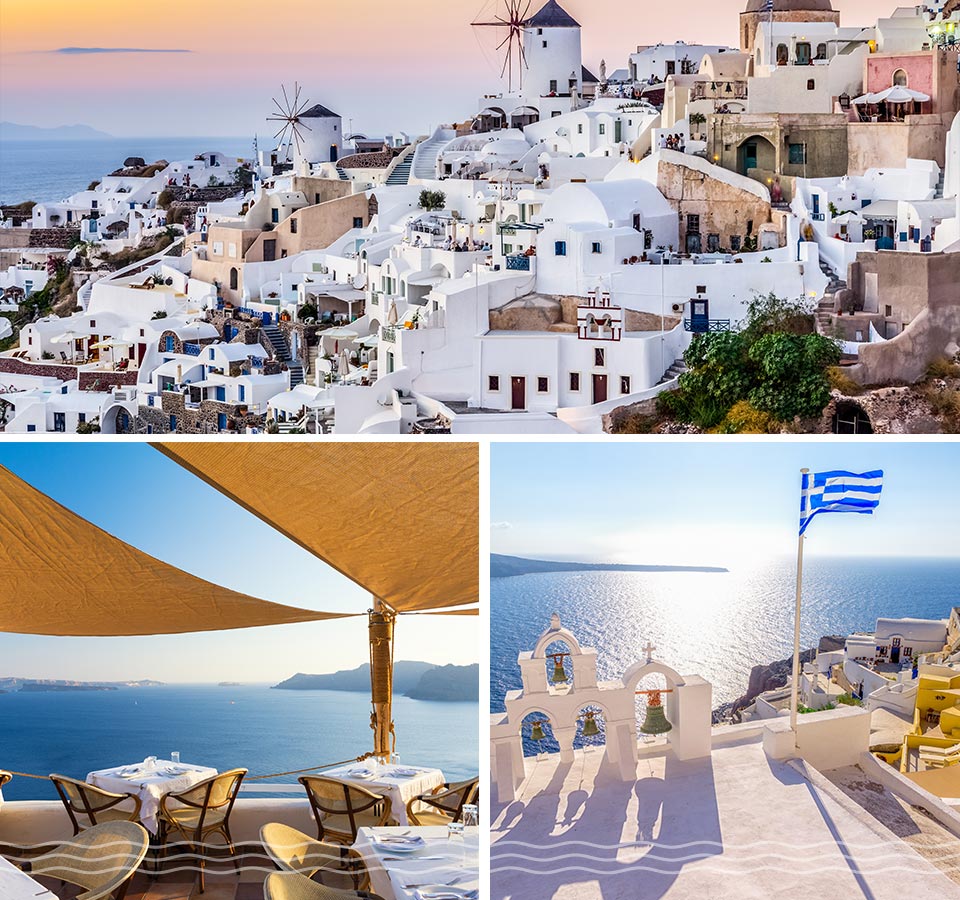 Then take the steps down to Ammoudi for a front-row seat to one of the most stunning sunsets you'll ever see, before indulging in an authentic dinner at a waterfront seafood eatery.

Ancient Thira
See the ruins of Hellenistic temples and foundations of Roman and early-Byzantine buildings at ancient Thira (or Ancient Thera). The ruins include temples, houses with mosaics, an agora (market), a theatre and a gymnasium.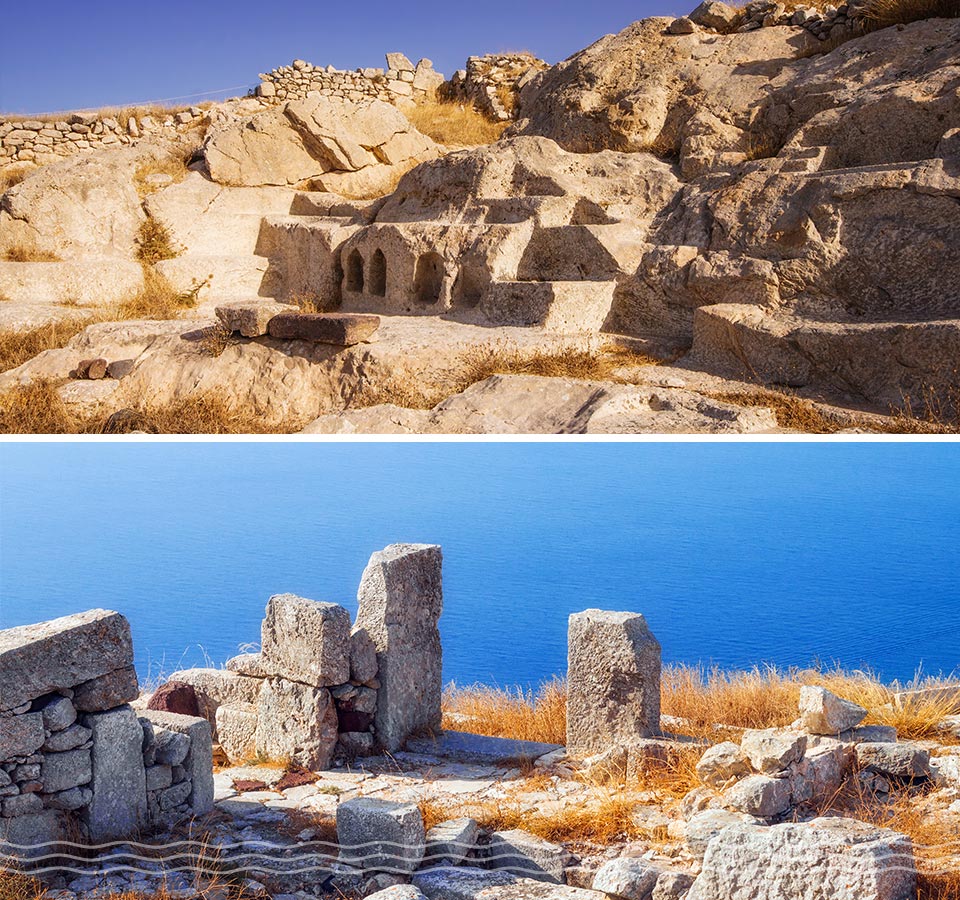 Akrotiri Archaeological Site
Near the village of modern Akrotiri, visit the fascinating on-going excavations at Akrotiri, a Minoan settlement preserved by volcanic ash from an eruption in 1613BC (the same one that created the caldera). Explore the remains of this once-thriving town - you'll see buildings of up to three storeys, roads, drainage systems, and collections of pottery.
Museum of Prehistoric Thera
This museum houses beautiful treasures excavated from Akrotiri, including wall paintings, ceramics, and a beautiful gold ibex figurine that dates from the 17th century BC.
Thirassia island
Take the tender to the Thirassia island, still untouched by tourism, for an idea of what Santorini would be like without the hordes of tourists. The abundance of nature and pristine beaches are the top drawcards of Thirassia.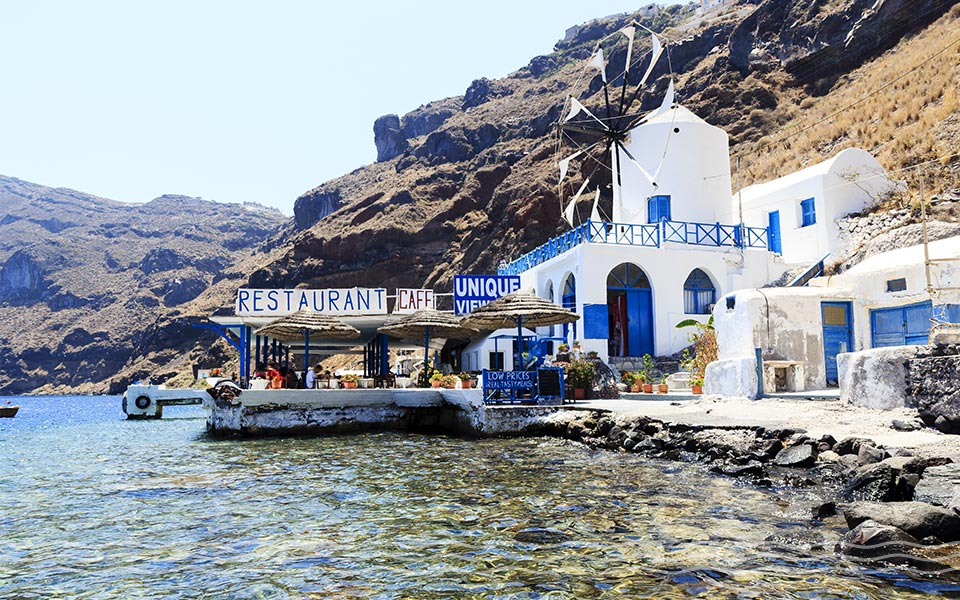 Monastery of Profitis Ilias
An 18th century monastery built on the highest point of the island, still inhabited by monks, the monastery is a perfect example of Cycladic architecture at its very best. Visit for gorgeous, sweeping views of Santorini, an interesting museum, and to visit the chapel, with its colourful frescos. Local products handmade by the monks could make for some authentic gifts to take home for friends and family.
Nea Kameni
The two small islands in the centre of the Santorini caldera, Palea Kameni and Nea Kameni, are the youngest volcanic lands in the Eastern Mediterranean. You can take a private tour to Nea Kameni, swim in the the medicinal hot springs and hike up to the crater of the active volcano!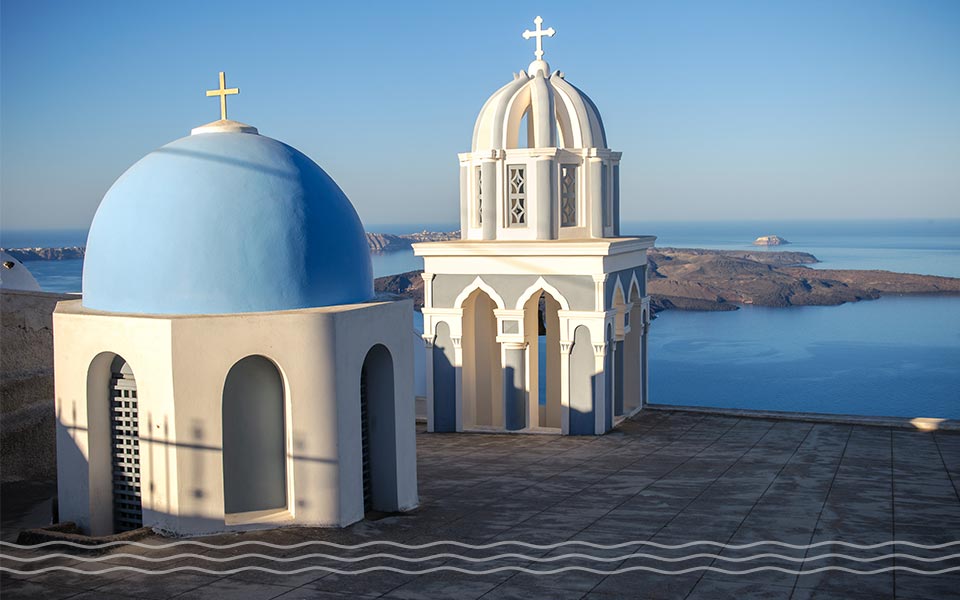 Top photo ops
Skaros Rock - Skaros is not just cool to look at, it's the first of five kasteli (fortresses) built on Santorini in the 15th century to protect against pirate attacks. You'll enjoy great views from here, and there's a lovely church as well.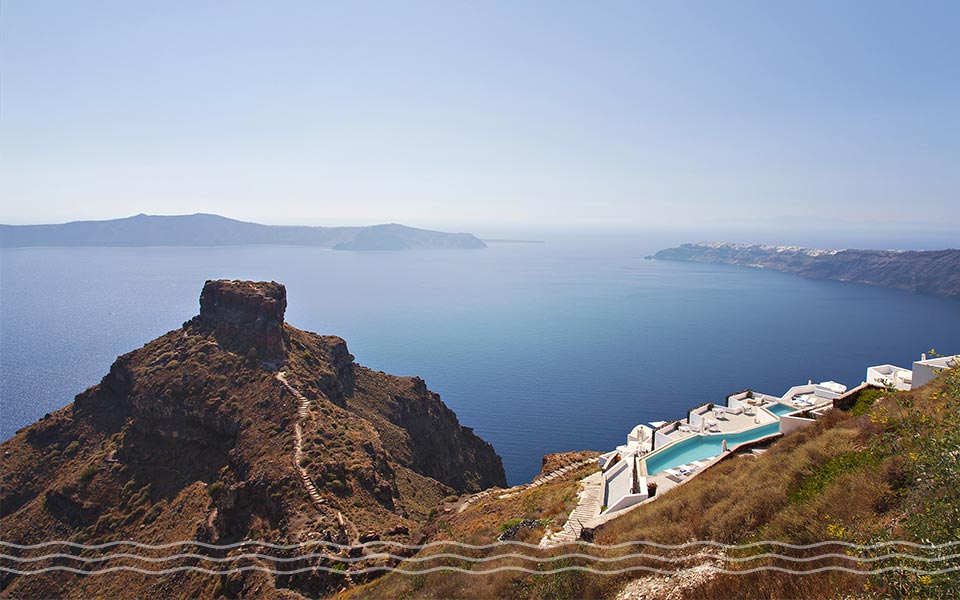 Red Beach - Located near the village and ancient site of Akrotiri, the red beach is a real treasure of Santorini. Viewed from the deck of your private charter, you'll be able to get some really good snaps of the famous landmark.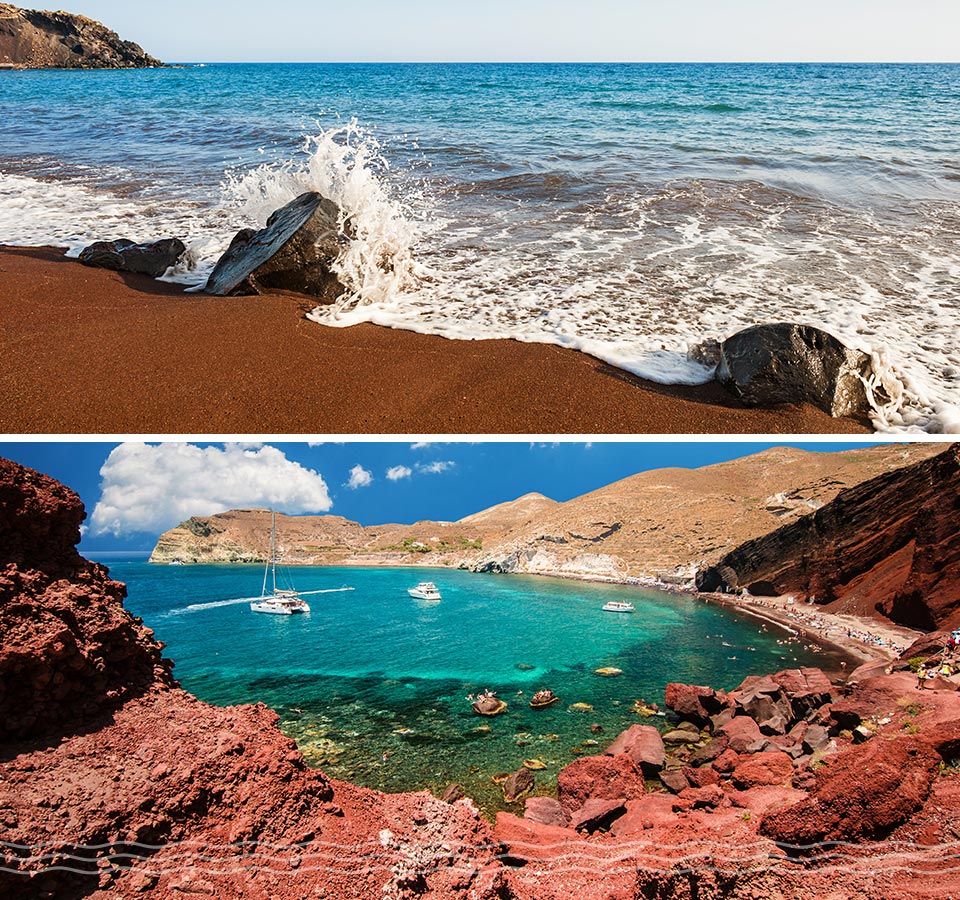 White Beach - The cove right next to the Red beach, on the southern side of Santorini, is known as the White beach. The beach is pebbly and low on amenities but the stunning backdrop of sheer white cliffs is worth a pic or two.
Amoudi Bay - You'll find this colourful port tucked beneath Oia, where tavernas line the water's edge and brightly coloured boats bob in the water. Follow the path that leads from the restaurants towards a rocky beach, where you can swim in the glittering water while looking up at the village and striking red cliffs above. Swim over to the little island of Saint Nicholas and jump from a designated point into the deep blue water.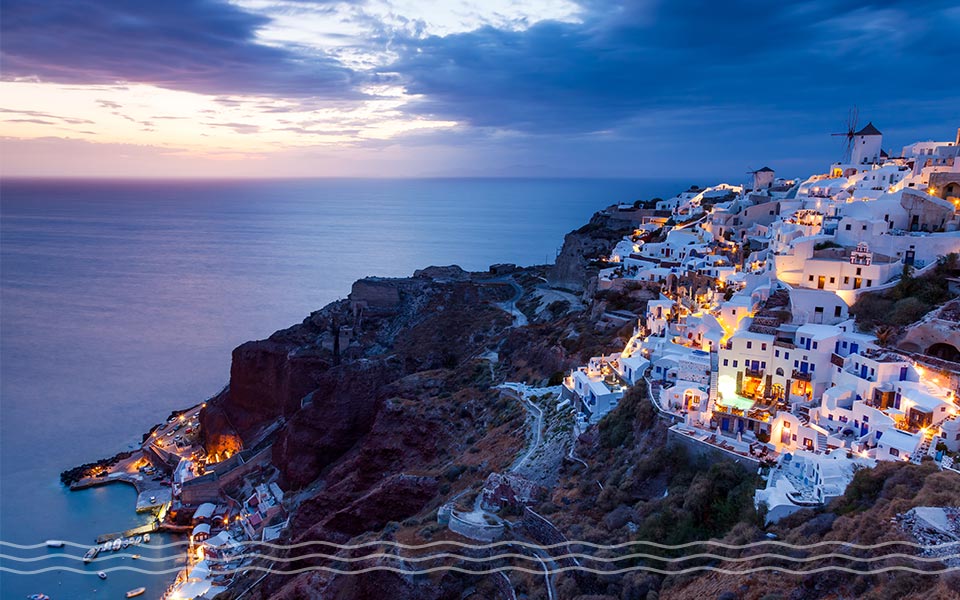 Akrotiri Lighthouse - Located on the tip of Santorini's south western point, you can view the entire caldera from here, without the crowds!
What to eat
Fava is one of the most famous local dishes on the island. Nothing to do with fava beans, it's a yellow split pea purée, usually served warm with olive oil and lemon. Also very famous are the locally grown variety of tomatoes, called Santorini tomatoes. They are very sweet and the size of cherries, used to make a dish called Ntomatokeftedes, or tomato fritters. While in Santorini be sure to try some white eggplant, a unique variety with a sweeter taste than the purple one. A special local cheese only found on the island, called Chlorotyri, is slightly sour yet creamy, and can be eaten on bread or as part of a traditional Greek salad.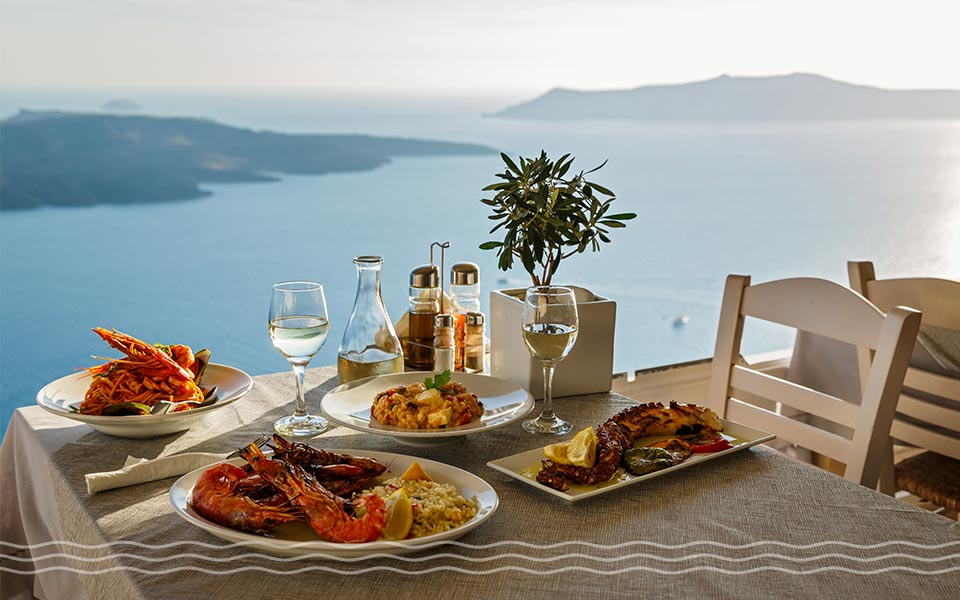 What to buy
Aside from stocking up on olive oil and other delicious gourmet items, there are a lot of interesting products that you can take home for friends or for yourself. Santorini has a wide variety of interesting alcohol that you'll be hard-pressed to find anywhere else.
Assyrtiko (or Asyrtiko) is a white Greek wine grape indigenous to Santorini. It's now grown all over Greece, and produces mainly dry white wines as well as a number of sweet wines. Be sure to top up your wine bar with a bottle or three of this unique wine, to get a real taste of the island. If you're more of a red drinker, one of the most popular red wines in Santorini is Mantilaria.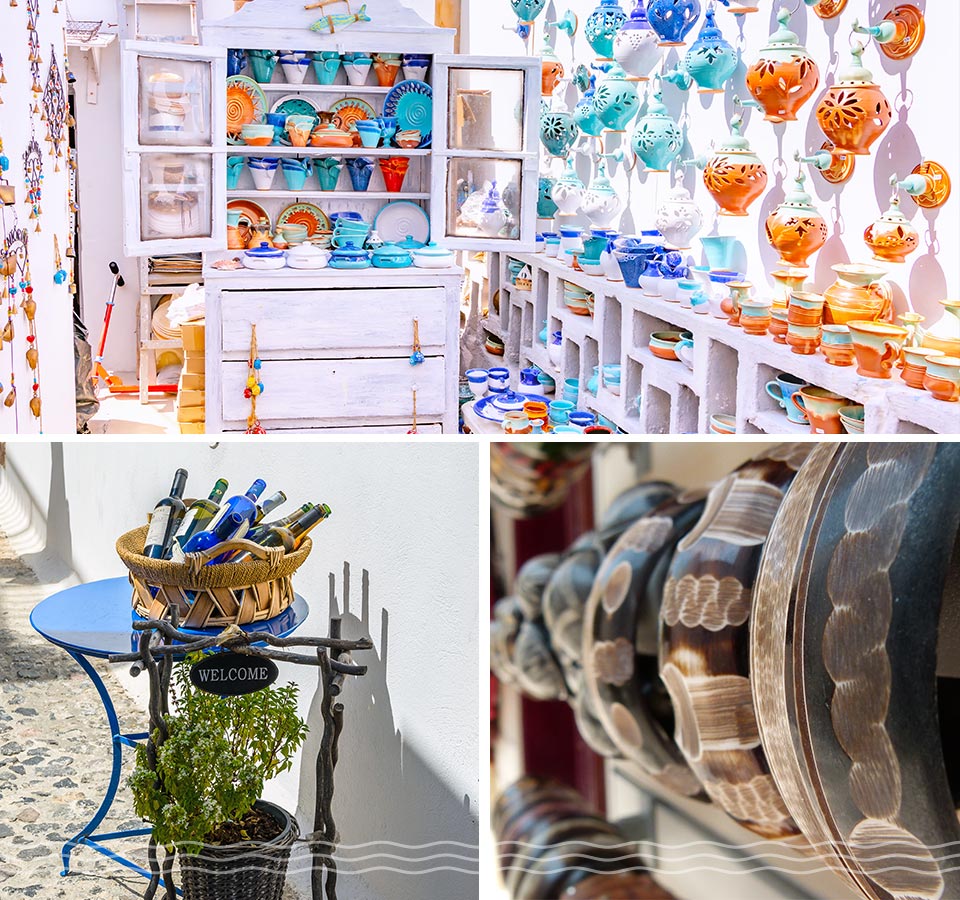 One of the most popular distilled Greek drinks is Raki, a traditional, strong drink that you'll find in many restaurants in Santorini. Take a few bottles home to sip on as you reminisce on sunny days in Santorini.
You might also want to stock up on leather products. Greece has a long history when it comes to crafts such as leather-making, and still uses the same age-old techniques to make their products. Pick up a pair of leather sandals, or perhaps a satchel or belt. It'll be something to treasure for years to come.
When to go
Between late April to November, the weather is warm and there is little rainfall. However, try to avoid going in July and August due to the high number of cruise shops that dock there daily.
Summer is the infamous Meltemi season, with strong dry winds blowing in the Aegean. While sailing enthusiasts will be chuffed with the challenging conditions brought about by the winds, if you're hoping for a more tranquil sailing experience you might want to avoid chartering in the Aegean from about mid-May to mid-September.
If you still plan to charter here during the Meltemi season, have a word with your broker to ensure that the captain is happy to sail at this time, and to clarify any adjustments he may have to make to your itinerary.