Why charter a yacht in the Amalfi Coast
Imagine yourself on a picture-perfect summer escape in an area so distinct and special, it's UNESCO protected! The Amalfi Coast, with plunging cliffs, fairy-tale fishing villages and deep blue waters, is scattered with hidden gems and top-rated experiences.
Each town along this coastline has a unique character. There's glitzy and impressive Positano, a favourite of the glitterati. Amalfi is rugged and instantly captivating. Ravello – the City of Music - is home to iconic cliffside gardens, and scenic Sorrento, the gateway to the Amalfi Coast, offers sweeping coastal views.
On a private yacht charter in the Amalfi Coast, you'll have carte blanche to explore every nook and cranny of this exquisite stretch of coastline, and you'll certainly want to. But time is of the essence, so here are some of the main bucket list experiences to tick off your list.
Main attractions
Sentiero degli Dei
​​​​​​​The famous "Path of the gods" is a breathtaking mountain path over the sea that takes you from the town of Praiano or Agerola to Positano in about 3 hours. The walk should ideally be done in this direction as the route runs gently downhill and offers spectacular views of the Amalfi Coast and the island of Capri.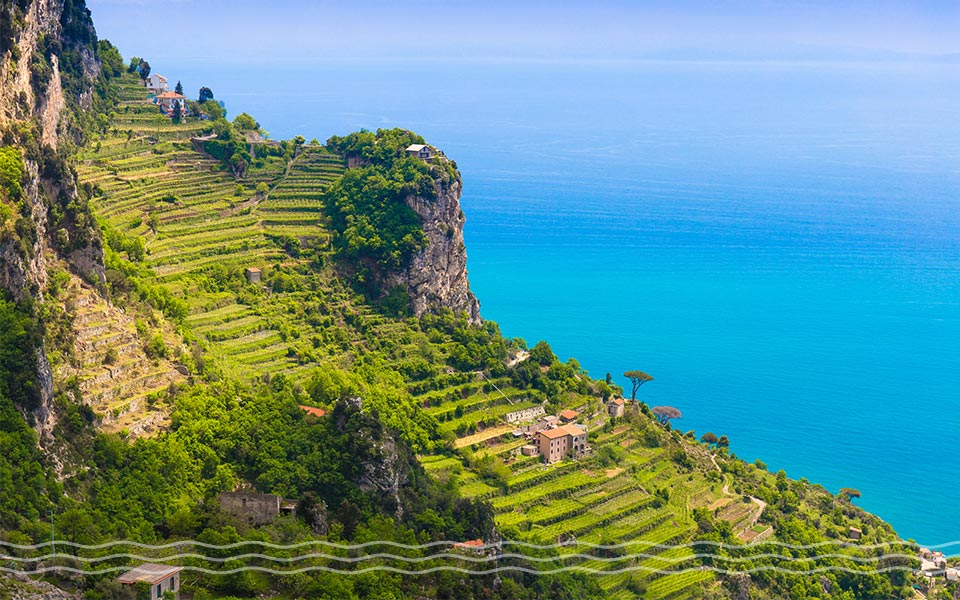 Positano
​​​​​​​Arriving by sea, Positano will truly take your breath away. Pastel-coloured houses tumble down the sheer cliff-face, and wandering the cobbled streets reveals charming surprises like gelateries and world-famous antique shops. Visit the TreVille Beach Club just outside of Positano, which attracts clientele such as Kate Moss and Gwyneth Paltrow. The exclusive beach can only be accessed by boat.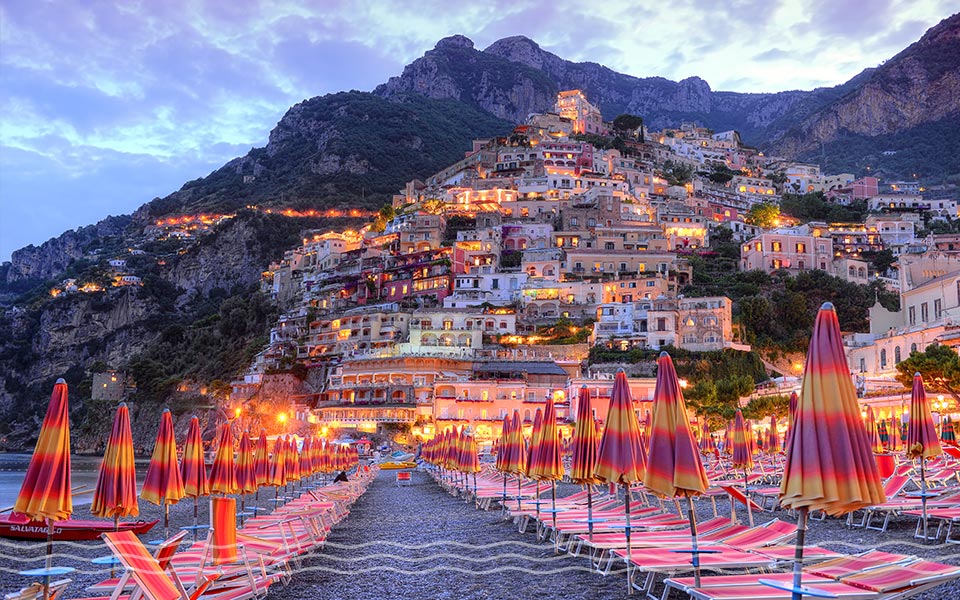 Villa Rufolo
Located in the town of Ravello, the gorgeous gardens and grounds of Villa Rufolo are open all year round and attract visitors from all over the world. Often described as a smaller version of Spain's Alhambra, this enchanting villa is absolutely worth a visit. Guided tours are available from Monday to Sunday, only with a reservation. There's also a museum and an outdoor platform affording sensational views of the villa's sprawling gardens and the Amalfi Coast. The villa also hosts an annual summer concert series on a stage set against the exquisite backdrop of the Mediterranean Sea.
Villa Cimbrone is home to another highly rated garden in Ravello.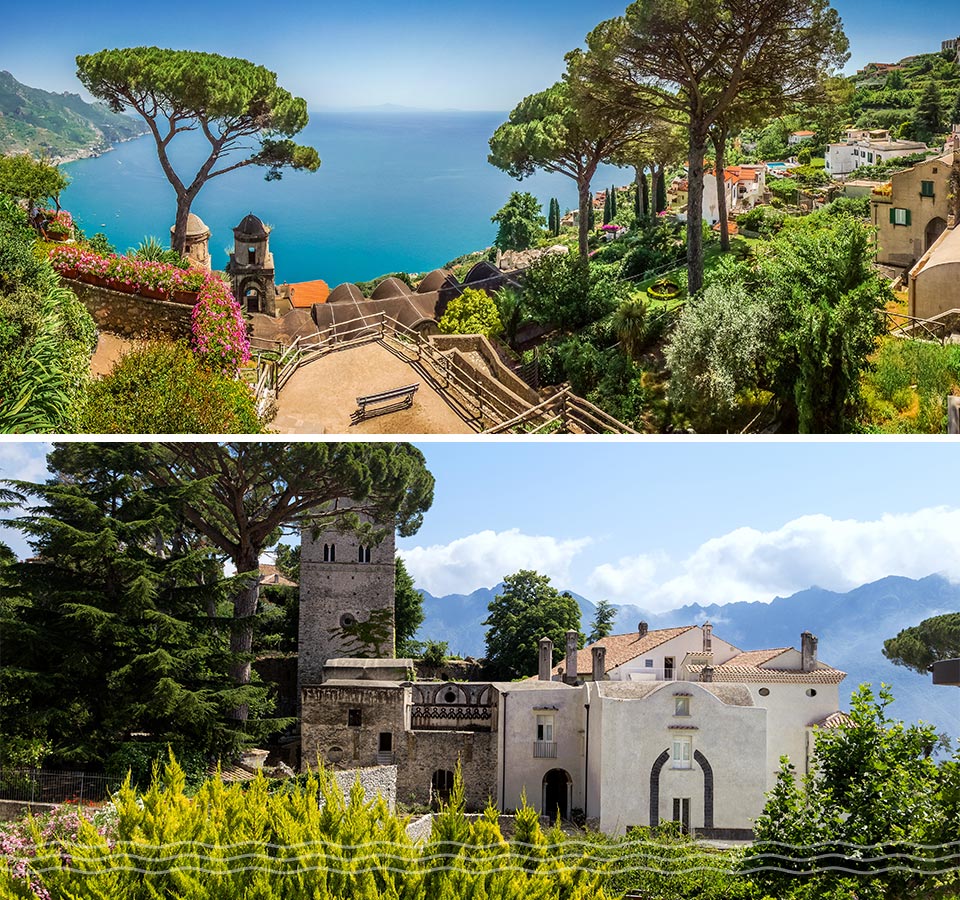 Piazza del Duomo
​​​​​​​In this historical piazza you'll find the Amalfi Cathedral (Duomo di Sant'Andrea). This 9th century Catholic cathedral is the most important monument on the Amalfi Coast. It has a fascinating history and is also rather glorious to look at! In the square you'll also find interesting shops and some nice restaurants. Enjoy a refreshing drink at one of the cafes while you people watch in this bustling hub of Amalfi.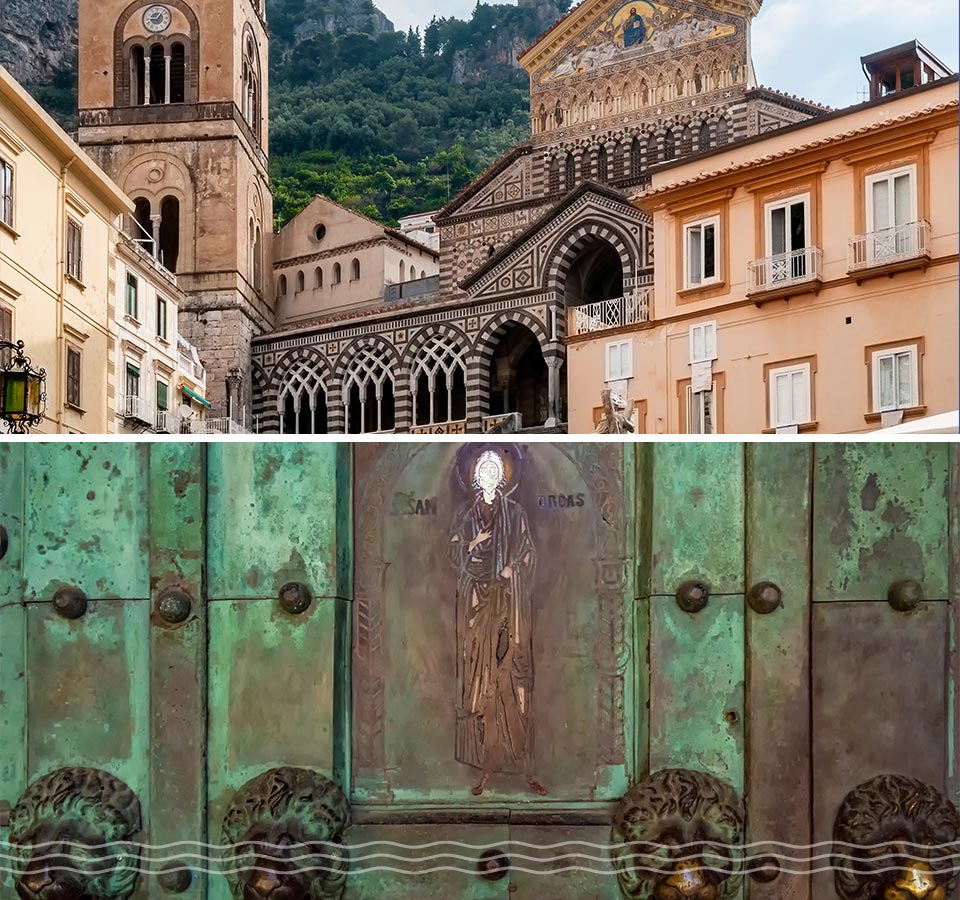 Castello Aragonese ​​​​​​​
​​​​​​​This medieval castle next to Ischia makes for a fabulous daytrip, especially for those who enjoy a bit of history, or even those who appreciate some beautiful scenery. The castle stands on a volcanic rocky islet with a bridge connecting it to the mainland. While wandering around, you might be lucky enough to catch an art exhibition that are often put on at the castle. During the summer season, it is used a venue for musical, theatre and performance festivals.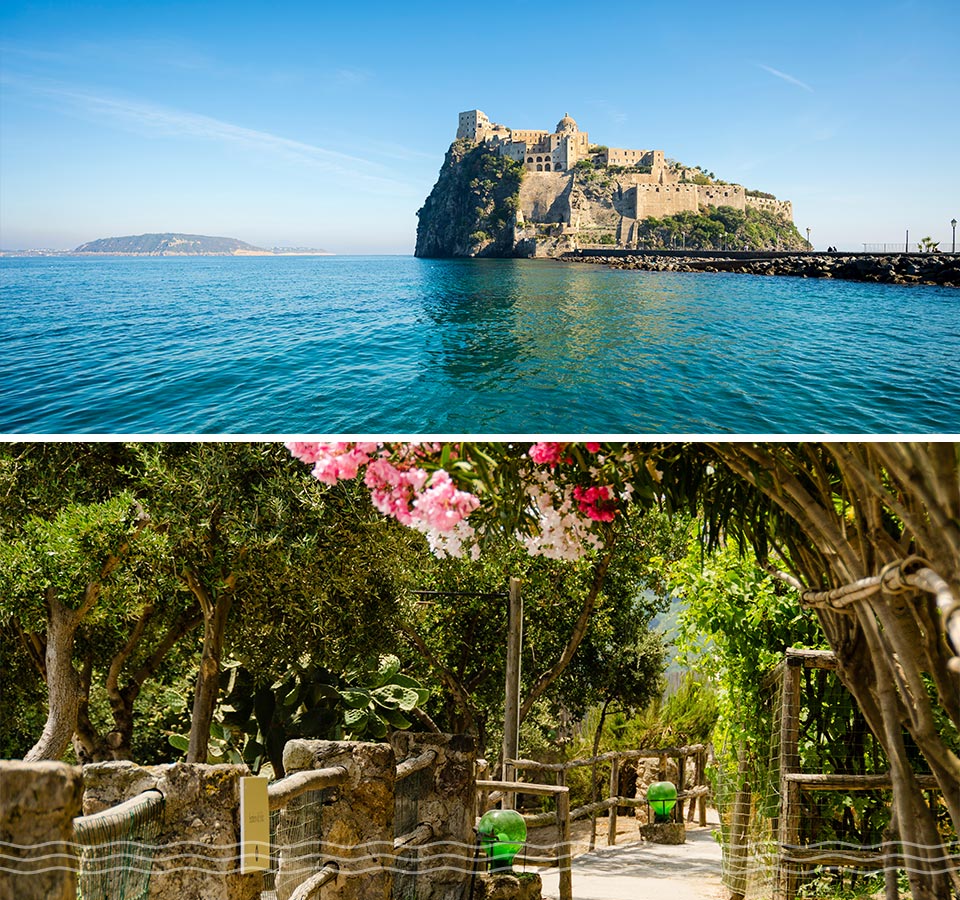 Thermal springs in Ischia
Ischia is famous for its thermal pools with healing waters, making it the perfect place to kick back and relax - that, and the fact that it's quieter than its bustling neighbour, Capri. Some of the top thermal resorts and spas include Negombo, Poseidon, Cavascura and Aphrodite.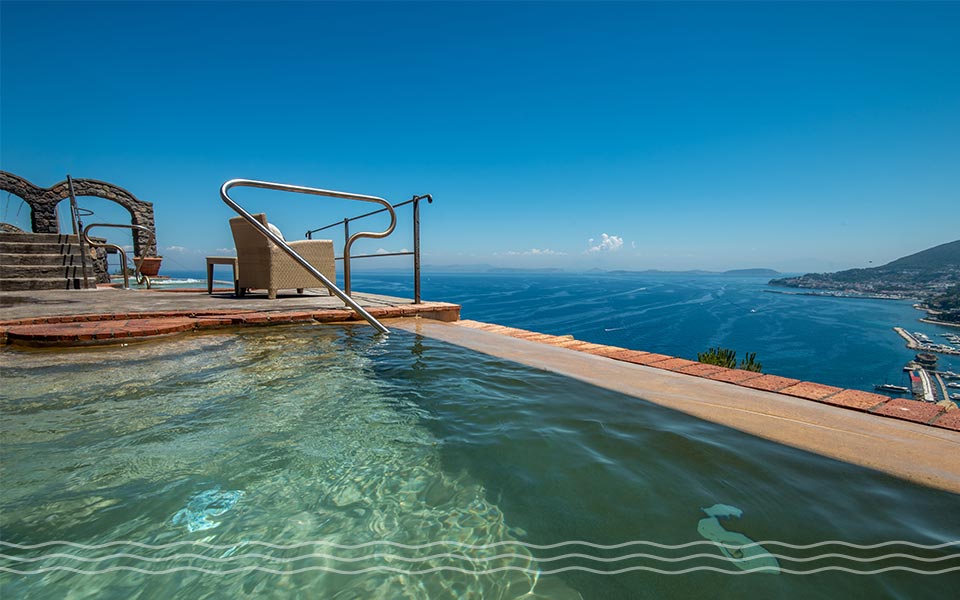 Lemon groves
The Amalfi Coast is famous for its lemons, and Amalfi Lemon Experience allows you to experience the world of lemon production in Amalfi. Learn about the production of lemons, walk in the beautiful lemon groves, visit laboratories where limoncello and other lemon products are produced, and sample some of the delicious products.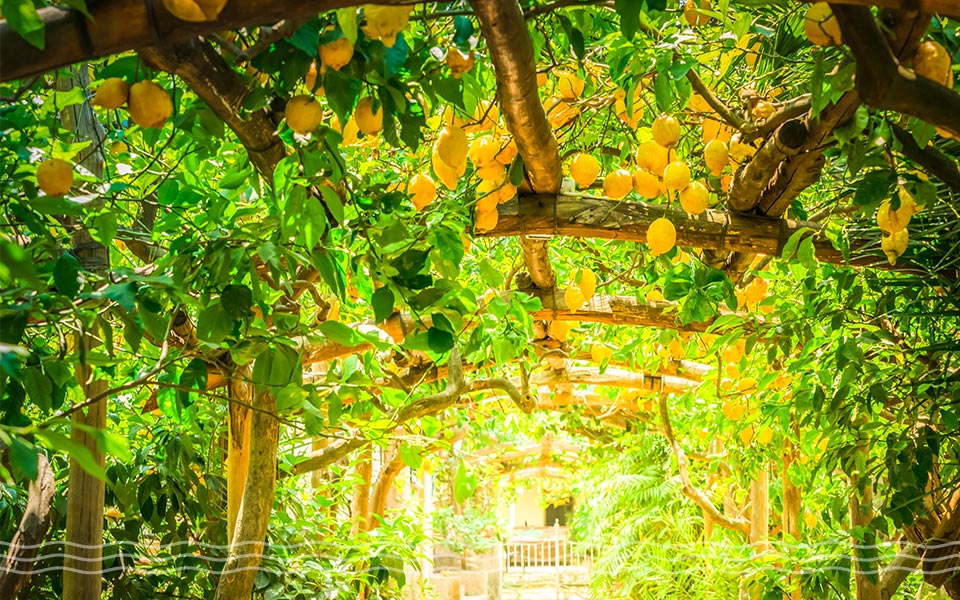 Top Photo Ops
Amalfi Cathedral
Take a selfie break on the steps of the Duomo, the gorgeous cathedral makes for a stunning and impressive backdrop.
The Faraglioni
These three legendary, imposing rocks in Capri making for some stunning snaps. The rocks rise out of the sea close to the island's southern coast. The one attached to the land is Stella, the second is Faraglione di Mezzo, and the third and furthest one is Faraglione di Fuori or Scopolo.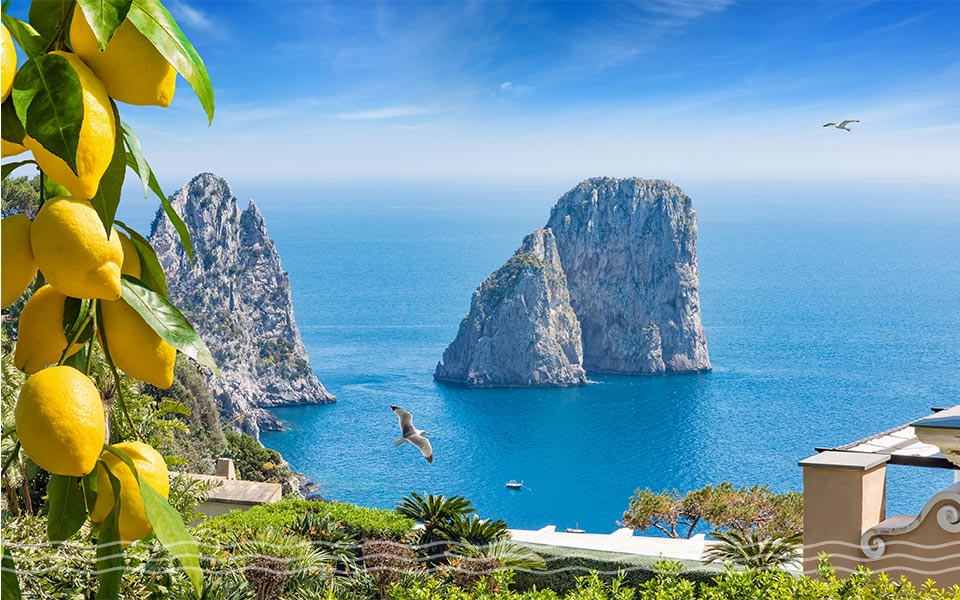 Vietri Sul Mare
The centro storico (historic centre) of this underrated town is packed with ceramics shops, their storefronts decorated with colourful tiles - sure to brighten up your Instagram feed.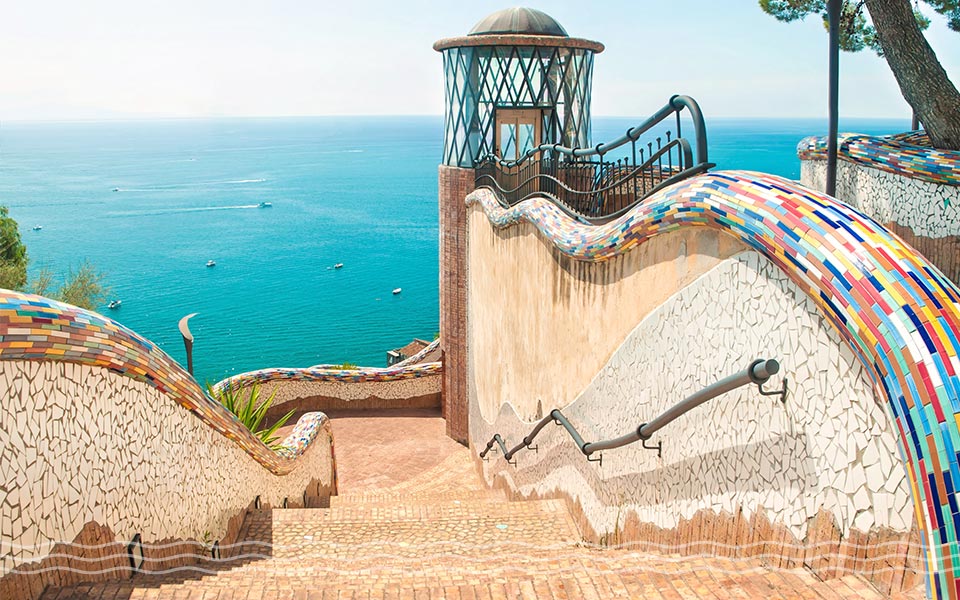 Fiordo di Furore
A deep and narrow cleft in the coastline, the 'fjord', crossed by an arched stone bridge, is something you'll definitely want to see, and perhaps snap a few pics of.
Spiaggia Atrani
For a snap of a typical Amalfi Coast beach scene, opt for Atrani Beach.
Santa Maria Maddalena
A gorgeous church in Atrani, clambering up to Santa Maria Maddalena also means you get stunning 360-degree views of the coast – it's well worth it.
Monte Solaro
For a breathtaking panoramic view over Capri, the Amalfi Coast, and even the distant mountains of Calabria, take a chairlift to the top of Monte Solaro, an amazing 589 metres above sea level. The more active among you can walk up to the summit, which will take you between an hour to an hour and a half.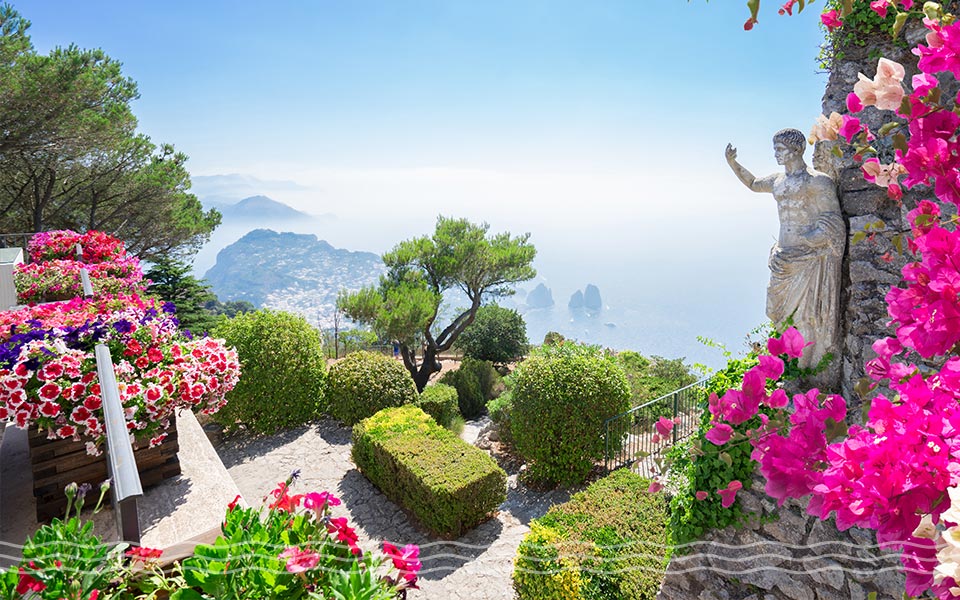 Marina Grande in Sorrento
For a shot of a picturesque traditional fishing village, visit Marina Grande in Sorrento.
What to eat
The Amalfi Coast's cuisine is abundant in fish, seafood, fruits and vegetables. Lemons are celebrated and championed in many dishes, such as delizie al limone. You'll find no shortage of goods like lemon gelato, refreshing granitas, and even lemon chocolate!
Make sure to eat as much fresh seafood as possible. Scialatielli ai frutti di mare is an unforgettable meal made with seafood and special pasta originating in the Amalfi Coast.
Consider a visit to Minori, the birth town of Ndunderi - an ancient form of pasta originating in Roman times. The pasta is reminiscent of gnocchi, and is utterly moreish.
Leave the crowds behind in peaceful Cetara, a traditional Mediterranean fishing village that might not look too exciting but don't be fooled – it has a reputation for amazing gastronomy. Here you can enjoy what is widely considered to be the best fish on the Amalfi Coast. Don't leave without sampling the Colatura di Alici, i.e. anchovy syrup, and fresh tuna, which they catch using the traditional nets.
While you'll have a fabulous chef on board, you may want to visit some local Michelin-starred restaurants – and you'll be spoilt for choice on the Amalfi Coast. Il Refettorio at the Monastero Santa Rosa Hotel & Spa in Conca dei Marini was awarded a Michelin star a few years ago. Enjoy al fresco dining on the restaurants outdoor terrace with gorgeous views over the gardens and out to sea. You'll find the superb Don Alfonso 1890 in Sant'Agata sui Due Golfi, a small hamlet just to the south of Sorrento. The restaurant holds two Michelin stars for its top-notch cuisine and wine cellar. Another excellent haunt is the gorgeous Zass in Positano.
What to buy
Ceramics
Vietri Sul Mare is famous for its ceramics. From dinnerware, to glassware, vases, pots and whatever you can imagine, you'll find it in Vietri. Ceramica Solimene is the largest and most famous of the ceramics shops. It follows traditional Vietrese artistry methods, and each piece is decorated by hand.
Limoncello (and lemon products)
The drink that comes to mind when thinking of the Amalfi Coast is limoncello, the sweet, lemon-flavoured liqueur mostly produced in Sorrento and Capri. If you're a fan of the heavenly liquid, stock up on a bottle or three – it'll make a lovely gift for someone back home, or keep it for yourself to sip on as you reminisce on your blissful Italian adventure. If alcohol is not your thing, you can also purchase delicious lemon products like lemon jam and lemon sweets.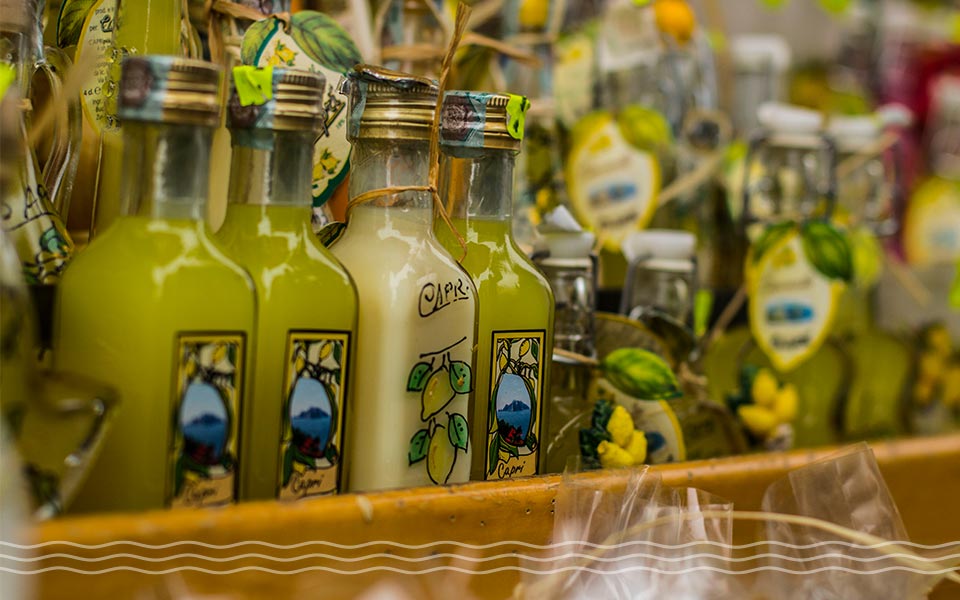 Handmade Amalfi paper
Paper making in Amalfi began in 10th century. Amalfi's paper museum on the outskirts of the town is housed in one of Amalfi's antique paper mills. The museum is fascinating, and you can take some beautiful paper home with you as a special keepsake.
Inlaid wood (Intarsia)
Intarsia, a speciality of the town of Sorrento, is a form of wood inlay. Different woods are arranged into elaborate and exquisite designs. Today Sorrentine woodworkers still create beautiful works of furniture using the historic technique. To make sure you are getting the best quality products, buy directly from the workshop where the piece was made instead of tourist shops.
Luxury goods
The Amalfi Coast is famous for its leather craftsmanship. The best place to purchase a pair of made-to-measure sandals is Maiori, in Alfonso Dattilo's legendary shoe shop, Sandali Tipici. For more luxury items from clothing to pillowcases, visit the Emporio Sirenuse in Via Cristoforo Colombo in Positano. Located across the road from the Le Sirenuse hotel, the range of homeware, table and lifestyle items often involve collaborations with artists and designers that include Giuseppe Ducrot, Luke Edward Hall, Coralla Maiuri and Allegra Hicks.
When to go
The best weather is typically during May and June and from mid-September to mid-October. Temperatures are warm but not scalding, and you'll avoid the rainiest parts of the year.
July and August are the best months for nightlife and festivals. This is when most of the yachting elite anchor their yachts off the Amalfi Coast, and can be spotted in the most exclusive restaurants and clubs onshore.
For the best sailing conditions, consider visiting from May to mid-October. Temperatures on land and water are warm, and storms are unlikely.