Why charter a yacht in Mykonos
Party lovers flock to Mykonos for sun-soaked shenanigans. Stylish bars, glitzy nightclubs and top-notch restaurants, there's no shortage of fun to be had in this world-famous piece of paradise.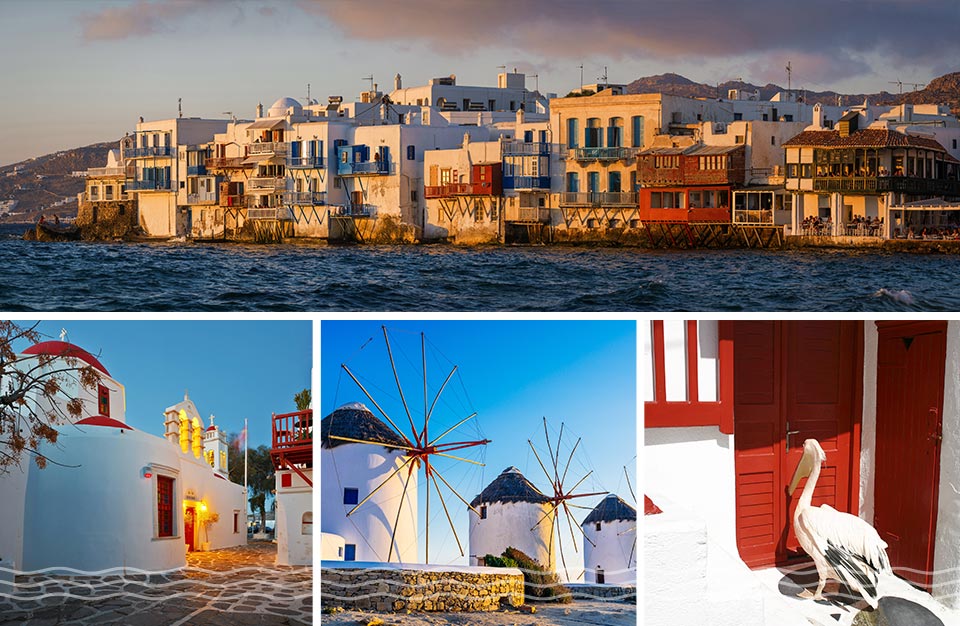 Mykonos is a lot more than just a party paradise, though. For all its glamour and excitement, it offers all the natural beauty and traditional Greek scenery that you could hope for. While the heart of the island is where you'd go to indulge in fine dining and elegant bars, venture further North for traditional villages and a more peaceful, private experience.
Then there are the beaches, the main drawcards of a luxury yacht charter vacation in the Aegean. And Mykonos has a great selection of both busier and more secluded beaches – 25 in total! Mykonos is also a great destination for water sports.
Of all the Greek islands Mykonos is particularly gay friendly and hosts a Gay Festival each year, which thousands of gay visitors from all over the world take part in.
Main attractions
Mykonos Town
The island's port and capital, Hora is a maze of charming narrow lanes, whitewashed buildings, and tiny churches with blue and dark red domes. In the maze are hidden treasures – stylish boutiques, the best restaurants on the island, and small traditional hotels. Stroll down Matoyianni, the widest and most famous alley, and the main shopping area in Hora where you'll find designer shops selling clothes, shoes, jewellery and art. In Hora you'll also find the ever-popular district of Little Venice, a bar and restaurant-lined waterfront, and home to the five iconic hilltop windmills.
Beaches
Mykonos is loaded with fantastic beaches, whether you're looking for swimming, sunbathing, beach resorts, beach parties or water sports.
Agrari beach, Lia or Fokos offer some refuge from the crowds. Platys Gialos and Kalafatis are particularly good for water sports.
On the north coast, Panormos and Agios Sostis receive much less beaches than the ones in the south. In the southwest, Ornos offers an assortment of seafood restaurants, while secluded Agios Ioannis is a superb spot for windsurfing.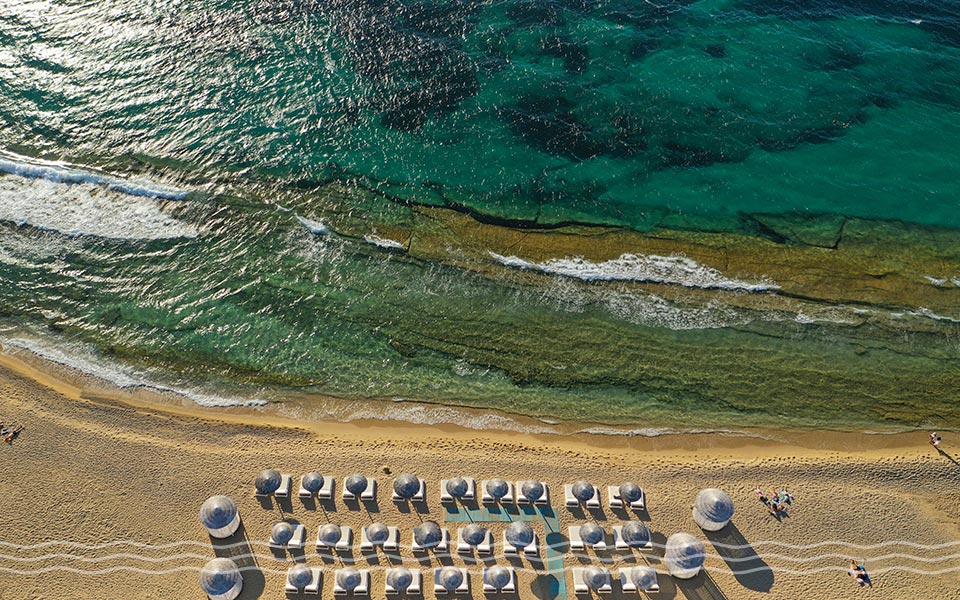 Annual events
Countless festivals and cultural events take place in Mykonos each year. Religious feasts take place once a year in the capital and the villages. These night-long festivities include traditional music, dancing and plenty of local food and wine. Some of the main festivals which take place in Mykonos are the Mykonos Summer Festival, the Gay Festival and the Harvest Festival.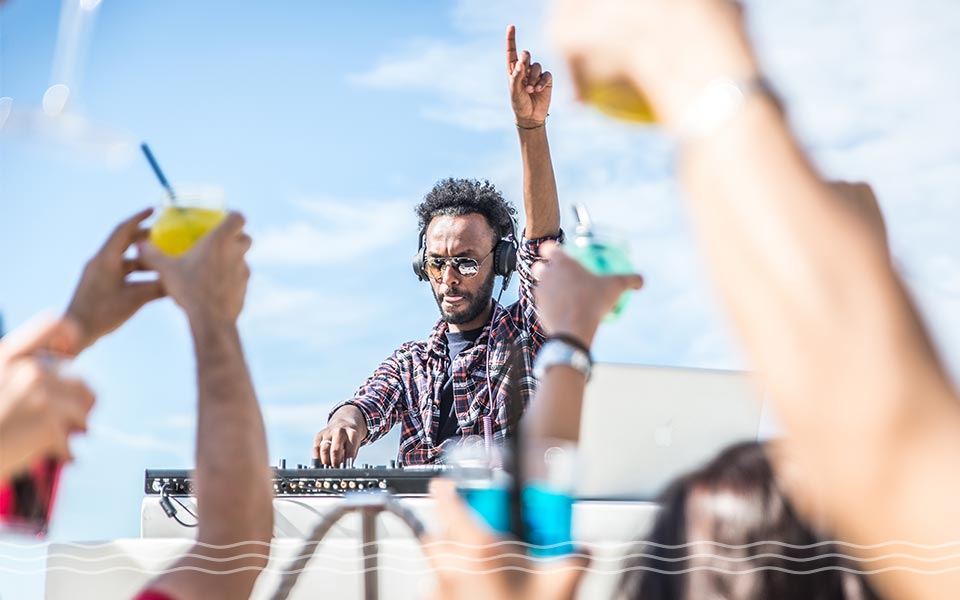 Delos
The nearby, uninhabited island of Delos is well worth a visit to marvel at the ancient temple ruins. It's the mythical birthplace of Apollo and Artemis, a UNESCO World Heritage site and one of the most important and well-preserved archaeological sites in Greece, on par with Olympia and Delphi.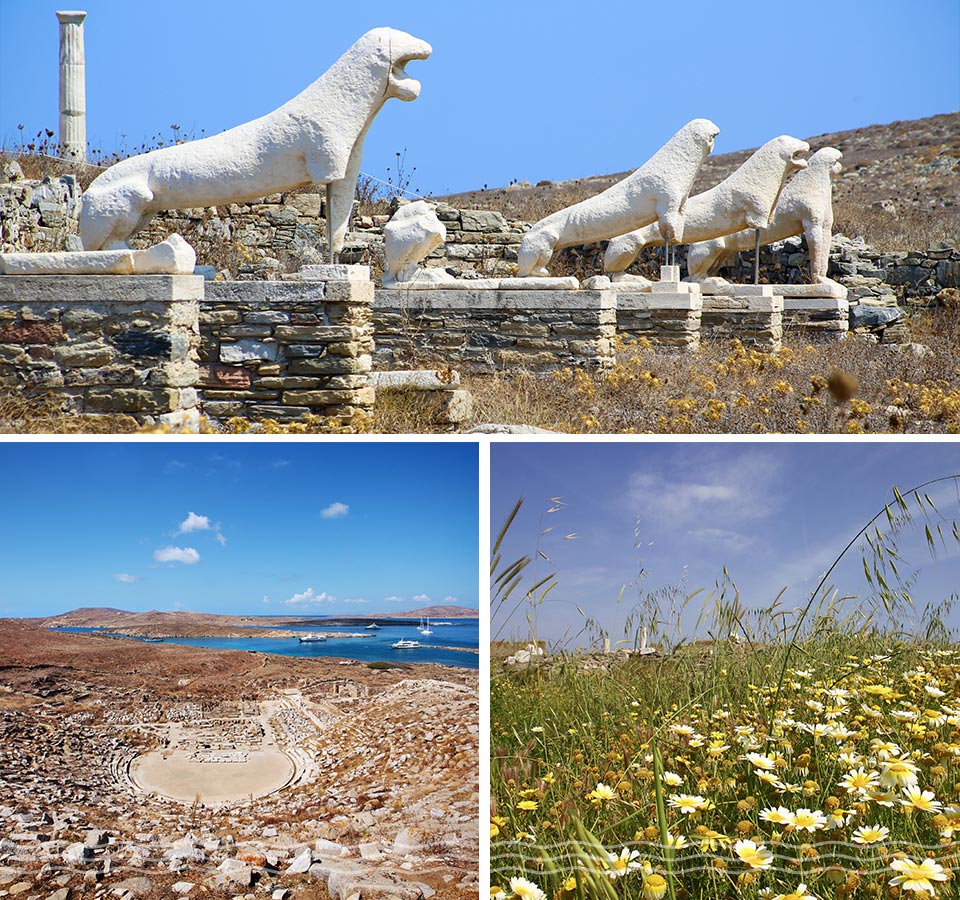 Top photo ops
Windmills - The windmills are totally iconic, and you'll definitely want to get a few snaps of them. The five windmills in Little Venice, called Kato Mili, overlook the sea and make for some stunning shots, especially at sunset. To take photos overlooking the white roof tops of Mykonos, climb the hill to Boni windmill, which is now part of a museum.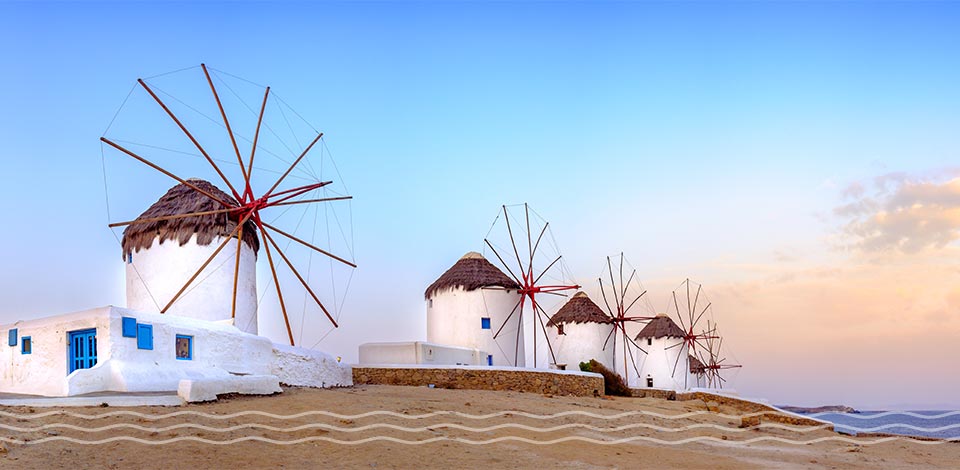 The Church of Panaghia Paraportiani - One of the most photographed churches in the Cyclades, try to get a snap of it with the sun setting behind it – it's a surreal sight.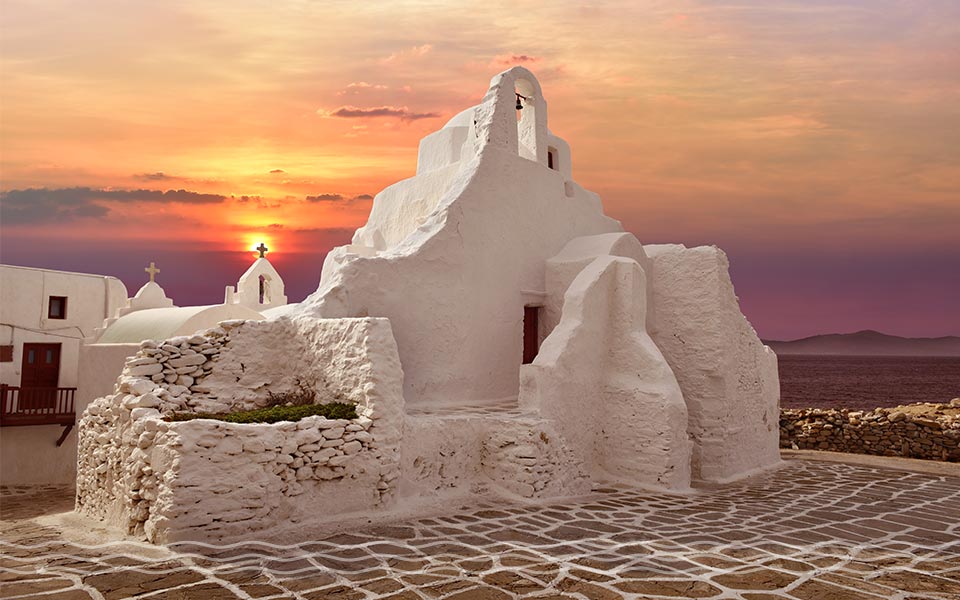 The Church / Monastery of Panaghia Tourliani - 8km from Mykonos Town, you'll find this gorgeous monastery in Ano Mera village. Built in 1542, it stands out as a great example of Greek architecture.
The narrowest alley in Mykonos Town - You'll find this alley running between Panachra Church and a neighbouring shop called Tracce Collection. The end of it, that intersects with Panachrantou Street, is a mere 34cm wide! Squeeze in for a quick selfie.
Mykonos Old Port - The Old Port is an exciting hub of activity. Colourful fishing boats bob on the silky water, creating great opportunities for some amazing snaps.
What to eat
As in the rest of Greece, Mykonos is big on fresh seafood oozing with Greek flavours. Indulge in olive oil and olives, and try local cheeses and other local produce.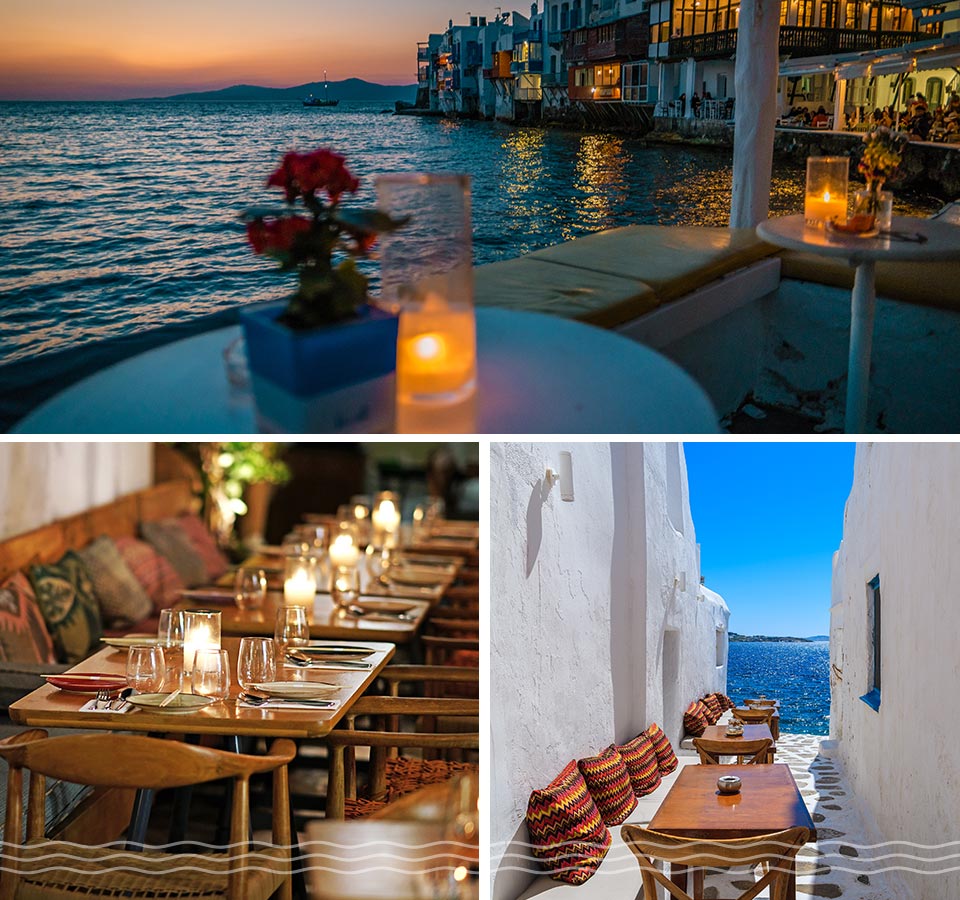 While in Greece you should try typical Greek street food called gyros. Spit roasted meat is served in pita along with tomato, onion, and tzatziki sauce. Another must-try Greek food is souvlaki, which is meat and vegetables grilled on a skewer.
And then there are a couple of Mykonos specialties, found only on the island. A notable one is kopanisti, a famously spicy, aromatic cheese. Amygdalota are traditional almond cookies that will melt in your mouth. Wash it down with some soumada, a non-alcoholic drink that you'll find all over the island. It is lovely and sweet, typically made from rose water, sugar and almonds.
What to buy
Mykonos is a shopper's paradise; it's full to the brim with stores selling everything from big names like Tommy Hilfiger to the most exclusive designer gear.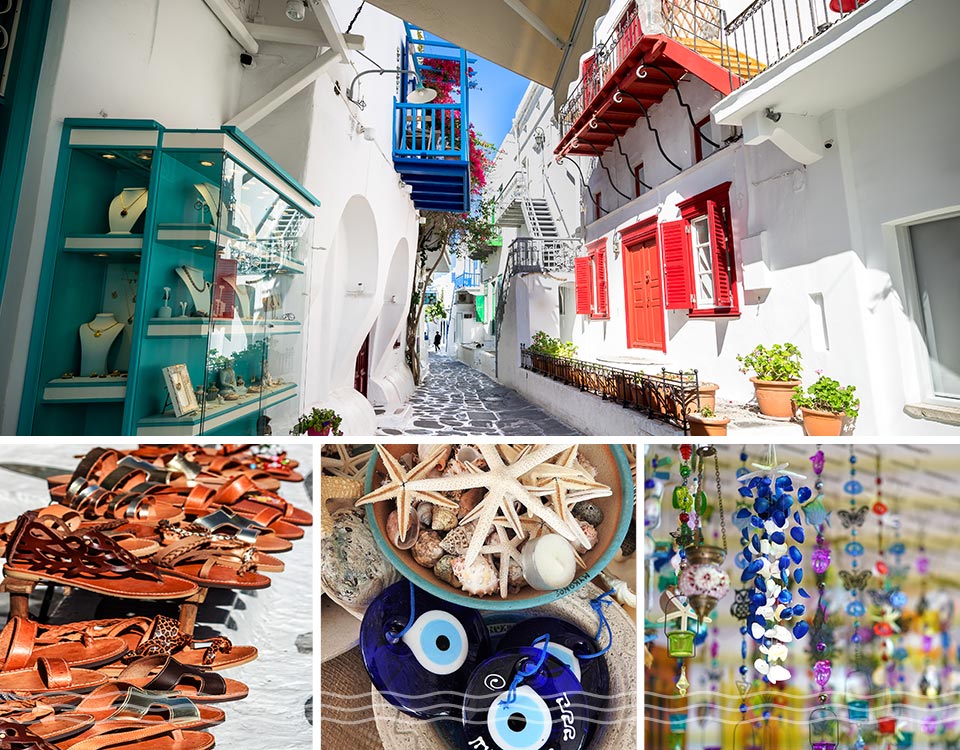 If you'd like to pick up a few special items to remind you of your glorious sojourn in Mykonos, here are some ideas:
- Treat your hard-working feet to a pair of traditional Mykonian leather sandals. They come in a variety of colours and styles and are sure to remind you of carefree days sailing the azure Agean waters.
- Buy some woollen shawls from a traditional weaver. Nikoleta Xidakis is one of the two remaining weavers on the island. Her little shop is located in Little Venice.
- Take home some delectable local food products – like honey, olive oil, ouzo, wine and herbs, or a dry cured ham known as louza.
- Evil eyes (mati) are believed to protect against those who are jealous. Find them attached to bracelets or necklaces in any jewellery or souvenir store – they make for a fun keepsake and great conversation piece.
When to go
Mykonos is at its warmest and busiest in July and August. After the bustling summer months, things tend to slow down in September and October, while the water remains warm and the temperature mild. May is also a quieter month to visit, for those wanting a more tranquil experience.
Then again, if the point of your visit is to party the night away with the best of them, the clubs and beach parties run from late June until mid-September, peaking in late July and August.
The Meltemi winds start around mid-May through to mid-September, which is an important factor to discuss with your charter broker. If you choose to go ahead and charter in the Aegean during this time, the captain will most likely have to adjust your itinerary to ensure a smooth sailing experience. The pros of chartering during this time are low humidity, good visibility for sailing and lovely, cloudless skies.