Seductive Costa d'Amalfi is a quintessential Italian vacation spot. Capri, Amalfi and Positano have a tangible luxurious feel but also a genuine Italian spirit. In the home of dolce far niente, you can do as much or as little as you want but there are a lot of experiences awaiting to be discovered.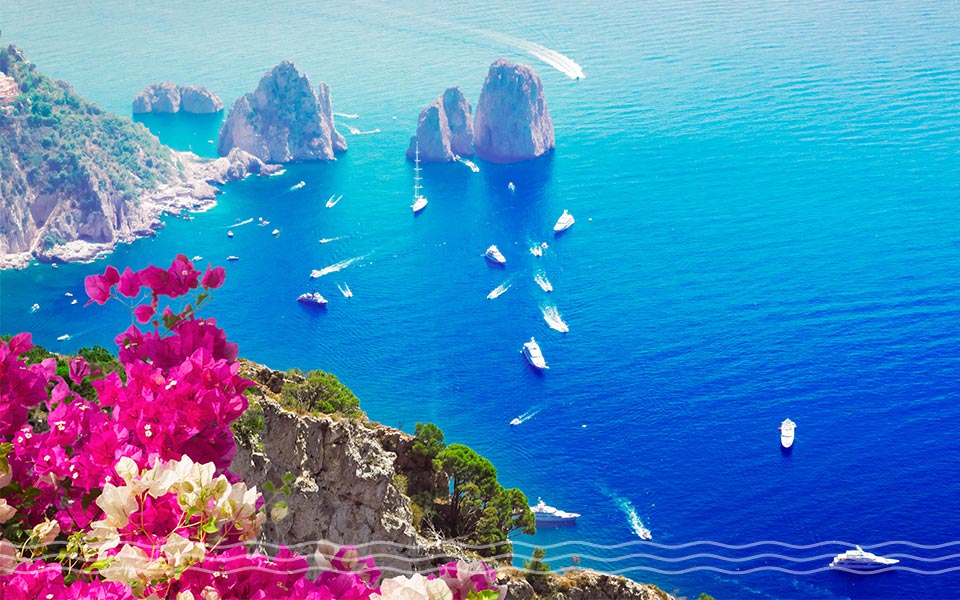 Panorama from Capri Island: Rocky mountains plunging into azure bays, charming seascapes decorated with elegant yachts, fragrant lemon trees and pungent herbs – Capri Island has plenty of visual and olfactory delights in store for you. Just wait for the moment you throw yourself into those caressing waves – just like in Dolce and Gabbana ad, filmed right here, next to Faraglioni of Capri.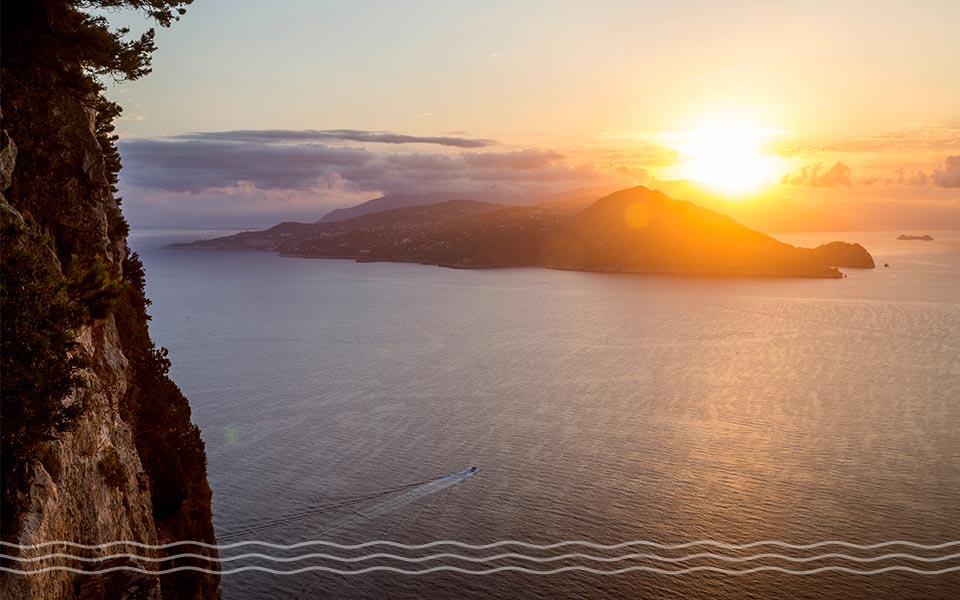 Sunset from Capri Island: glorious sunsets are one of Capri's drawcards. Cruising along the Capri coast, you feel perfect peace and profound tranquillity coming from gentle breeze, lulling waves and the magnificent setting sun.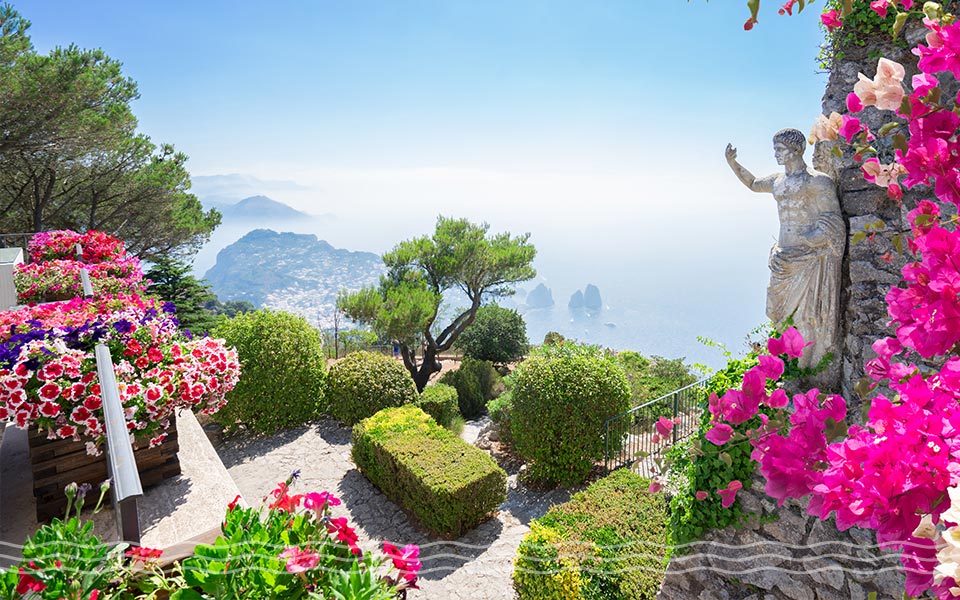 The views from Monte Solaro, the highest peak on Capri, are pure zen. Get the chairlift to the top or take the trail if you enjoy scenic walks and relish fantastic views of both sides of the island.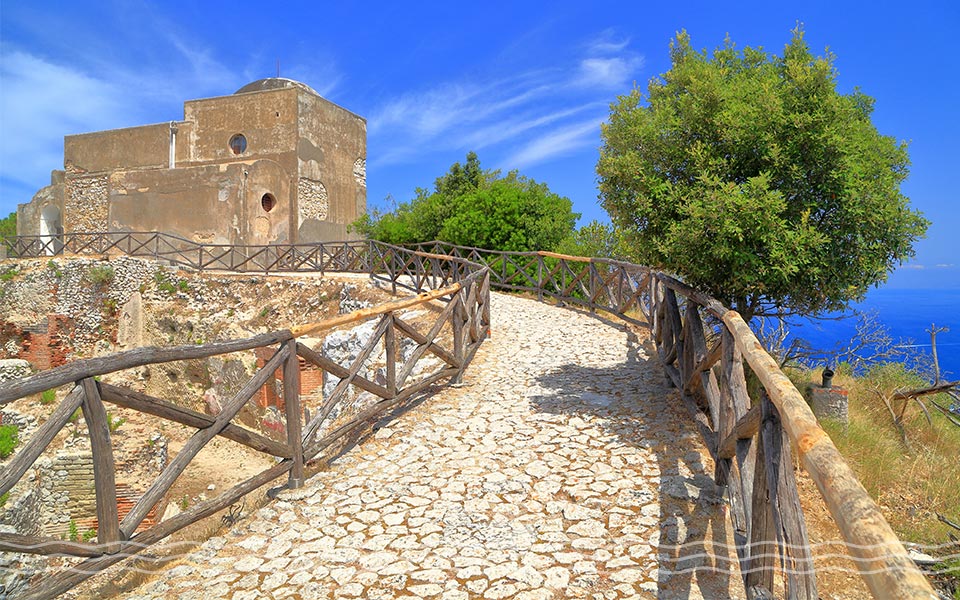 Villa Jovis, Capri: Take a pleasant walk through narrow roads and you get to a Roman Villa, huge and very well preserved. You'll see some frescoes and tiled floors that are exactly, five years give or take, two thousand years old. The views from all angles are simply fantastic.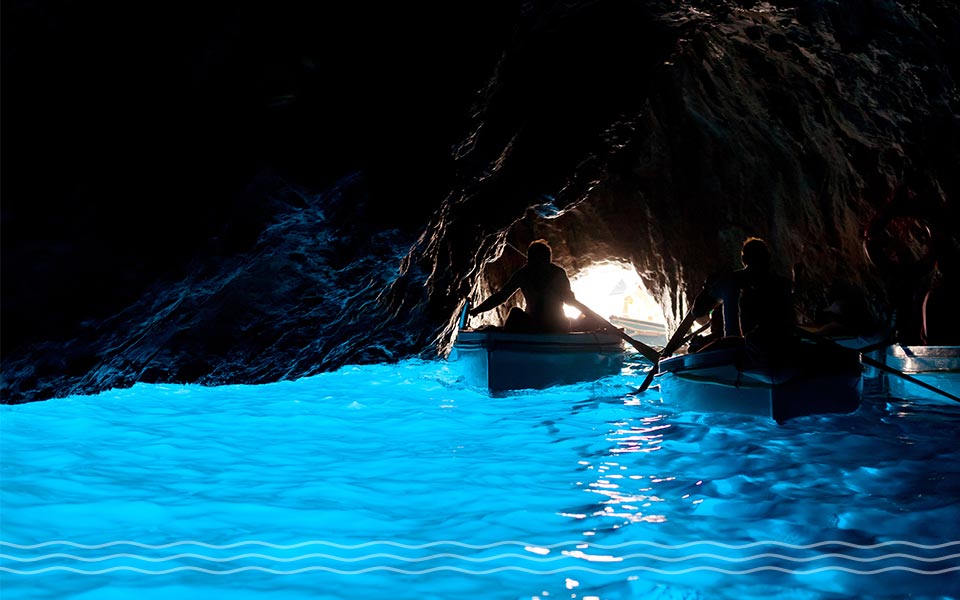 Blue Grotto (Grotto Azzura), Capri: Aim for the time when the sun is shining and the sea is calm, and observe how the sunlight bathes in the grotto, reflecting from the walls and painting the water incredible shades of blue.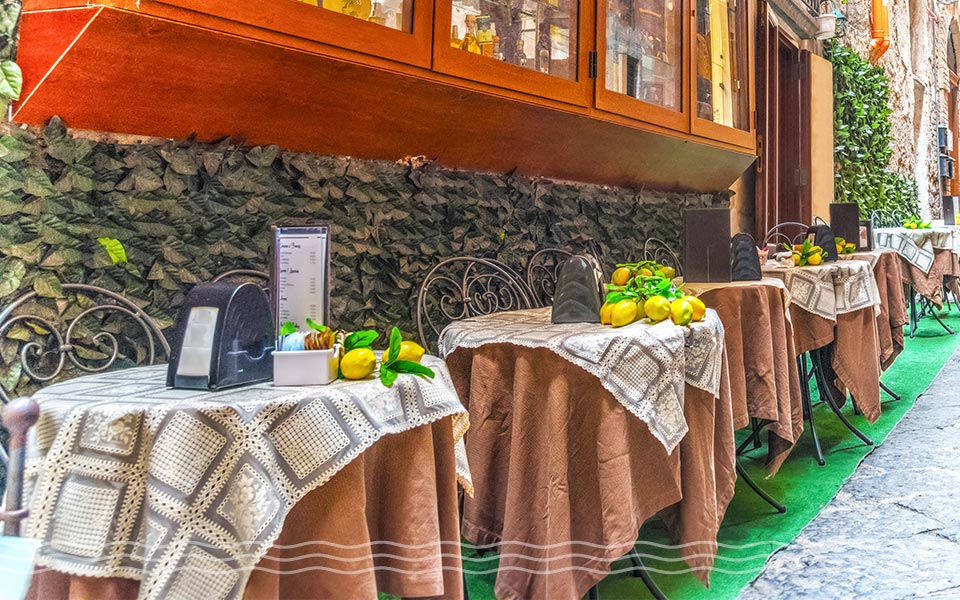 Authentic cuisine in Sorrento. Genuine Italian food, scrumptious desserts, incredible wines and fresh local ingredients: your stay in Campania will be as rewarding for your palate as it is for your eyes.

The Path of Minerva dates back to the times of the Roman Empire, and parts of it are still paved with Roman basalt stone blocks. Take a hike from Sorrento and enjoy incredible views of Capri just a stone's throw away and the ancient Minerva temple overlooking the sea.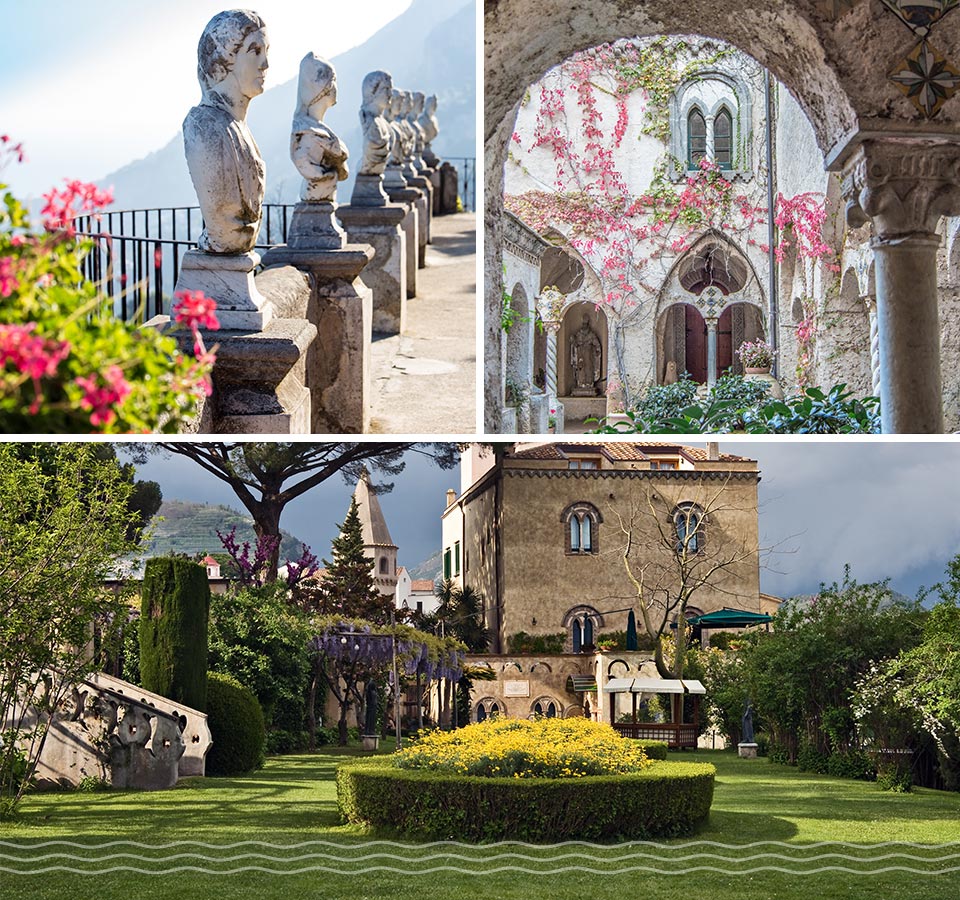 Villa Cimbrone and Terrazza dell'Infinito, Ravello: Villa Cimbrone, standing on top of a steep, narrow mountain ridge, will be the highlight of your trip to Ravello. The gardens around the Villa are immaculately kept, and Terrazza dell'Infinito, with its classical sculptures, commands fantastic, vertiginous views of the Amalfi Coast.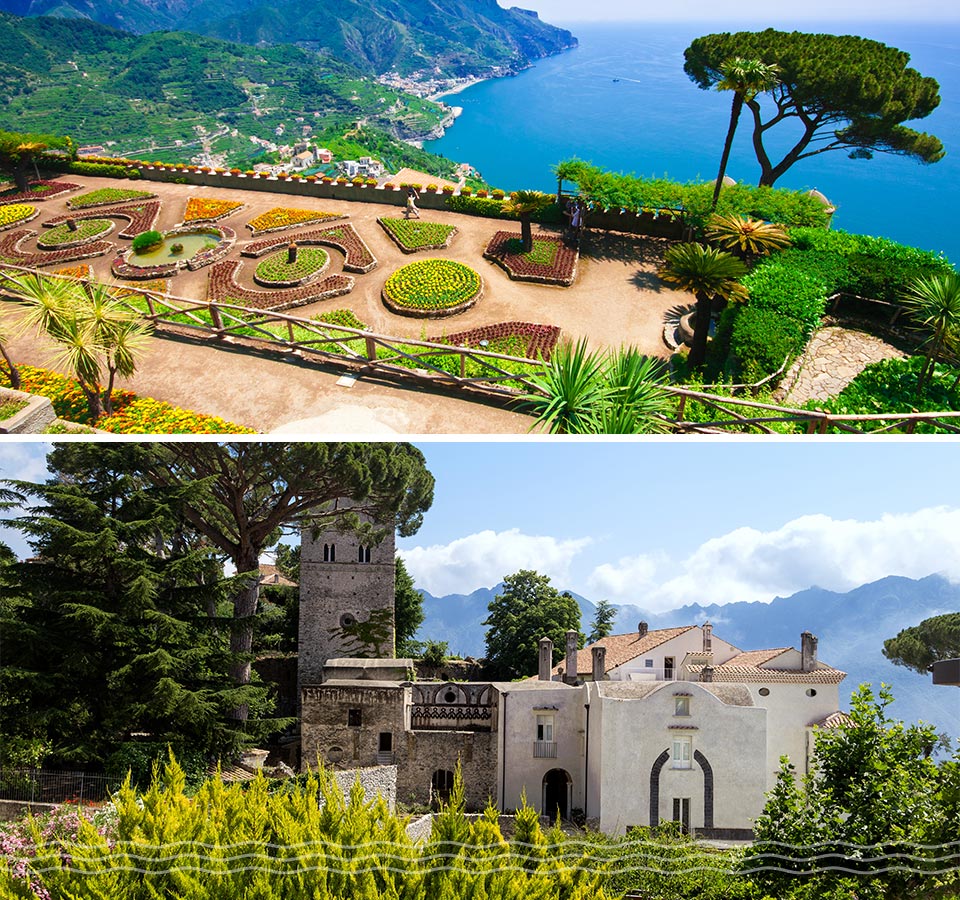 Villa Rufolo, Ravello: Right in the heart of Ravello you find beautiful gardens with pretty floral displays, fantastic views over the mountains and the sea plus, if you happen to be here at night, music and light shows against absolutely stunning architecture.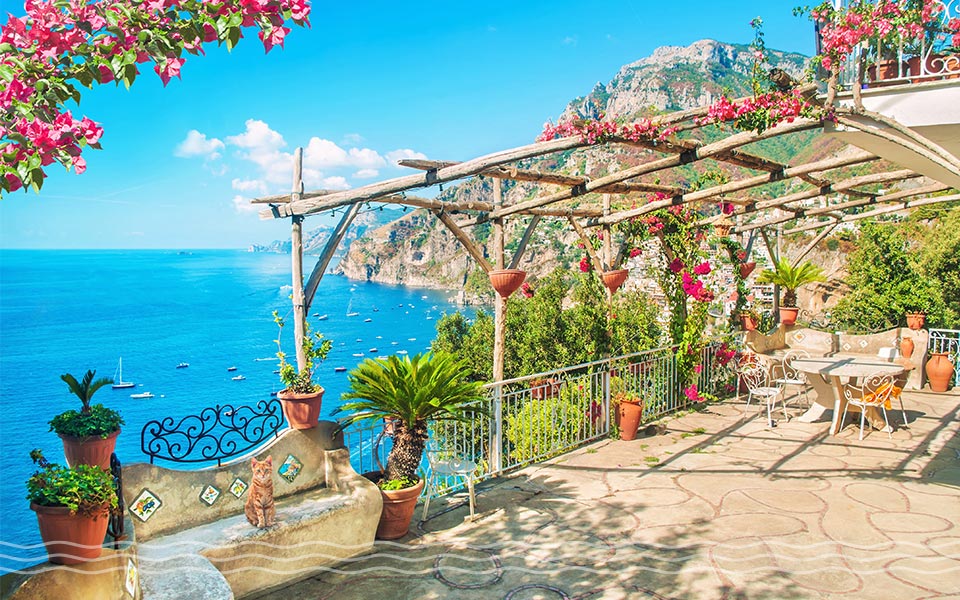 Dolce far niente, the sweet art of doing nothing, is best practiced here, in the southern Italy, in Positano. A glass of your favourite wine, the sea, the mountains, effortless elegance and relaxed ambience. What more does one need to enjoy oneself?
Golden hour photo of Positano. As the warmer hue of the setting sun enhances the colours around you, take a stroll around the town's picturesque streets, marvelling at their charm and taking plenty of pictures!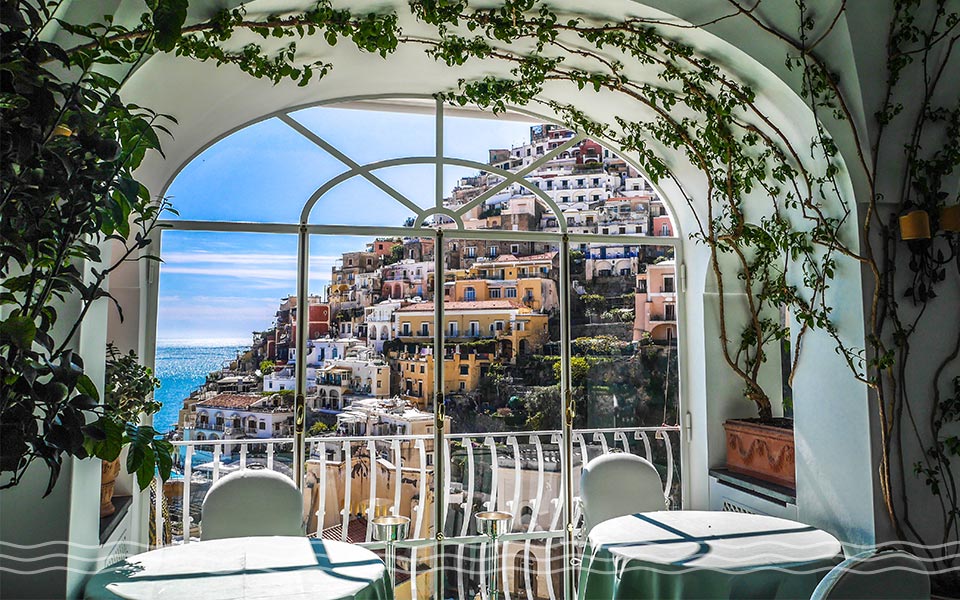 Dining with a view in Positano. A scrumptious meal on a beautiful terrace, complete with immaculate service, spectacular views and congenial atmosphere, turns your dinner in Positano into a special experience, exceeding your best expectations! At Zass, Michelin Chef Alois Vanlangenaeker and his team of 32 cooks will surprise even the most discerning foodie with their gourmet seasonal cuisine celebrating Campania's local produce. For a more laid back atmosphere and authentic traditional Neapolitan Cuisine try Il Tridente.
Emerald Grotto in Campania between Positano and Amalfi: Emerald Grotto stands out from many picturesque grottoes in the Tyrrhenian Sea. Here you marvel at 40 ft of crystal clear water that glows in the sun, coloured brilliant emerald – or bright azure, depending on the time of day. Imposing stalactites and an underwater ceramic nativity scene make the memories of your short tour still more vivid and lasting.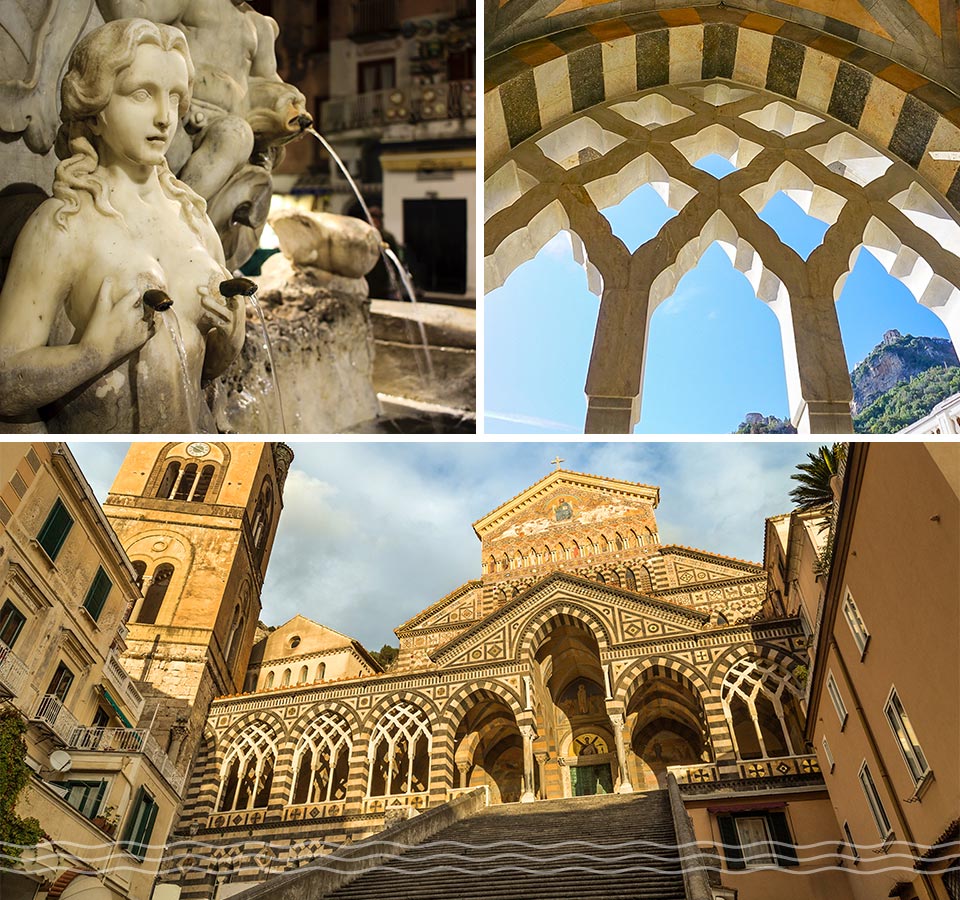 Amalfi Cathedral and Piazza del Duomo, Amalfi: A glimpse of Amalfi history offered by this Duomo and the Piazza in front of it is awe-inspiring and elating at the same time. Ornate windows, intricate mosaics, majolica tiles, colonnades, arches and lively Piazza in front of the 13 century Cathedral lend this place a totally special, irresistible vibe.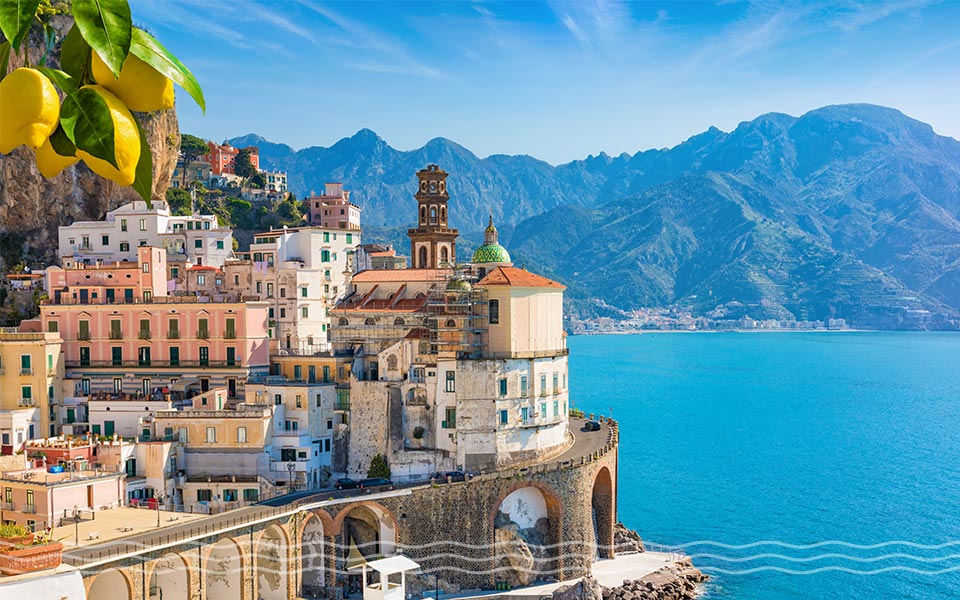 Small town Atrani on the Amalfi Coast: Colourful houses perched on rocky outcrops, Atrani on the Amalfi Coast is your typical small Italian town, quaint and enchanting, complete with cobblestone streets, archways, cute little Piazzetta and several restaurants serving authentic local fare.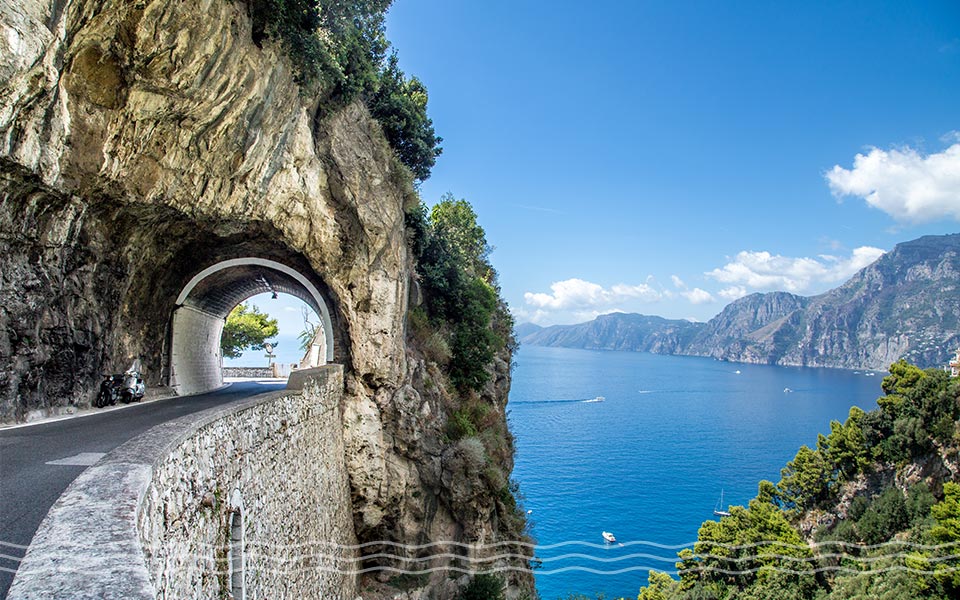 Just imagine a scenic drive along one of the most famous and beautiful coastlines of the world, with breath-taking views unfolding in front of you at every turn you make. Opt for a classic vintage car – a 1960 convertible, for instance – to experience authentic Italian elegance and style.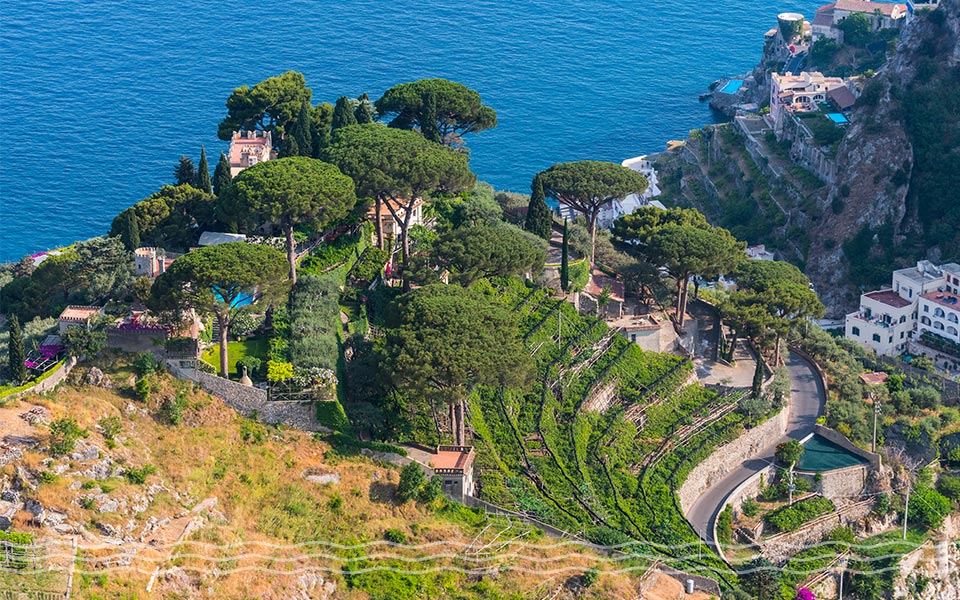 The Amalfi Coast wine making traditions date back centuries. You'll see sun-drenched terraced vineyards around Furore, Ravello and Tramonti. The grapes here are known for their perfect balance between taste, persistence, perfumes, tannin and acidity.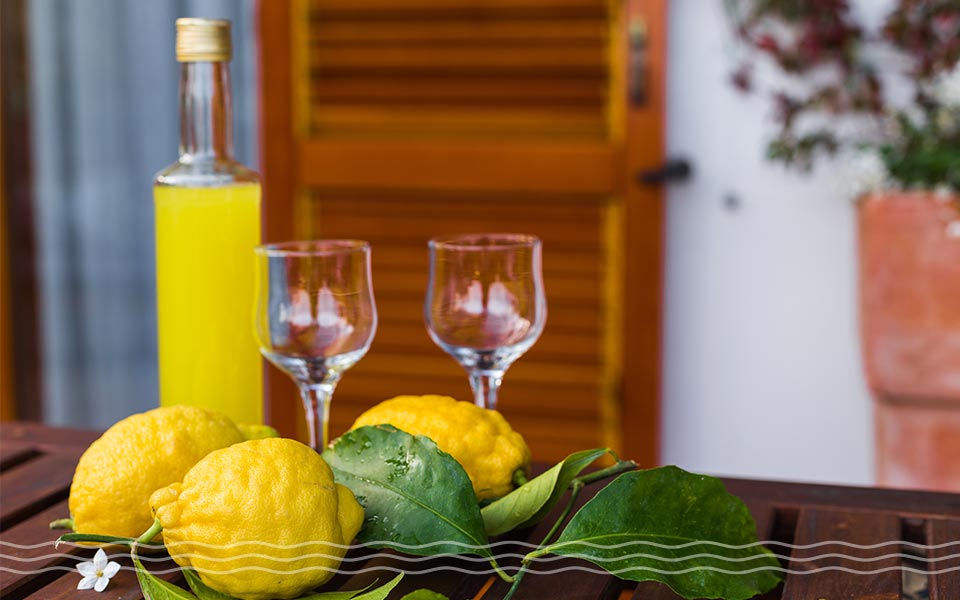 Limoncello tastes like sunshine imbibed in a bottle. Spiritous and sweet, this lemon liqueur is pure and refreshing. Some of the finest limoncello in Italy – tastes best when served in a chilled glass – is found here, on the Amalfi coast.