Sailing the Mekong River is one of the ultimate adventure charter experiences. An adventure yacht charter in Cambodia and Vietnam along the mighty Mekong is perfect for the adventurous charter guest looking to explore these culturally and historically rich areas.
A luxury cruise along the iconic Mekong allows you to delve deep into the diverse history, fascinating cultures and intoxicating nature in this remote part of the world.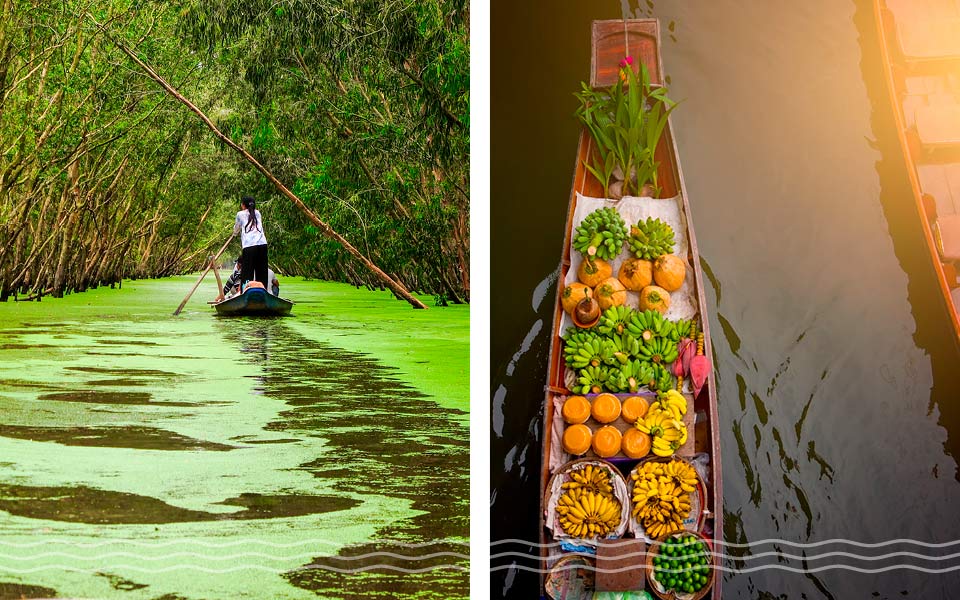 Explore the Mekong River on a cruise with Aqua Expeditions. Go kayaking on the Tonlé Sap Lake in Cambodia, a fertile freshwater habitat and protected Biosphere Reserve. Glide along the lake admiring the diverse bird life, and visit floating fishing villages.
Experience authentic traditions, like classical Cambodian ballet – known as Apsara dancing. In this tradition that extends all the way from the seventh century, dancers dress in elaborate costumes, don bejewelled headdresses and dance in slow, mesmerising motions. You can watch performances at the National Museum in Phnom Penh, or choose from a selection of venues in Siem Reap that host performances with dinner, like Angkor Village Apsara Theatre and La Résidence d'Angkor.
Exotic and fascinating, there's no better way to understand life along the Mekong than cruising down the river on a Mekong River cruise with Aqua Expeditions. You'll sail past rural landscapes and villages, visit important temples and cultural sites, and eat your way through bustling food markets. It goes without saying that the temples of Angkor Wat in Cambodia are a must-see, but we've listed some more unmissable experiences in Cambodia here.
In Vietnam, you can visit Huynh Thuy Le Old House (also known as Huynh Thuy Le Ancient House), a well-preserved, opulent 1875 riverfront house with a poignant backstory. It was once the abode of Huynh Thuy Le, the son of a wealthy Chinese family, who fell deeply in love with a young French girl, Marguerite Duras, before his family forced him to marry a Chinese woman and Duras returned to Paris. Duras went on to immortalise the story in a book entitled The Lover, which also became a film. Her book, complete with passionate descriptions of the flowing Mekong, will make a great accompaniment on your adventure.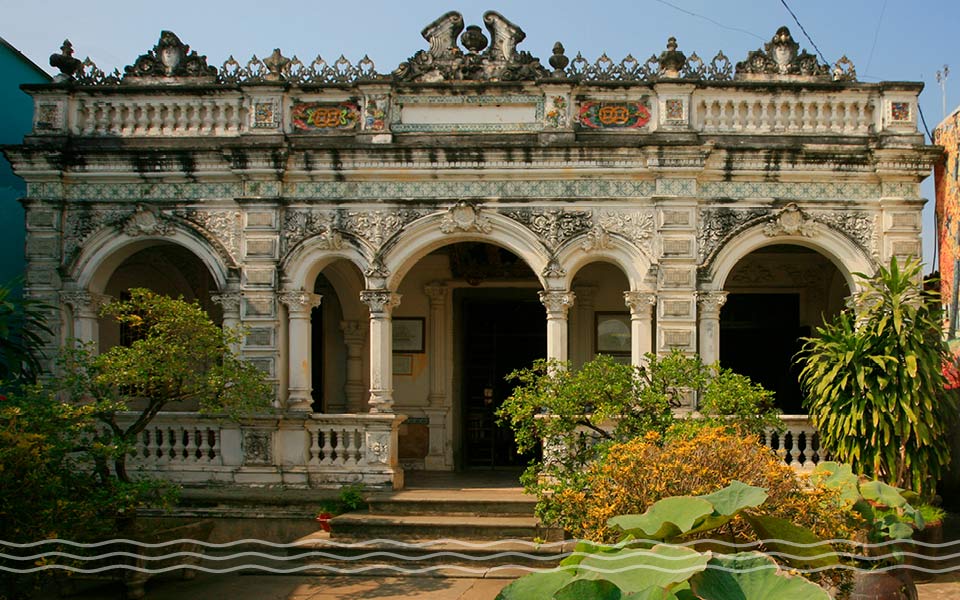 It's possible to cycle along certain parts of the Mekong, and a great way to visit small villages and experience Cambodia and Vietnam in an authentic way. Aqua Expeditions provides bikes for guests to go exploring and discover daily life in this unique part of the world.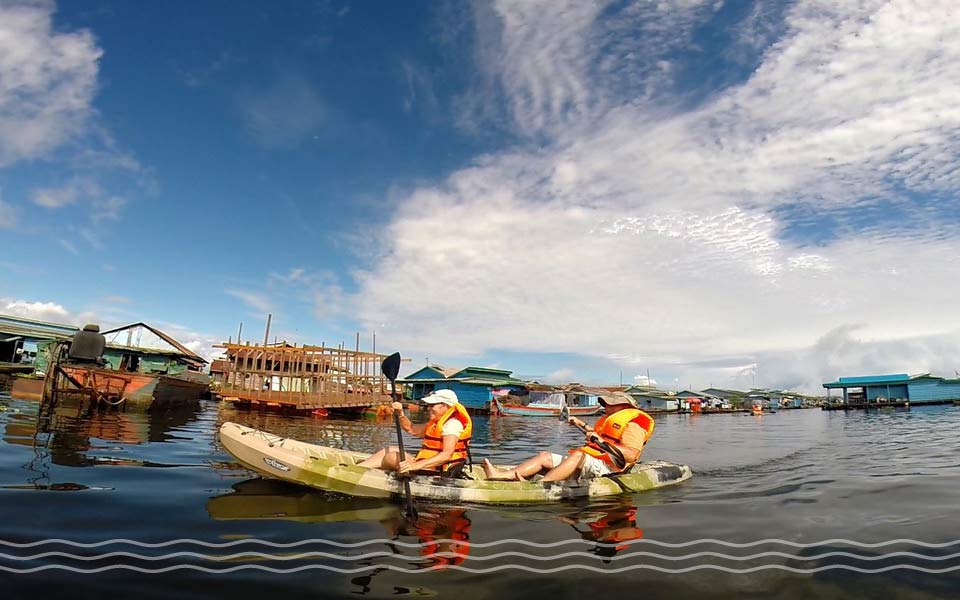 It would be a great oversight not to mention the real heart of Cambodia, the magical temple complex of Angkor Wat. Hidden deep in the forests of the Siem Reap province, the ancient stone city is laden with history and religious symbolism. While it's one of the most photographed monuments in the world, nothing compares to the thrill of visiting this architectural masterpiece. Consider hiring a private guide who will provide you with in-depth knowledge for a richer experience.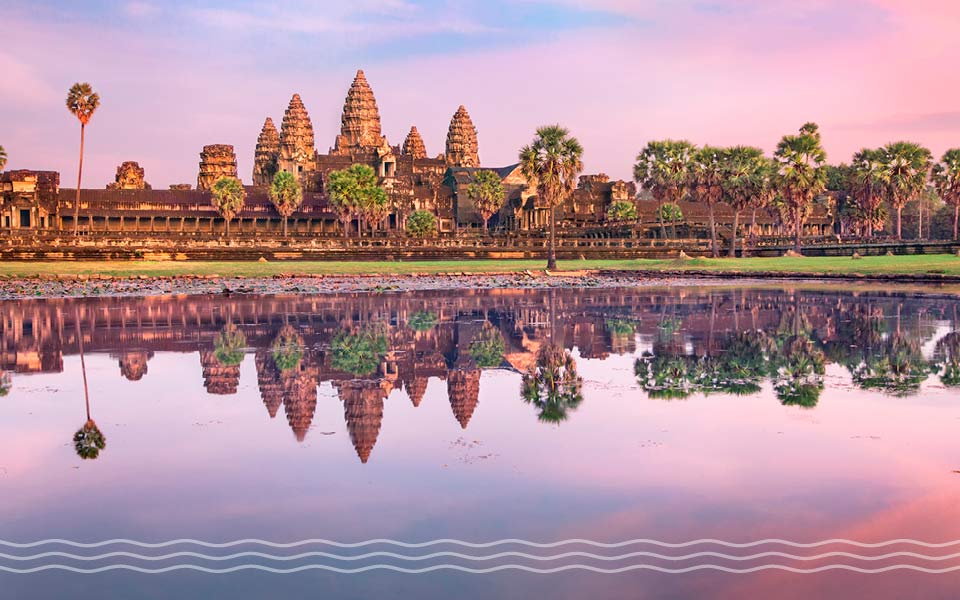 For a different view of the Mekong, leave the luxury passenger vessel behind for a bit and take to a kayak – you'll really get a feel for the spirit and energy of the mighty river.
Best time to go
This comes down to personal choice, as you can visit the Mekong River all year round. The rainy season is from May to October, and the monsoon (the seasonal wind of this region) creates the high-water conditions that allow yachts to cruise deeper into Cambodia's Tonlé Sap Lake (as well as Vietnam's flooded emerald rainforests) and along otherwise inaccessible tributaries. You'll hardly notice the rainfall which only lasts for about one hour each day. The low water or dry season (November to February) is characterised by warmer weather, little to no rainfall, and fabulous blue skies – and the weather will still be cool enough for long days at the Angor temples.
Insider tip
Because the locations you'll visit are so remote, it's difficult to find good quality guides on your own. However, on a Mekong River cruise the handpicked crew will include a local guide who is knowledgeable about historic and cultural traditions of the region, for a truly authentic, immersive experience.